What better companion for a gamer than a good controller? Because, let's face it, the increasingly articulated plots and cutting-edge graphics are fine, but without a good trusty ally with whom to immerse ourselves in these adventures, many titles would lose more than a raison d'etre. For these and a thousand reasons it is therefore now more essential than ever to choose your gamepad with great care, in order to get the most out of our beloved gaming platforms. Whether you are looking for the technological cutting edge, or you simply want to play without breaking the bank, you will find in this list the best PS4 controller on the market, whatever your needs.
Choosing one is not in fact a simple operation, as the scenarios and controllers on the market are different, and finding the most suitable one for you could take quite some time. There are controllers with symmetrical or asymmetrical analog distribution, pads designed for competitive gaming or simple customized DualShocks designed to please the enthusiast of a particular brand.
If your gaming attentions are instead directed to other shores, no problem: in fact, we have also thought of you with these articles dedicated to the best controllers for Xbox One and those for Mobile. But let's not get lost in chatter any further and let's jump right in into the best PS4 controller available on the market today, whatever your needs.
Best PS4 Controller
DualShock 4
Nacon Revolution
Razer Raiju
Nacon Compact Controller
These PS4 controllers are also compatible with the PlayStation 5 console, as long as you play titles related to the last generation. Long story short: only native PS5 games cannot be played with these controllers. So, if you're looking for a pad to be used exclusively with PS4 games, you're welcome.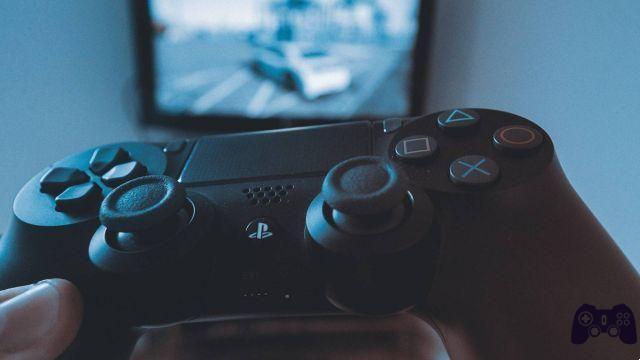 PlayStation DualShock 4 Wireless Controller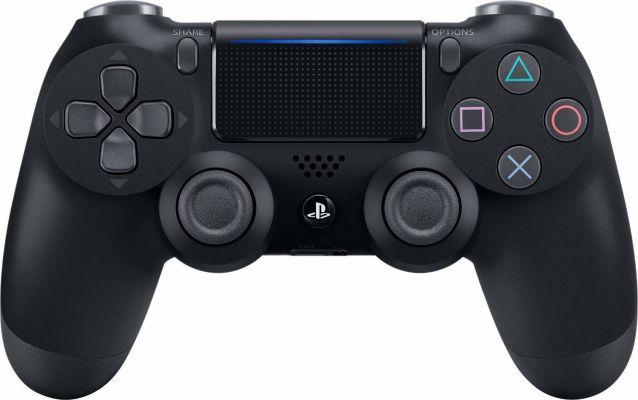 We could only start this long list with his majesty the Sony DualShock 4, that is, with what is one of the most used gamepads of all time, as well as the best PS4 controller out there in case you don't have too specific needs or special needs for additional keys. It is comfortable, functional and aesthetically appealing: the DualShock 4 is a real gem able to still give many satisfactions, despite the presence on the market of the DualSense, which has once again raised the qualitative bar as regards the Sony home controllers.
Granted that it is, we remind you that the controller has a symmetrical arrangement of the analogs, which is characterized by an extremely low weight and that you could do a little effort if you have rather large hands. For the rest, as previously mentioned, it is a practically perfect controller.
See on Amazon
See on eBay
Nacon Revolution Unlimited Pro Controller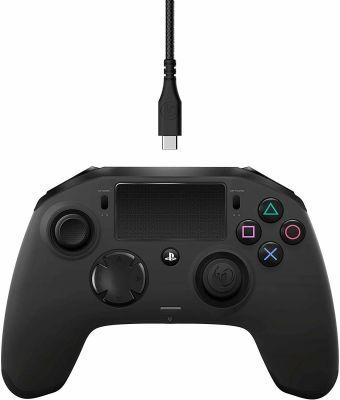 After offering you the still valid DualShock 4, it's time to tell you about the Nacon Revolution Unlimited Pro Controller, i.e. one of the best PRO controllers available for PlayStation 4. If you don't have problems spending a little more than usual, you will in fact find in this controller the non plus ultra that can be purchased today (at least in terms of value for money, since, as you will see, something better there is), a product equipped with excellent keys, a construction quality of the highest level and materials of the highest quality. To make the Nacon Revolution Unlimited Pro by far the best PS4 controller are then a series of additional keys, which will allow us without too many problems to master any title and to give free rein to our abilities.
All these features, which we are sure will please all fans of multiplayer titles and all those who, trivially, are not satisfied with the basic controller, are also accompanied by an asymmetrical arrangement of the analogs. This is an element that could push you to buy this product.
See on Amazon
See on eBay
Razer Raiju Ultimate Edition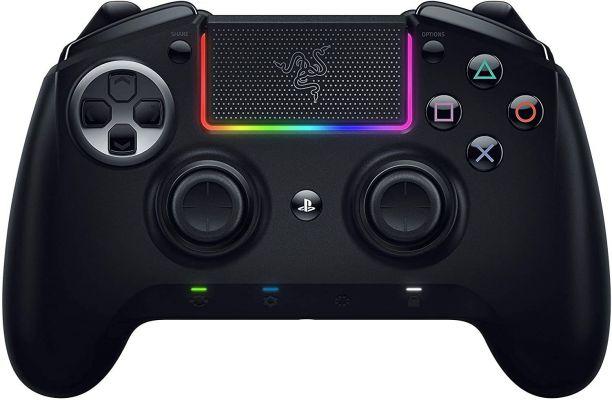 The previous controller, the Nacon, despite being a very valid product as well as, as we said just now, one of the best PS4 controllers on the market today, has asymmetric analogs, a feature loved by many players, but often indigestible for the most loyal fans Playstation. Unfortunately, even then, with the Razer Raiju, another very valid proposal of great quality and from the price - also in this case - not indifferent, we find the same positioning of the analogs (a sign that in the competitive field it is more appreciated).
As for the Nacon Revolution Unlimited Pro, also in this case the weak points of the Razer Raiju are very few and, between additional keys and LED lighting, it will be really impossible to find anything to complain about in this product. So if you're looking for something above the basic PS4 controller this is it, hands down. The best PS4 controller.
See on Amazon
See on eBay
Nacon Compact Controller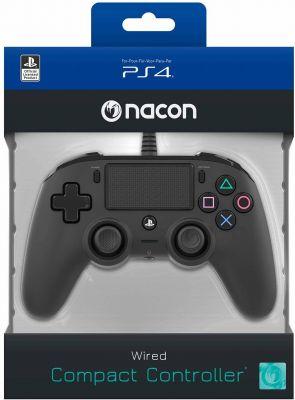 In this list, obviously, an economic proposal could not be missing, perfect for those who do not want to spend too much or for those who instead – simply – need a backup controller ready for any eventuality. Despite the significantly reduced price, Nacon Compact is a mister controller, as well as one of the best choices you could make if you need to buy a product at a budget price. The Nacon Compact, in fact, is available at a lower price than the DualShock 4, about 20 euros less, managing not to make you miss the Sony product too much, despite the differences.
Functionality side, this controller is perfectly in line with the basic one sold together with the console. What changes, more than anything else, is the general aesthetic. Even the arrangement of the analogs remains identical, therefore symmetrical. Therefore, it is a product designed exclusively for those who want to save while still taking home an official product.
See on Amazon
See on eBay
How to choose the best PS4 controller?
As we also reiterated at the beginning, there is no more important peripheral for a player. A good controller is essential to make the most of video games. As you have seen in the course of the article and as you will see in the following paragraphs below, there are several: from controllers designed to have a symmetrical or asymmetrical analog arrangement, to more traditional and premium controllers, designed to satisfy the most demanding and competitive. Follow us as we explain everything!
Analog layout
A great debate that has been going on for some time: a symmetrical or asymmetrical arrangement is better? Difficult to answer, perhaps not even so correct to do so. The truth is that it all depends on your habits and comfort, there is no absolute best arrangement. Trivially, if you usually play on PlayStation, and this is an article dedicated to PS4 controllers, you're probably used to a symmetrical layout; opposite speech in case you were Xbox players. However, the opposite could also happen, i.e. finding a PlayStation player who can't stand the symmetrical distribution of analogs, a motivation that prompted us to also suggest models with asymmetrical distribution.
Ergonomic spaces and furniture
Hours and hours spent in front of your favorite game, maybe even competitive. It's normal to get tired! After a while, your hands won't want to feel any more and the controller grip will become more and more slippery. When dealing with very long sessions, you have to make 100% sure that you are comfortable with the controller, and to do this you must first of all choose – as we said before – the most comfortable analog layout, and secondly a controller suitable for our hands, whether small or large. Also not to be underestimated are some non-slip textures, in case your hands are particularly sensitive to perspiration. The weight of the controller is also important, as is its conformation. For smaller hands, for example, we would suggest the classic DualShock 4, practically perfect and very light, leaving controllers with asymmetric analogs and a heavier weight to longer and heavier hands.
Additional features
Not particularly necessary in the case of controllers designed exclusively for the Sony console, but suitable for the most demanding players. In case you usually face many competitive matches, or maybe you aim to become real expert players, in this case there are two solutions: switch to the PC with mouse and keyboard, or, and if this is your case, buy a controller that has many additional functions such as fully mappable extra keys and levers positioned on the back of the controller . In this way, the controller will become perfect for the game in question and the matches will undergo a nice boost! Because? Because in controllers of this type there will be non-slip textures waiting for you, the possibility of distributing the weight, of raising or lowering the analogs and the classic additional buttons such as rear levers and the like, or the possibility of completely remapping the keys to adapt them to each individual video game.
Price
The additional features and all the newfangled things we discussed are fine, but the most important role, at least in most cases, is played by the price, which varies drastically depending on the type of product selected. In fact, if you don't want anything else than to play video games, and you don't have a particular interest in competitive gaming or in the various comforts offered by premium products, the classic investment, the usual 60/70 euros, will be more than enough investment. In fact, you will take home the traditional, but always excellent, DualShock 4, the same model bundled with the console, to understand. However, there may be more demanding users among you, who, as we said before, love comfort, additional features and competitive gaming. Here, in this case things change quite a bit, and the cost easily exceeds 130 euros. As always, therefore, identify your target audience and the features you don't want to give up.