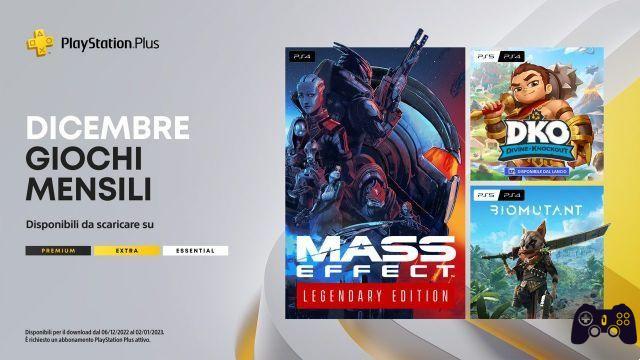 Here we go, it's finally time to find out what the next three games will be coming to the PS Plus Essential subscription service. Even though the PlayStation service has evolved heavily over the last few months, the three monthly games offered to subscribers still remain a constant. Just moments ago Sony unveiled the identity of these three titles which will be available within the subscription service starting from the month of December.
The first of the three titles is a real novelty and it is about Mass effect legendary edition; that is the most recent and improved version on many aspects of the first iconic Bioware title. Thanks to this edition, anyone will be able to enjoy an unprecedented space adventure. This is an opportunity not to be missed, especially for all those who have never approached Bioware's successful sci-fi franchise yet.
The second title of December is also quite interesting. It's about Biomutant, the first work of the Experiment 101 studio and which, since its first announcement, managed to intrigue many gamers and not a little. We are talking about a very particular action both in terms of setting and characters, with the latter being real anthropomorphic creatures that mix together different races and particular designs.
The third and final title that will be among the December PS Plus Essentials (you can also subscribe on Amazon) is Divine Knockout DKO, a more particular experience that mixes combat between gods in the third person, a very loud multiplayer game structure and a very colorful and captivating artistic side. That's all, these are the three titles that will be made available starting Tuesday 6 December within PS Plus in the Essential tier.
Before saying goodbye, we advise you to visit our YouTube channel, where you can find videos dedicated to the gaming world at 360 degrees.