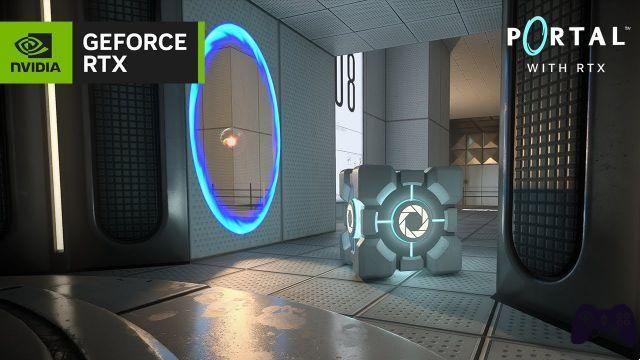 Portal RTX was one of the surprises most liked by PC gamers this year. Not so much for the game, now known and very popular, but for the particularity of this remastered version, created with a special tool from NVIDIA which will allow, in the future, to work on a remaster in a much simpler way, at least for modders. The Valve game was remastered with the help of the GPU manufacturer, who decided to celebrate himself with a special easter egg.
Indeed, within one of the many gaming environments, Portal RTX presents a real RTX 4090 GPU. It is, at least for now, of the manufacturer's top-of-the-line card. A curious easter egg, discovered in the past few hours on Reddit and which leaves us halfway between curiosity and a bit of embarrassment precisely because of this self-quotation. However, it is no coincidence that that 3D model of the video card is present in the game.
Indeed, in order to fully enjoy the new version of the Valve game, the manufacturer's most powerful GPUs are required. The RTX 3080 is indicated among the recommended requirements, while an RTX 4080 is indicated for the experience at Ultra settings. Portal RTX is so thoughtful, however, because it is designed to show the functionality of the new cards, and therefore this sort of quotation is almost mandatory , especially if behind the production of the game there are those who design video cards and manage to bring them to light.
Portal RTX is available from December 8, 2022 exclusively on Steam. Some modders have managed to insert ray tracing files into other games, thus offering us a small appetizer of what future mods could look like that aim to remaster old titles using the RTX Remix software, still without a release date. You can find more details by visiting this address.
More original content awaits you on our YouTube channel.