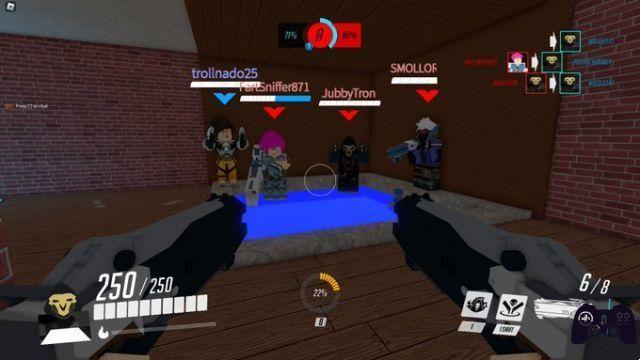 Overwatch 2 day one it didn't go as hoped. Blizzard really did its best to get users to play its free-to-play sequel, but unfortunately nothing went as planned. In fact, during yesterday evening it was practically impossible to access the online lobbies due to a DDoS attack that the development team was unable to contain. The endless wait to get their hands on the "new" game in the series has pushed users to keep themselves busy in some way, and several of them have found a distraction in Roblox, but not to try any particular indie game, far from it: to play a clone of the Blizzard title.
Called Overblox, the indie experience is obviously a 1-to-1 clone of Blizzard's house game. There are characters like Reaper, Tracer and Mercy, for example. The title is decidedly similar, although of course the experience is radically different from the original version. This game has been launched since the debut of the first chapter of the series, more precisely a couple of years after its release, and has still garnered several positive opinions.
Not only ordinary users played Overblox, but also the professionals of the Blizzard home video game. Among these we find SparkR, a professional player of the London Spitfire team who has decided to indulge in a little distraction, probably hoping to be able to quickly access the Overwatch 2 lobbies. Even the content created Aquamarine has decided to devote himself to Overblox while waiting to enter and experience the sequel to the Blizzard Entertainment game firsthand.
I thought Overwatch was down but It's still here pic.twitter.com/GnKyniqnrj
— Aquamarine (@AquamarineOW) October 4, 2022
We are quite certain that the creators of Overblox have welcomed this newfound popularity and who knows, maybe someone will also be fond of it and decide to play it at the same time as the original game. If you also want to try Overblox, then all you have to do is go to this address. Hoping that no one decides to carry out DDoS attacks on the clone as well.