Space, Last Frontier, direction Nintendo Switch. This is the new journey of the flagship Hello Games with No Man's Sky, which on Steam, to date, has recorded a number of mostly positive reviews thanks to the contents released in recent years which have certainly not been easy for the British development studio. However, history tells us that No Man's Sky began its journey in the wrong way, due to major launch problems, some of which prevented it from shining in the universe like the Big Dipper, guiding wandering travelers from the cosmos towards new discoveries, new habitats and even a new home.
When it was first announced, now seven years ago, I was sure that I would spend many hours on it and that I would not play anything else for a long time. As a science fiction lover, after having watched countless episodes of Star Trek and read many books of the genre, I couldn't wait to go beyond the stars, getting lost in unique worlds, memorable and dreamy, among the dangers that only space exploration can guarantee, perhaps due to a black hole, the law of gravity and Einstein's theories of relativity. I was back from Insterstellar, Arrival had bewitched me (even if the subject matter was another) and I wanted to travel among the stars, not caring about the rest.
Making a comparison, and it is paradoxical to make one, No Man's Sky is a video game that, unlike many others, recalls the path of Sea of ​​Thieves and partly also that of Fallout 76, with the production of Hello Games which has undergone many transformations over the last few years. A result that, until a few years ago, no one would have ever predicted, especially if we reflect on the cold reception from users in the first week after the official launch.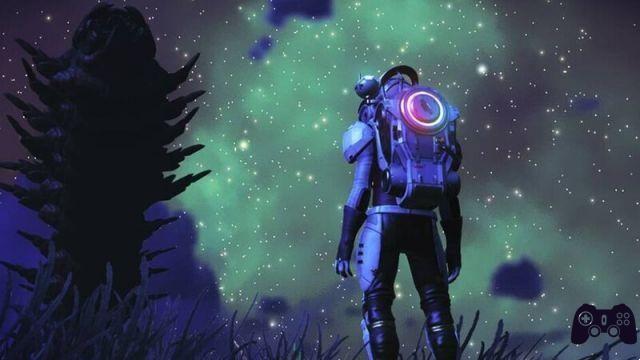 No Man's Sky, however, has made us realize that certain video games get fixed and replenished over time, and that maybe it's worth the wait. Sea of ​​Thieves, as I mentioned a little above, is another well-known example: empty and without flashes, it was feared that it would go bankrupt in no time. But we know how it ended. No Man's Sky, unlike Rare's video game, underwent a much more articulated and complex transformation; partly because it boasts a passionate community, and partly because those who bet on the game a few years ago have always valued the work of Hello Games, so much so that they follow it up to today. The rebirth of this video game, designed to make the player feel truly inside an unlimited space exploration, has brought us to today, to its arrival on Nintendo Switch.
At the time of the announcement of the Grande N hybrid console, I didn't hide my surprise, because it meant reliving an experience that kept me company for a long time. If on the one hand I was happy about it, on the other I was scared because I wondered how it would present itself to players and what technical compromises Hello Games would have to accept. Sometimes, as happens in Space, it is worth taking some risks, even if you are navigating in a gaseous mass that could lead you to take the proverbial misstep, perhaps finding yourself squashed on an asteroid or annihilated by a meteor on an unknown planet (perhaps just that of Don't Look Up)
The universe of No Man's Sky at the joycon
For those unfamiliar with No Man's Sky and hearing about it for the first time, must first of all know that it is a sandbox survival set in a large universe to be explored, with procedural planets and different from each other for atmospheric reasons, with different and somewhat singular fauna and flora. Initially there was no marked lore within it nor a narrative context, and missing it was a goal to be achieved that had prompted many players to abandon the video game before the real intentions of Hello Games were understood. Put simply, it is the player who builds his story through the choices he makes, with his approach to the journey, especially by being guided by morality and his vision of the world. In No Man's Sky there are no classes to choose, because it is an RPG with an atypical component compared to other competitors of the genre.
There are alien peoples who, during exploration, it is possible to get to know better, interfacing with their unique cultures, traditions and customs, even learning a language that is complicated to learn, which however is useful when you approach better some ancient glyphs that tell the past of a people. Hello Games has built a context capable of embracing the branches of linguistics, starting essentially from the beginning of a conversation with a text that you don't initially understand. The answer to the question "Who are you" is "We", and not the name of the species you belong to, because that comes later, once you fully understand where the birth of the language to which you refer started from.
This is the fundamentally most unique research work done by Hello Games, that to build a culture with its history was based on the main rules of philology and sociology. To explore a world and fully understand it, however, you also need to interface with the plants and creatures that inhabit it, understanding their behaviors and habits. It is complex to resist the elements of a hostile atmosphere, but at the same time it is difficult to be used to living with those who have lived there for the longest time. Killing can be a solution, but it is truly the noblest of the many that it is possible to pursue? I prefer a different approach, less offensive, and more understanding, although I have never disdained to hit pirate ships and shoot them down to collect a large reward in the space stations scattered throughout the No Man's Sky universe.
In No Man's Sky you play a star explorer in search of new horizons, among the many that creation offers. It all starts from a random planet, and in this new adventure on Nintendo Switch mine was anything but hospitable, because it was a volcanic planet with complex atmospheric temperatures to manage. Once I left that behind, the Universe opened up to me like the Einstein-Rosen bridge, with the only difference that I was sure I was in another reality different from mine.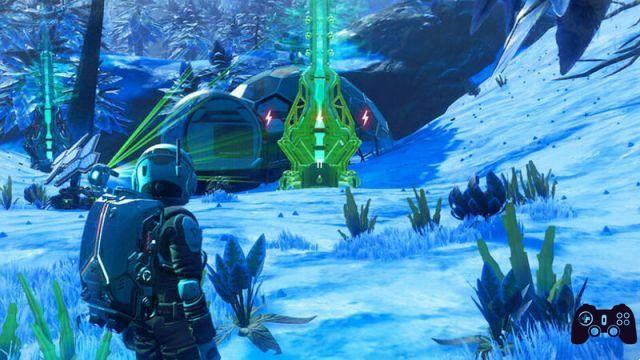 It was from that moment, in fact, that my adventure started, as I watched events go by that were light years away from me. I followed the stars with my eyes, I was fascinated by them, and I wanted to pursue them, because there was so much more to discover. And so I did, I fell for it again, as was the case on Xbox too. And my adventure began from this moment.
Adapted gameplay at its best
I thought, come to this point, everything would have been complicated in the Nintendo Switch version in terms of gameplay fluidity; instead I was surprised, because every game mechanic was faithfully and convincingly replicated. The experience can be tackled in first and third person, so much so that it is possible to choose the best way to fully enjoy it from the quick selection bar, experiencing the events literally within reach of the joycon. Hello Games has also worked for a long time on the many scientific texts available in universities, taking elements from the Scientific Table during the collection of chemical materials, which in this context is not only a relevant addition, but extremely apt and unique, because it allows you to have all the necessary elements at hand that can help in the creation of a real settlement, in addition to survival. It is important to withstand bad weather, e the best way to do this is to build a house that keeps away the various dangers.
I ended up on a fungal planet, which means that the toxicity can reach abnormal levels for my body, and therefore I often took refuge on the spaceship, while on many other occasions I managed to settle under the safe roof of my home, in which I recharged the bar of vitality and resistance to dangerous atmospheric agents that could cause me problems. I improved my Multi-tool with new implementations, one above all the one that allows you to dig into the ground and reach copper and silver, two very useful materials for creating a lasting and updated base.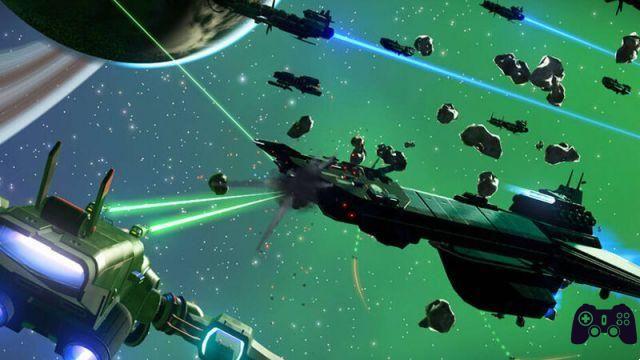 Everything, within Man's Sky, it is built to work and have a purpose. It's not complex to make one, but it's hard to get it to work over time. Adventure can literally take different, new and unpredictable turns, but that's the beauty of living in an ever-changing world. Once you have built a base, you can approach the No Man's Sky universe however you prefer. Considering that the Nintendo Switch version includes all expansions and also the latest update, the player may be comfortable with it.
A technical miracle but not without compromise
No Man's Sky, since its release, is It was a video game plagued by many technical problems that the British team managed to fix over time. I can assure you that this new version is however not negatively affected by those known issues that prevented its playability a few years ago, because it has been intelligently adapted especially thanks to the Waypont update, which adds greater fluidity for Nintendo Switch owners and many free ships to be redeemed on the store.
On the hybrid console it shines with its own light, making it appreciable and enjoyable, albeit with limits dictated by the hardware such as textures that are not properly defined, especially when multiple items appear on the screen. However, the controls, both in portability and with the dedicated Nintendo pad, are well implemented and not at all uncomfortable, facilitating the various possibilities with which it is possible to play, consequently offering a curated port like that of NieR: Automataalbeit in a completely unexpected way.
I was pleasantly surprised during the construction of the base, especially when I had to use multiple keys at the same time, which also happened when traveling from one planet to another on board my spaceship. There are some slowdowns in excited moments, especially when using the jetpack, which allows you to get anywhere you want. The good news is that I haven't encountered any notable bugs or frame rate issues, with the game maintaining the thirty frames per second in portability as well.