Nintendo Switch, the most recent of the consoles of the Japanese giant, has been on the market for the past five years, during which countless titles have been released, both first party and otherwise. Although the console has many advantages, first of which is being easily portable, one of its biggest problems is the price of products: it is difficult to find games for 30 euros, or less, since the average price is around 60.
In fact, Nintendo titles have a reputation for being expensive and never going down in price even many years after their release, making it almost impossible to build a large library on a small budget. We said "almost" though, because with a little research it is possible to find securities sold on the market for much more accessible sums; in this article we will enclose the best Nintendo Switch games you can find in 2022 for 30 euros or less, so that you don't have to struggle to find them and can find them all in one place.
Nintendo Switch games for 30 euros or less
Mario + Rabbids Kingdom Battle
Crash Bandicoot N'Sane Trilogy
Crash Team Racing Nitro-Fueled
Crash Bandicoot 4 It's About Time
Spongebob SquarePants: Battle for Bikini Bottom – Rehydrated
LEGO games
Big Brain Academy
Team Sonic Racing 30th Anniversary Edition
Spyro Trilogy Reignited
Minecraft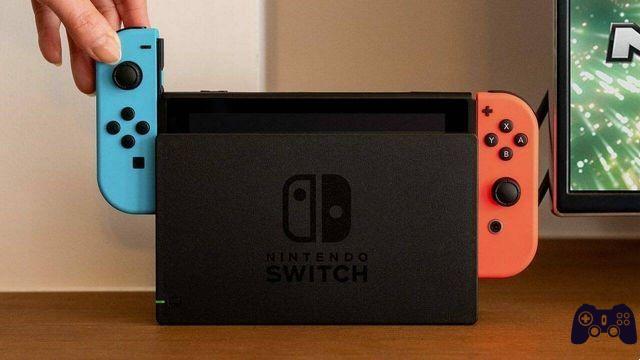 Mario + Rabbids Kingdom Battle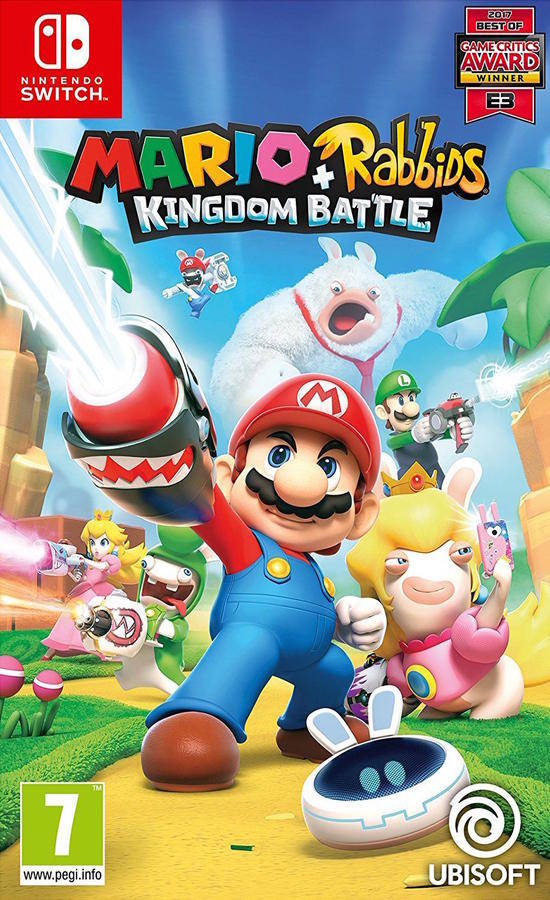 Impossible not to start the list of Nintendo Switch games for 30 euros or less with one of the greatest Nintendo mascots and in all of videogame history. With
Mario + Rabbids Kingdom Battle
you will find in your hands the definitive crossover that no one expected. The colorful and funny worlds of Super Mario meet the universe of the crazy Rabbids by Ubisoft to give life to a game made up of oddities and always hilarious situations. The exploratory game sections will lead you to collect coins, solve small puzzles or discover the secrets hidden by this world, while the combat phases will make the title become a turn-based strategy in full XCOM style. The love for the Nintendo universe inserted by Ubisoft Milano can be touched by hand in every moment of the game with; quotes, settings, weapons and many other small and large details that will immediately trigger the spark for this great title. Also, the sequel, Mario + Rabbids: Sparks of Hope, just came out in October of this year, so it's the perfect time to catch up on the first title.
See on Amazon
See on eBay

Crash Bandicoot N'Sane Trilogy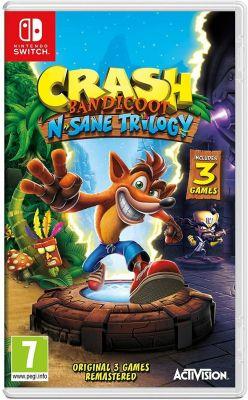 Thanks to Super Mario, Nintendo has always been seen as the home of platformers, but we know very well that the world of video games has always been overflowing with experiences of great value to the platform genre. Another icon is Crash Bandicoot which, thanks to the recent
N'Sane Trilogy
also Nintendo players will face the first three historic chapters starring the orange marsupial. If you want to experiment with a genre that has always thrived, especially on Nintendo consoles, this is your chance to enter the crazy world of Crash Bandicoot.
See on Amazon
See on eBay

Crash Team Racing Nitro-Fueled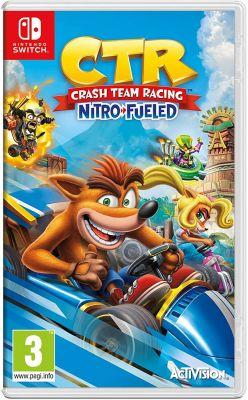 If you love the Crash Bandicoot universe and at the same time you are a fan of arcade and caciaroni driving games, you can't leave it on the shelf
Crash Team Racing Nitro-Fueled
. It is a perfect alternative to the classic Mario Kart (which unfortunately costs more than 30 euros), but everything is translated into the world of the orange marsupial. In this revised and expanded version, you will have a large roster of characters and different karts with which to whiz around increasingly absurd tracks.
See on Amazon
See on eBay

Crash Bandicoot 4 It's About Time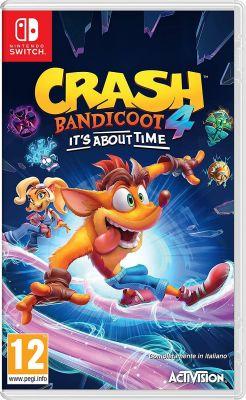 After a series of re-releases, it's also available on Nintendo Switch
Crash Bandicoot 4 It's About Time
, the latest chapter in the marsupial saga developed by the guys from Toys for Bob. The title takes up the first classic trilogy by Naughty Dog and makes it a perfect sequel and above all very current in current times. There is no shortage of levels of all kinds and well-themed worlds to explore, as can't miss the many bosses to face and the comedy of old and new characters, which has always been one of the flagships of the Crash brand. In short, whether you have discovered the franchise with the latest reissues, or if you are a fan of the first hour, you just cannot let this fourth chapter get away for anything in the world.
See on Amazon

Spongebob SquarePants: Battle for Bikini Bottom – Rehydrated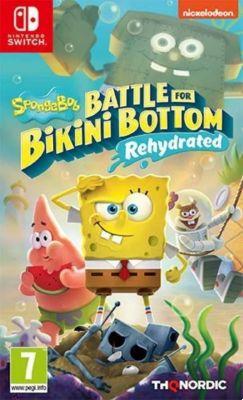 Spongebob SquarePants: Battle for Bikini Bottom – Rehydrated
is the remake of one of the best Spongebob games ever made. You can play as Spongebob, Patrick and Sandy, defeating the evil Plankton and saving Bikini Bottom both alone and with friends thanks to the new massively multiplayer mode for 2 players. Stunning graphics, state-of-the-art resolution and flawless gameplay, what more do you want from a Nintendo Switch title?
See on Amazon
LEGO games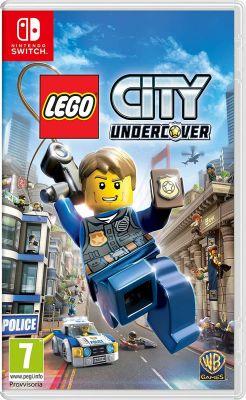 The Nintendo hybrid gaming platform is the home of all genres and types of titles. Among these, we also find the LEGO productions which, over the last few generations, have been able to churn out a great diversity of titles by borrowing large videogame but also cinematographic IPs. First of all, it must be mentioned
Lego city undercover
, a miniature GTA that will let you explore a city made entirely of colored bricks. To follow as not to advise also
LEGO Jurassic World
, especially if you love the film saga starring dinosaurs, and while we're at it why not also take a trip to the magical world of Hogwarts with
LEGO Harry Potter Collection
, so as to relive all the films offered on the big screen in LEGO sauce. Finally, if you love Minecraft titles you can't not try them
LEGO Worlds
, a game that puts an entire universe at your disposal to build brick by brick, and LEGO Marvel Super Heroes, where you can command your favorite heroes from the Marvel universe.
See LEGO City Undercover on Amazon
See LEGO Jurassic World on Amazon
See LEGO Worlds on Amazon
See LEGO Marvel Super Heroes on Amazon
Big Brain Academy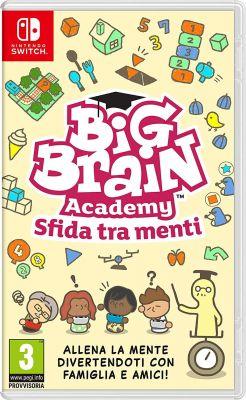 Now let's move on to a title that you will particularly like if you love logic questions and spend your days at the beach doing the puzzle week. We're talking about Big Brain Academy, a title released in December 2021 where you can try your hand at different types of brain-bending tests to prove yourself the smartest of your friends or family. Up to four players can in fact participate in the challenges simultaneously in five categories: intuition, memory, analysis, perception and algebra. Furthermore, you can compare your results with those of players from all over the world, testing your skills and climbing the leaderboards.
See on Amazon
See on eBay
Team Sonic Racing 30th Anniversary Edition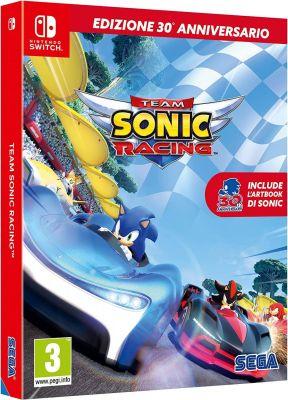 A real gem that you can find on the market among the Nintendo Switch games for less than 30 euros is Team Sonic Racing, and it's not just about the game, but about the special edition for the 30th anniversary of the saga, including an official artbook dedicated to most famous hedgehog in the world of video games. In this racing game you will be able to use as many as 15 characters belonging to the world of Sonic and compete against your friends, dividing the screen into four and making up to 12 players compete per race. Plus, you'll be able to customize your car, both in terms of performance and looks, so you always come in first place.
See on Amazon
Spyro Trilogy Reignited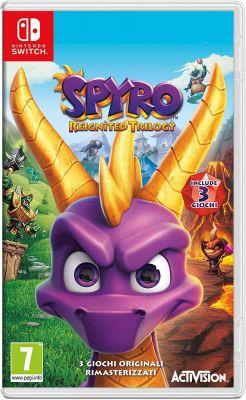 We have presented you the trilogy of Crash Bandicoot games and we could not fail to introduce you also Spyro Trilogy Reignited, which contains the first 3 chapters of the famous Activision franchise starring the purple dragon. In this remastered version adapted to the new generation consoles, you will be able to play as Spyro, Hunter, Sheila, Agent 9 and many other characters within the levels and mini-games that make up the three works. In total the trilogy contains more than 100 levels, ensuring you hours and hours of entertainment, both at home and on the go.
See on Amazon
See on eBay
Minecraft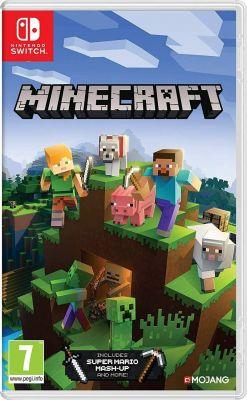 We conclude this selection of titles for Nintendo Switch at €30 with one of the heavyweights of modern gaming.
Minecraft
it certainly needs no introduction, and has continued for more than 10 years to entertain enthusiasts of all ages and who are looking for different experiences. Thanks to the portability of the Switch, Minecraft allows you to explore the blocky world of the game anywhere, giving an even greater sense of adventure.
See on eBay
Have fun with Nintendo Switch on a budget
As we have seen in this buying guide, of low-priced experiences for Nintendo Switch there are quite a few. It has now been a good five years since the launch of Nintendo's hybrid console and many of the older titles have received a substantial price drop. For this reason, even those who have recently approached the Nintendo world can already play a whole series of high-quality titles without having to pay full price for these games.
The great low-priced Nintendo IPs
You can find us among the gaming experiences that we have included in this guide acclaimed titles such as Mario + Rabbids Kingdom Battle. The strategic Ubisoft Milano brand mixes the historic Nintendo mascots with the very nice and unpredictable Rabbids of the transalpine company. One of the best games for Switch and above all that can be found for less than 30 euros.
To this great crossover also adds Big Brain Academy, a real gem if you love challenges and want to spend an alternative evening with friends and family, perhaps placing a bet on who wins the prize for the smartest of the group.
Franchise for everyone within everyone's reach
We have decided to add a series of very varied experiences to this great title, such as i numerous LEGO titles who, game after game, have been able to explore different genres and universes already known such as those of Harry Potter or those of Marvel and DC Comics superheroes.
Finally, there are even more diversified titles such as the remastered trilogy of the first three legendary Crash Bandicoot and Spyro, and the special edition of Sonic Team Racing, one of the most iconic racing games ever. Thanks to these works, even if you spend 30 euros or less, you will be sure of respectable Nintendo Switch games.
The perfect console for indie games: where to buy them
Added to all this is also an avalanche of independent experiences. Nintendo Switch, in fact, was soon defined as the perfect indie machine: that is, an almost tailor-made console to enjoy all the indie experiences in comfort.
In most cases it happens that these independent titles do not exist in physical format, but do not worry because thanks to the Nintendo eShop digital store you will be able to buy your favorite indies in a short time. Thanks to the vastness of choice in the eShop, in fact, every fan of every genre or videogame theme will be able to find the most suitable game.
Among the best indie games of recent years that can be found on Switch, we certainly recommend titles of the caliber of: The Binding of Isaac, Undrtale, Stardew Valley, Shovel Knight and many others, all of which can be purchased on the Nintendo eShop on Switch.
How much do Nintendo Switch games cost?
Games for Nintendo Switch are mainly divided into two categories: exclusives and cross-platform titles. The former are those that only come out on Switch, generally cost more and rarely drop in price; we are talking about works such as Mario and everything related to it (Donkey Kong, Luigi's Mansion and Captain Toad) and other iconic Nintendo IPs such as Splatoon or Zelda. Multi-platform titles, on the other hand, are those that come out on various consoles, and which generally tend to drop in price over time or during sales (such as Prime Day or Black Friday).
Consequently, especially if you are interested in cross-platform titles, you will not have major problems finding games for 30 euros or less for the Nintendo Switch. You simply have to arm yourself with patience and wait for the right opportunity, or consult this article which is periodically updated based on the offer on the market.
What game to buy for Nintendo Switch?
Although at first glance it may seem that there are few games for Nintendo Switch, in reality the available catalog, both digital and physical, is immense. Indeed, there are titles for all tastes, and the choice is entirely up to you: think of a genre that you or the person you have to give the video game to like (for example puzzle, platform, adventure, RPG), decide on a budget and finally think about which format you want to buy .
In this list we have offered you products of different genres, ranging from platformers to racing games, so it's an excellent source of inspiration if you have a small budget and still want to find more than valid Nintendo Switch games, with which you will make a great impression in the case of a gift or simply with which you will be satisfied with the purchase if they are for yourself.