NieR: Automata, developed by Yoko Taro and Platinum Games and published in 2017 by Square Enix, is remembered as the best video game by the Japanese author, a courageous and memorable journey to discover the secrets of humanity. The past generation, which featured many priceless works, has been able to propose different and new visions in the panorama, thickening each player's collection in a unique way.
Never: Automata, if I think about it, it was the video game that came at the right time, which presented itself without announcements with great pomp but only showing itself in all its splendor. When I consider it certainly the most mature work of the Japanese developer, I am referring to the messages within the production, which I have already told you about in a couple of dedicated specials. The value of love, connection, travel and self-discovery: all this serves to guarantee the future to those who have lost it forever without being able to do anything to prevent it, and to those who have not managed to tighten it before.
I've always found Yoko Taro's productions to be some of the deepest and most intense that have ever been developed and it's not a trivial thing considering how many videogame productions I'm linked to. The NieR series, however, has a charm of its own capable of captivating and involving in an enthralling way, transporting the player to a post-apocalyptic world that is impossible to do without. The publication of NieR: Automata, in fact, has opened a new creative path for the Japanese master, who between books, manga and plays has guaranteed in recent years a tangible construction of his universe, erected thanks to the stories of those in search of the humanity even where there doesn't seem to be any more. A complex, yet noble and shareable purpose, and it is the very vision of its author, who in his books has always distinguished himself from other game designers, going far beyond the classic term with which we indicate the creator of a video game.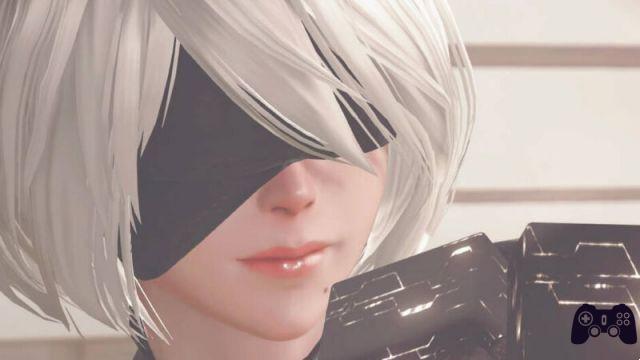 Yoko Taro, born in Nagoya, is an eclectic and particular character, and in his video games he has added an integral part of his crazy and unpredictable character. With NieR: Automata I can tell you that she has tried to replicate what she sees through her eyes, speaking differently about the connection between living beings, and making you understand that it is not just a human characteristic. The landing of his masterpiece on the Nintendo Switch, which brought the NieR series back into the limelight after the misstep made with NieR: Gestalt, it is proof of how much this philosophy has always distinguished him.
At first he pushed for his video game to arrive on Xbox as well, and this allowed him to introduce himself to those who didn't remember him at all. But now, five years after the release of NieR: Automata, its purpose is to make itself known also to the owners of the hybrid console of the Grande N. The announcement, which occurred suddenly in the past months, took everyone by surprise, attracting everyone's attention, both positively and negatively. If on the one hand the public was convinced that the hardware could not handle a similar game, on the other hand there were those who couldn't wait to play – or replay – NieR: Automata for the first time in portability or through their television, and maybe among the ranks of people excited by such news there were those who had never heard of it. On the other hand, the purpose of a port is just this: capture the attention of players who, for one reason or another, they don't have a certain console but would like to just play without spending any more money, and who are waiting for the right moment. And the right time has come.
NieR: Automata – The End of the YoRHa Edition, this is the complete name of the Nintendo Switch version, is a work that, without too many words, spoke to the player with simplicity, leaving nothing to chance, not even the most irrelevant. In this sense, it was to be expected: Yoko Taro, building her world, has always hinted that the power of empathy is something to consider more carefully, and that sometimes the end of a journey is not just the end, but the beginning of other perspectives. But better proceed in order, from the beginning.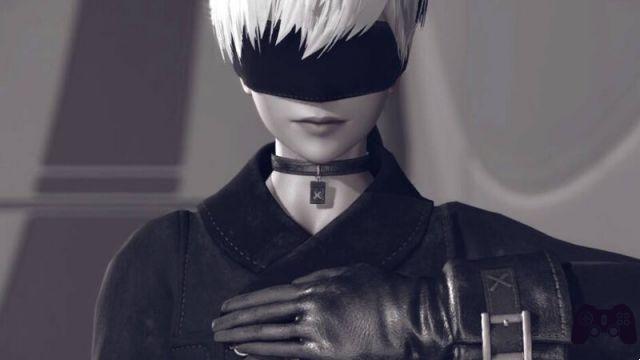 Once upon a time there was humanity…
It all starts with a ruthless war and violence that wipes out all life, even human life. Little remains of our species, and in the meantime progress has made its precious contribution. For those unfamiliar with NieR: Automata, must know that we are talking about a video game that focuses entirely on the narrative and its events. Initially the world of NieR: Automata seemed closed and devoid of light to me, because I thought that extinct humanity was actually a form of restart to restore light to the world. Yoko Taro, however, had taken into account every sensation and emotion, and this glimmer that seemed to be gradually dormant was strengthened thanks to the three protagonists of NieR: Automata.
I'm talking about 2B, 9S and A2: each has a different character and a troubled past. Apart from this, however, thehe plot of NieR: Automata has always been effective thanks to the dialogues and situations that took place on the screen, and each protagonist has always had its relevance. The narration method, for those unfamiliar with Yoko Taro, it consists in proposing more visions of the story and other ways to approach it. Let's start with 2B, and then retrace a part of the story with 9S and so on in the following ones, also getting to know better 9S, the most mysterious, sad and twisted protagonist of NieR: Automata, in total contrast with the coldness and composure of 2B. As I mentioned earlier, the world is unrecognizable: humanity has disappeared, there are communities of machines, androids inhabit a well-stocked space station, and there are beings called biomachines, that replicate human behaviors in the same way as robots.
Effective and enveloping, the narration makes us explore these themes, while delving into the personalities of the various protagonists. Initially we move 2B, my favorite protagonist, who stands out in combat for her incomparable skill thanks to Righteous Pact, her katana, ua blade capable of cutting down any threat. However, returning to the plot, we can assure you that the story of NieR: Automata has remained unchanged from the past. There are no weight additions and perhaps they would have been welcome, maybe a few more story additions with an unedited cutscene and a few more maps, so as not to miss anything.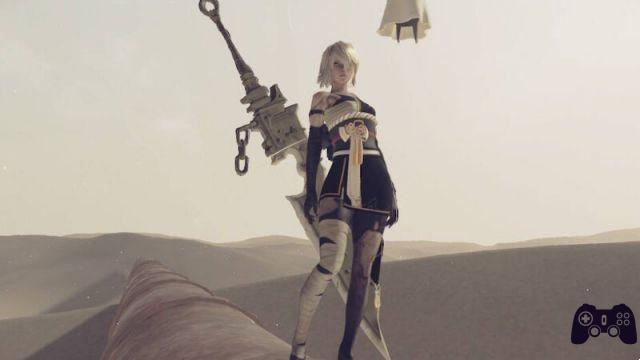 Yoko Taro production was able to bring, in general, an excellent proof of maturity, which it was necessary to overcome in order to return to trying to excel with other game designers on the roof of the world. While I was discovering the main plot, going deeper into the story, I also noticed things that I missed and didn't notice in my first run. NieR: Automata, unlike many other works, hin his own way of making himself understood, and often when I think back on it I feel like I'm reliving the experience in a completely one of a kind way. Not being able to give you spoilers, even if many years have passed since the publication, just know that the story does not suffer from slowdowns and is always convincing. It's never overdone, and it's not boring or repetitive, which translates quite obviously: that Yoko Taro is far crazier than I remembered.
Focusing essentially on the story, NieR: Automata represents a concrete proof of love towards the genre and the fans, as well as for Yoko Taro himself who, unlike many developers, does not talk about it precisely because he does not like to flaunt them. Deep and moving the story of NieR: Automata starts in silence and then suddenly explodes, and makes itself known in a unique way through its convincing protagonists.
The fast and fun combat system of NieR: Automata
During my rediscovery of Yoko Taro's video game on the occasion of its release on the Nintendo Switch, I've noticed how the combat system has aged incredibly well, exactly like the narration and the stylistic choices of its author. The focal point of the experience remains the fights, supported by fun and rewarding battles, capable of enhancing and involving the player in a positive way. Like many Yoko Taro video games, NieR: Automata also sees the movements in the protagonists subject to camera alteration, which becomes fixed when the video game is transformed into an isometric product, or two-dimensional scrolling while exploring game buildings. Taking 2B as an example, but I could also mention 9S and A2, there is the possibility of equipping it as you prefer, perhaps with sharp spears or small and large swords, thus differentiating a fun combat system.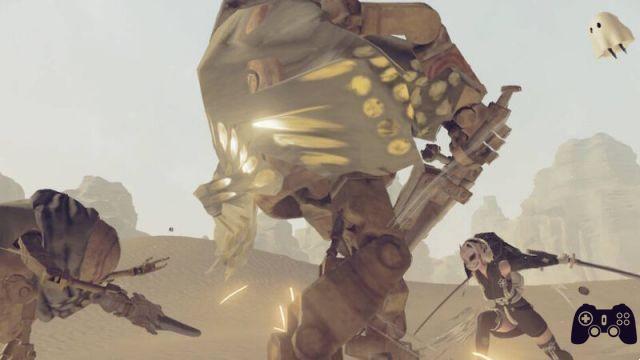 The battle phases are still my favorite to this day, because they are dynamic and funi, fluide to such an extent that it cannot be made by hand. In combat he attacks from a distance with the POD (a very useful tool), making himself supported by the latter even face to face, perhaps with a special attack capable of defeating opponents. During the short breaks, it is possible to upgrade the weapons to their maximum and dabble in the purchase of new additions for the POD which, in addition to providing assistance and support, is able to comfort the protagonists in a heartfelt way. NieR: Automata, masterfully constructed as it is, Nonever been so different from many action role-playing games that I've come across along the way. Its strength does not lie in the combat system or even in the secondary missions, which, however beautiful and useful for earning money and acquiring items for upgrades, are slightly lower than those of the main campaign.
Not all of them are, mind you, because I remember several memorable fetch quests, even if not all of them are like the story I've followed on many occasions, especially this one. In the past, many were surprised when Hideo Kojima changed the cards on the table, and Yoko Taro in equal measure has long been doing it her own way, perhaps surprising with a joke, a scene or a manly tearful moment. Exploration, which is the basis for strengthening and leveling up easily, it is satisfying because it allows you to discover dream places, even if uninhabited. The areas of the game have remained unchanged, and nothing has been added or touched, precisely to allow the most demanding a context capable of leaving you stunned and amazed. A goal that was achieved with flying colors, proving how much Yoko Taro loves to be meticulous in her videogame productions.
NieR: Automata alla test your Nintendo Switch
The choice of commands, which is important for a video game of this kind that lands on Nintendo Switch, is well thought out and implemented, offering hours of non-stop fun. With the joycons it is more satisfying and it does not seem at all that you are playing on a Nintendo Switch, but on a different console. The work, which I have experienced again in recent days, has allowed me to understand more closely the compromises chosen by Platinum Games and Yoko Taro to make the gaming experience as enjoyable as possible for owners of the hybrid console.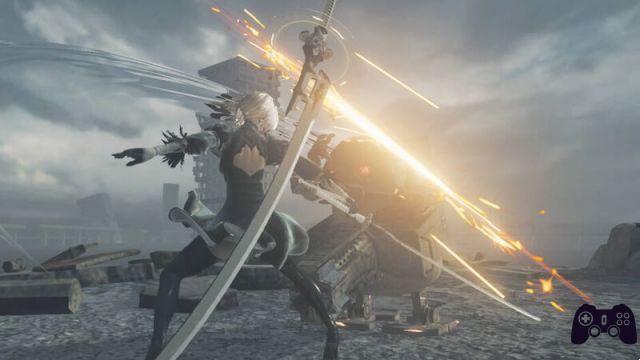 The type of approach pursued was excellent, and I'm not ashamed to say it: it's probably the best port on Nintendo Switch, and it's not a trivial thing at all, considering the many video games that have undergone similar treatment. Despite some graphic choices, Yoko Taro's video game is equally splendid on Nintendo Switch, and she goes well with her two souls. Flaws are noticeable in open spaces, with texture loading issues that are unavoidable for similar hardware. While not guaranteeing the much coveted sixty frames but only the granite 30fps, it must be said that a masterful job was done, and I was consequently positively involved. Playing NieR: Automata on the go is priceless, and, now that it has also landed on the console of the Grande N, no one will have any more excuses not to try it at least once.