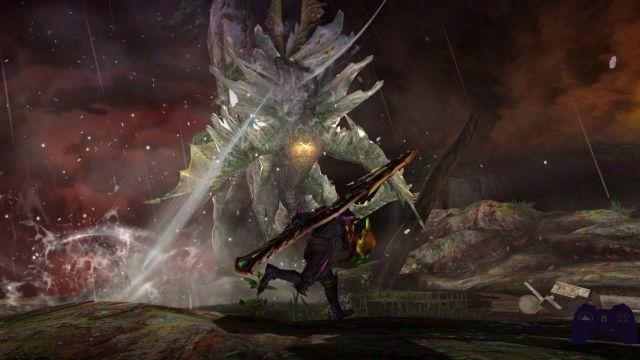 Means press release, Capcom announces that starting today, Monster Hunter Generations Ultimate è available su Nintendo Switch.
Hunt down colossal beasts in Monster Hunter Generations Ultimate! Available from today on Nintendo Switch
Monster Hunter Generations Ultimate, the sequel to the much-loved Monster Hunter Generations, is now available in physical format for Nintendo Switch. Monster Hunter Generations Ultimate marks the debut of the series on the new Nintendo platform and users will be able to play for the first time in local wireless mode or in online multiplayer mode, with support for up to a total of 4 hunters, on the TV at home or on the go , thanks to the portability of the console. For the occasion, a new launch trailer is available:
The player, in the role of a brave hunter, will embark on an adrenaline-fueled adventure where he will face huge and dangerous monsters. During the adventure, the hunter will also have to defend the 4 main villages from serious threats, including a new and very dangerous Ancient Dragon. The title features a combination of various features, combining the classic gameplay of the series with new mechanics, new explorable areas and new monsters, including two fan favorites: the lightning-fast Zinogre and the stealthy long-tailed Nargacuga. The game also boasts the most complete roster of monsters in the entire series.
This chapter also introduces a new level of missions, called "G" rank, featuring enhanced and even more formidable versions of the classic monsters fans are used to, thus testing the tactics of the most experienced hunters with different attack patterns and skills never seen before!
Newcomers to the series need not worry as the game offers a variety of powerful special moves, called Hunting Arts, which can be performed with a simple touch of the Touch Screen. Users will be able to experiment and choose from 6 different Hunting Styles, including two new styles: the Courage Style, which rewards players with new moves, allowing them to chain multiple attacks in a row, and the Alchemy Style, a support style that allows them to create various items useful during a fight. Hunters are therefore encouraged to explore and customize their experience from mission to mission, with the aim of finding the style of play that suits them best.
Players of the original Monster Hunter Generations will be able to transfer their save files to the new one Monster Hunter Generations Ultimate, thus continuing their adventure on the new title.

Source