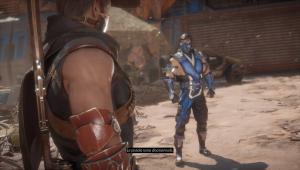 And it finally happened: Mortal Kombat is indeed back, but there is no fighting game on the horizon. In fact, if there are many who ask for a new chapter in the fighting game series, NetherRealm Studios has decided to take a break, developing something completely different.
Called Mortal Kombat: Onslaught, the game is actually an RPG intended exclusively for the mobile market. No consoles and PCs, therefore, but only Android and iOS platforms. Working together with the development team we find Warner Bros Games, the WB division dedicated precisely to the video game market. "Mortal Kombat is a legendary franchise as well as a pop culture phenomenon and continues to expand in popularity. Onslaught is a signal as to why this series has been at the top for over 30 years", the words of David Haddad, president of Warner Bros Games. Satisfaction also from Ed Boon, Chief Creative Officer and author of the series. "With Mortal Kombat: Onslaught we reimagine the series and transform it into a strategy and role-playing game, with new group fights that both fans and old fans of the series will love."
At the moment there are obviously no details on the matter, beyond those issued via the press release. Mortal Kombat: Onslaught it will feature a new story, and "console-like" quality kinematics. The game was announced directly by Warner Bros Games, but there are no images and screenshots, obviously beyond the one on the website. Right from the website it is possible to subscribe to the official newsletter, where further news on the game will be issued.
Warner Bros Games announces Mortal Kombat: Onslaught, an upcoming mobile RPG
"the first mobile-exclusive cinematic story experience"
Coming in 2023; developed and co-published by NetherRealm Studioshttps://t.co/Kcx34MOut1
Websitehttps://t.co/BcmwksYNBx pic.twitter.com/CT1ZJmFBHQ
- Nibel (@Nibellion) October 18, 2022
The Mortal Kombat: Onslaught release date has not yet been announced. However, the game is scheduled for 2023, we repeat only on mobile. However, it is not excluded that NetherRealm does not return to work on a "main" chapter of the series, but it is still early to be able to talk about it.