There are many beautiful – and expensive – things on the market, but as a gamer, what I saw at the LG headquarters in Milan really left me speechless. LG OLED Flex is the first variable curvature TV, designed for gaming – but not only. I had the opportunity to see it and test it in preview, after having had the opportunity to observe it from afar at IFA 2022 and I must admit that what I was able to test really surprised me.
Clearly LG OLED Flex is not a product for everyone both for its characteristics and for the price (€2.999,00). However, it should be emphasized that, for those who can afford it, it represents one of the most interesting TVs arriving on the market, as well as an experiment that could clear this type of screen through customs. Pre-orders will start on November 25th with the possibility of getting a 10% discount, while the TV will be available from December 2022.
LG OLED Flex, the first TV with variable curvature
LG OLED Flex is the first variable curvature TV, what does it mean? In short, a motor positioned above the pedestal allows you to move two arms that curve the screen up to 900R, obviously with the possibility of choosing a lower curvature to our liking. Everything is immediate, thanks to a button on the remote control (or simply on the TV itself).
On the other hand, it actually looks like a monitor it is really a TV that exploits practically all the exclusive performances of LG's top of the C2 range, with further improvements such as 25% more efficient anti-reflection and 40W audio power. We therefore have a latest generation 120Hz OLED Evo 4K panel, α9 Gen 5 4K processor with AI and webOS 22.
Its generous dimensions make it impossible to fix to the wall (also because the pedestal that contains the dedicated motor cannot remain without). So, despite being a TV, it looks more like a real monitor, even if it has all the slots for antenna, satellite and the possibility of installing applications and streaming services.
The technical specifications
| | |
| --- | --- |
| Panel | OLED Evo |
| Frequency | 120Hz |
| Resolution | 4K |
| Processor | α9 Gen 5 4K with AI |
| Sound power | 40W |
| Dolby Atmos | SI |
| Operating system | WebOS 22 |
| Curvature | Servo assisted up to 900R |
| NVIDIA G-Sync | SI |
| AMD FreeSync Premium | SI |
| HDMI | 4x HDMI 2.1 |
My experience
I had already seen him in Berlin, during IFA 2022, but I hadn't had the opportunity to spend an hour in his company in total intimacy. LG has provided me with a workstation complete with Xbox Series X and some games installed, a nice way to seriously test it.
The first title I started was Halo Infinite. The TV offers an option to change the screen size, going from 42 inches up to 32" and possibly even 27". With a first person shooter, playing on a smaller screen helps drastically (obviously it depends from person to person, but this is usually the case), which made me decide to set the mode to 27", giving me many advantages in terms of personal performance.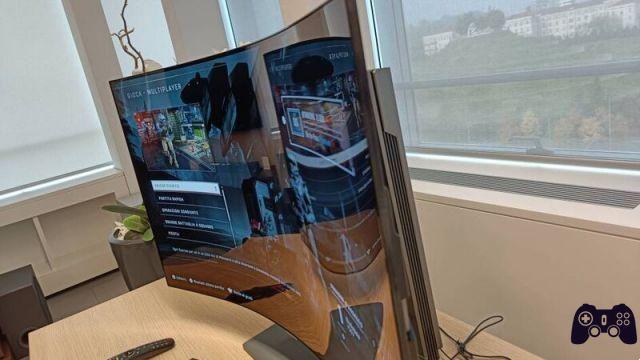 Turned off Halo Infinite and also tested different curvatures, I finally started Forza Horizon 5, which gave birth to an unprecedented visual spectacle thanks to the OLED panel. In this case the standard 42" proved to be perfect, just as the curvature set to maximum gave rise to an impact that really amazed me — and I play regularly on an OLED —.
In both cases, LG's AI audio solution combined with the 40W power convinced me. If in some games artificial intelligence offers a minimal difference, on titles such as shooters it can help a lot to warn the footsteps of online enemies, even if headphones are always the most suitable peripheral in these contexts. Furthermore, the position of the speakers practically opposite greatly helps to enjoy the sounds in a clearer way.
Then there are two other particularly interesting functions, nothing innovative or super original, but definitely useful if you are an avid gamer like me. First of all, the possibility of placing another image side by side with the multi-view, convenient for those who are a hunter of objectives or trophies and want to find all the collectibles or more or simply to watch a movie or a TV series while playing something undemanding; the other feature is lo Switcher Hub, which allows you to connect a USB-A cable from the TV to the device you are using (PC, Xbox, PlayStation, Switch…) using it as a pass-through for the operation of additional peripherals such as keyboards, mice, controllers and much more. In short, if you're using a keyboard on your TV, you can choose whether to move the operation to your device. Useful, don't you think?
As an enthusiast, I can only admit that the potential of this TV in the gaming field is really evident, also because the variable curvature makes it very interesting to be approached in various situations, not just related to gaming. However, I can't help but wonder if this constant changing curvature doesn't hurt the panel in the long run. We cannot know this now, but it must certainly be underlined.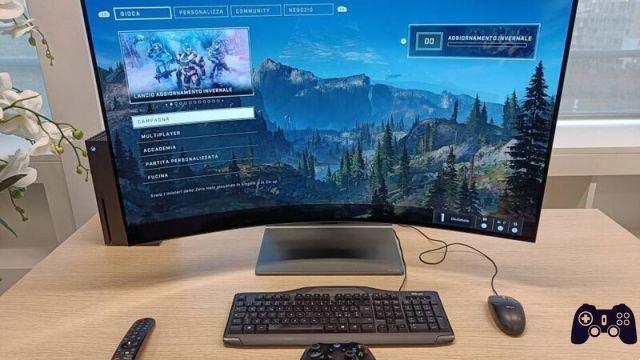 Summing up
LG OLED Flex is an extremely versatile TV, perfect for any need and equipped with the best audiovisual technologies from LG. A real top product in every sense, given that its price is close to 3000 euros. Beyond the infinite features and possibilities that this screen offers, it should however be emphasized that we do not know how much the curvature effect can actually imply long-term damage to the panel and this makes it unpredictable. Clearly we are talking about a TV that will have thousands of tests behind it, but being the first real product of this type it is legitimate to ask doubts, which we hope will be refuted over time. For the rest, if you have a certain type of budget and are looking for a screen that can be perfect for any type of activity, then LG OLED Flex could be the dream you've always been looking for.