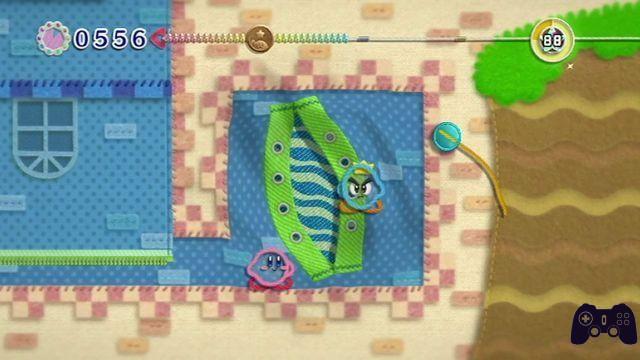 This 2011 will be full of Nintendo releases and, after the plumber, it's the turn of the little pink devouring ball, which finally makes its debut on Wii.
The small Kirby arrives on the home console by completely renewing itself: the pink ball is in fact catapulted into another world, where everything is made of fabric, including himself.
A new world
The dangerous sorcerer Yin-Yarn wants to conquer DreamLand, but one of the obstacles in his path is little Kirby.
Thanks to a spell, Kirby becomes a pile of wool, he is no longer able to use his most famous skills, neither the multiple jump nor the famous absorbent breath.
Lost in this new world, our hero meets Prince Fluff, explains to him that his world has been divided by Yin-Yarn and that to heal it, you need to collect the magic thread and stitch it back together.
Kirby's new abilities
Our pink hero has lost his innate abilities, but he has gained entirely new ones.
Instead of running, Kirby will turn into a toy car, when he will fly he will turn into a parachute, when he crashes he will become a burden (as usual) and also he will be able to infiltrate the thinnest spaces becoming a thread.
In addition to these basic skills, by collecting special patches Kirby will transform himself in entirely new ways: we will have a dolphin, a rocket-firing robot, a rocket, a racing car and even a giant mole.
Thanks to these transformations, the classic 2D platformer renews itself with each passing level, leaving the player with new ways to finish their journey.
On the hunt for the magic thread
The goal of Kirby and Prince Fluff is to mend the world of cloth, to do so it will be necessary to defeat the 7 bosses that reign in the seven slices (or in the seven "worlds" if we want to speak in "plumbing" terms).
The bosses are truly graphic masterpieces, one more beautiful than the other, obviously made of fabric and ready to entertain you during the clashes.
Good Feel has done a great job with Kirby's enemies and the hero's stuff, managing to diversify them and never make them monotonous.
A delightful 2D
Everything in Kirby and the Hero Cloth is made with needle, thread, buttons, and of course various cloth.
The "fake 2D" with which Nintendo has accustomed us now returns here too. Sometimes the little pink ball will end up under the fabric, remaining visible as a bulge in the surrounding environment.We could also pull, modify, tighten and shorten various environmental pieces creating platforms useful to reach gems and treasures.
A hotel to fill
In each level there are three collectibles, two decoration objects and a CD of the game's soundtrack.
The decorative objects are the most varied: lamps, soft toys, chairs, sofas, slides, carpets and many others, they can be used both to embellish Kirby's room and for the other rooms of the hotel (five in all). When each room is complete, new tenants will arrive.
These tenants will want to play with Kirby, unlocking five mini-games ranging from hide and seek to race with the tenant, from taking the tenant to the finish line to collecting an exact number of gems; there will also be a challenge in which you will have to defeat a predetermined number of enemies in a certain amount of time.
Patches that change the world
At the end of the level, in addition to an evaluation (bronze, silver or gold), you will receive a patch that will open a new level, transforming the surrounding world. For example, in the Hot Lands, thanks to the magic lamp patch, a genius will be summoned who will stretch the canvas with a breath, revealing a new level.
In two it is not necessarily better
The Good Feel title is also playable together with a friend, who will impersonate Prince Fluff.
Unfortunately, not everything is pink (or blue) that rolls, and in the scrolling levels it becomes very confusing to complete them with the maximum evaluation, since the camera always frames only one player.
Verdict 7/10 Effort to die Comment Kirby and the hero stuff is a feast for the eyes and the heart. Good Feel has managed to breathe new life into Kirby, and the game, thanks to the light music and storyline, flows like a pleasure. An excellent debut on home console for the pink ball from Nintendo, and an unmissable title for platform fans (although it is certainly more suitable for children, given the ease of the title). Pros and cons
✓
Delightful graphics and gameplay
✓
Captivating bosses
✓
Many transformations
x
No more 'double jump'
x
Quite useless multiplayer
x
Aberrant level of ease thanks to the almost infinite life