It happens, in the life of an editor, to want to take some title under his wing, thanks to some particular bond that is created during his hours of play. One of those who had the "luck" to enter my sympathies is definitely Judgment, with the particular Yakuza spin-off who definitely knew how to win me over thanks to an overwhelming charisma and a whole other set of qualities. After having told you a little over a year ago about the launch of the work on PS5 and Xbox Series, I therefore jumped at the opportunity to relive once again la prima epopea di Takayuki Yagami, this time on PC.
We reviewed the game with the following PC:
GPU: Zotac RTX 3070 Twin Edge OC
MOBO: Asus ROG STRIX Z370-F
RAM: G.Skill Trident Z RGB 16GB DDR4 3200MHz
CPU: Intel i5 8600k 3.6 GHZ
SSD: Sabrent SSD 2TB Rocket NVMe PCIe M.2 2280
Keyboard: Corsair K70 LUX LED Rosso Cherry MX Brown
Mouse: Fnatic Flick 2
Headphones: Logitech G930
Monitor: Samsung C27HG 70 Quad HD 144Hz HDR
From lawyer to detective
Takayuki Yagami is a brilliant lawyer, who in the course of his young career has been able to distinguish himself as particularly promising. An ascending climax, however, which ended with a huge mistake on the stand, with Yagami having an alleged murderer who later turned out to be such an alleged murderer exonerated as innocent. A mistake he has completely destabilized the certainties of the young lawyer, literally bringing it to the brink of a crisis ea leave your profession.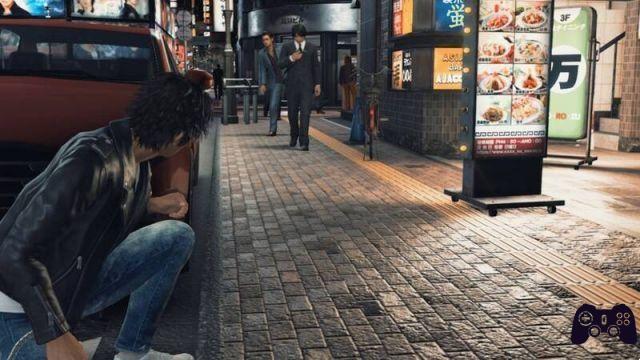 The events narrated by Judgment begin years after these events, with the time that has not yet managed to heal the wounds by Yagami. In fact, we will find our digital alter-ego to survive in the sprawling Kamurocho, a location inspired by the red light district of Tokyo Kabukicho, making a series of small jobs as a detective. A leitmotiv that finds an end, however, with the appearance of a dangerous serial killer between the streets, with his bloody modus operandi that manages to move something inside Yagami.
And it is precisely from this incipit that we will come into play, with Judgment that manages to tell a narrative story of the highest value, filled with twists, well-written characters, and several memorable moments. In short, that of Yagami is a story that deserves to be lived, whether you are a Yakuza lover or have never got your hands on other chapters of the famous SEGA saga.
Investigate and fight
In Judgment we will therefore put ourselves in the shoes of a partly reckless detective, with the gameplay of the title obviously supporting our role. Between tailings, explorations with the drone, search for clues and so on, SEGA's work tries to make us identify as much as possible in Yagami's life, however not hitting the mark from this point of view. However well thought out and varied among them, in the long run these activities are in fact repetitive and not always captivating.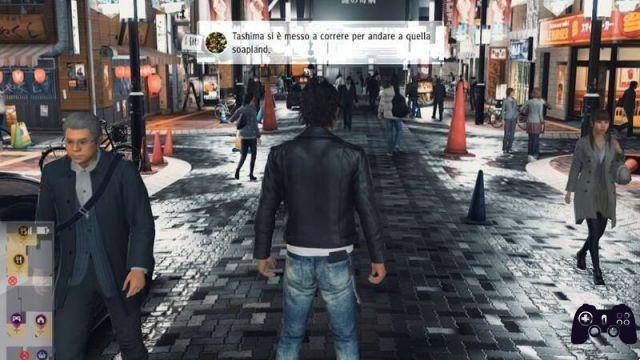 Much better, however, the combat phases. Because in Judgment, in addition to investigating and looking for clues, there is also a lot to raise your hands. Fortunately Yagami is not a simple detective nor just a complexed lawyer, but also a fine connoisseur of martial arts. Our digital alter-ego is in fact a great expert, being able to take advantage of two different styles, one designed for multiple opponents, namely that of the crane, and one dedicated to one-on-one battles, that of the tiger. Both stand out for being as beautiful to play as they are to see, with Yagami's movements and assaults also managing to make use of the environment, making everything even more fluid and pleasing to the eye. In short, under qThis point of view is definitely to be enjoyed.
However, the real strong point of Judgment, even more than the extreme charisma of the protagonist and the enthralling narrated adventure, is Kamurocho, i.e. the setting of the work. Kamurocho is indeed an enveloping place recreated down to the smallest detail, as well as a cornucopia of souls and activities. Between improbable characters, more interesting secondary missions than the entire plot of other titles and an avalanche of things to do, it is in fact impossible not to be enchanted by what is the location of the game. A place of perdition, full of arcades, complete with playable arcades, bars and everything you would expect to find in a red light district. A neighborhood that shines especially at night, thanks to neon and lights that make everything even more alive. Even if you weren't interested in Yagami's Odyssey, in short, tooand the only Kamurocho val ben a twist of the giostra.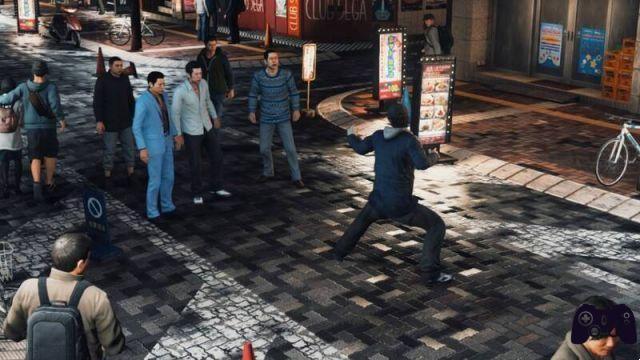 How does Judgment spin your PC?
But, to get to the heart of the matter, how is this conversion of Judgment on PC? Absolutely not bad, even if we are certainly not faced with anything transcendental. Having established the great playful goodness of the title, it is in any case possible to consider the technical rendering on PC to be decidedly successful. With the configuration present at the beginning of the review, in fact, we managed with high details in Quad HD to obtain the 60 frames per second stable, without too many fluctuations even in the most agitated moments. Judgment on PC also presents the possibility of set an unlimited framerate, perfect for those with more armored configurations or who clearly prefer fluidity to graphic rendering.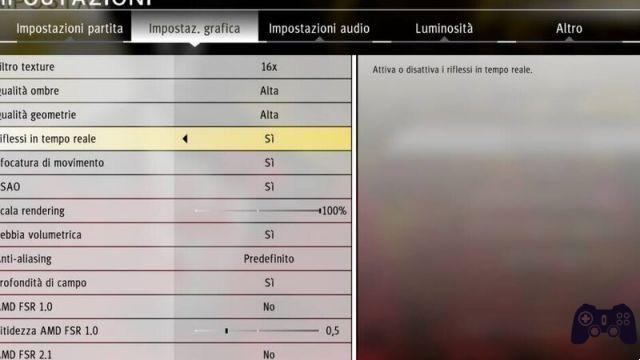 Noteworthy are certainly the graphic settings which, in addition to the classic resolutions and other basic settings, they also have options that are not too obvious and missing in similar porting operations. Real-time reflections, shadow quality and volumetric fog: these are, for example, just some of the graphic options present in Judgment on PC and which make up an all in all varied range and certainly satisfying. Not to be underestimated, then, the support for AMD FSR technology, which on Judgment is well implemented and manages to improve the framerate of the game without significantly sacrificing the overall graphic quality of the title. Of course, with still images in comparison the difference is perceptible, even if all in all small, but in motion it is really difficult to notice such deviations.