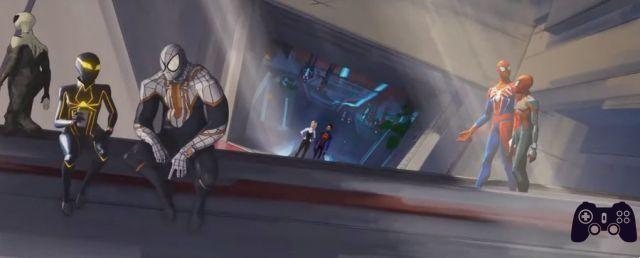 After the launch of God of War Ragnarok, to date we still don't know what will be the next great Sony exclusive to debut on PlayStation consoles. From what we know, the only currently known title is Marvel's Spider-Man 2, a new work by Insomniac Games which, since the first announcements, presented itself as a game arriving in 2023. Now, waiting to find out more details about the new title of Insomniac, the two spider-men of that videogame universe are reappeared in a somewhat unexpected way.
As many of you know, the new trailer for was released yesterday evening Spider-Man Across the Spider-Verse; the new animated film that returns to explore all possible and imaginable spider-verses. Although the trailer is still quite airtight in suggesting a possible plot, there is one frame in particular that has managed to attract the attention of those who have played and loved the two wall-crawling titles from Insomniac Games.
As many on the net are pointing out, it is Peter Parker's Spider-Man than that of Miles Morales of Insomniac will be featured in Across the Spider-Verse. The two characters can clearly be seen chatting in one scene of the trailer. We still don't know if these video game versions of Spider-Man will cover a simple cameo role of a few seconds or if they will have a greater playing time within the economy of the film.
Spider-Man from Insomniac Games in the new Across the Spider-Verse trailer.#SpiderManAcrossTheSpiderVerse #PS5 pic.twitter.com/T39q9BFwCS
— Okami Games (@Okami13_) December 13, 2022
As for the second chapter of the Spider-Man videogame series in development at the Insomniac Games studios, to date we still do not know anything new. The latest trailer for the title is now from a few years ago, but according to the latest rumors, the title is still confirmed to be released during 2023. We just have to wait for the next official communications, perhaps during a PlayStation event.
Before saying goodbye, we advise you to also visit our YouTube channel, where you can find videos dedicated to the gaming world at 360 degrees.