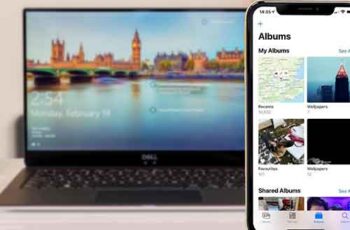 There could be several reasons why you would like to transfer photos from your iPhone to a computer: to have copies on your hard drive, to edit images, or to give a copy to a friend. Transferring photos from an iPhone to a PC was a bit of a tricky task as they were far less compatible. This scenario, however, has changed for some time and when it comes to sharing images. The problems of the past are no longer present.
In this article, you will see how to transfer photos from iPhone to computer quickly and easily. We will also explain the methods of doing it from a Mac or PC.
How to delete all Google photos from any device
Transfer iPhone photos using iCloud
Probably the easiest way to transfer your photos to a computer is to download them from the iCloud service. This process requires you to turn on iCloud storage on your iPhone. Once this is done, all photos are securely stored and accessible from any computer - you'll just need to log in with your Apple ID.
If you transfer to Mac, the process is relatively straightforward. However, if you're switching to a Windows PC, some preparation is required. Follow these steps to access your iCloud photos:
Make sure your computer is running on the latest version of Windows 7, 8, or 10. If not, make the necessary updates.
Download and install iCloud for Windows, making sure to match it with your version of the operating system.
Log in to iCloud with your Apple ID. If you're not sure how to do this, follow the instructions that came with your iPhone.
In iCloud for Windows, open "Options" next to "Photos" and select "ICloud Photos".
Click on "Fine", then up "Apply".
After everything is complete, you can view and download your iCloud photos using the "Download" icon (the cloud with an arrow pointing down). In addition to downloading, you can also edit images on your computer while on iCloud, and the edited version will be available on any device.
Transfer iPhone photos to PC using iTunes
To transfer photos via a USB cable to a PC, you need to have the latest version of iTunes installed. After making sure iTunes is up to date, connect your iPhone to PC using the USB Lightning cable.
Pay attention to your phone as it may need to be unlocked before proceeding. If you see the "Trust this computer" message, tap "Trust or allow", then your PC will have access to the iPhone photos.
Note that you can't transfer any iCloud photos if you haven't previously downloaded them to your iPhone. This is because the image is not present on the device.
Transfer iPhone photos using the Photos app
After connecting your iPhone to PC, open the "Photos" app. You can do this by going to the "menu Start" and selecting "Photo". In the app, go to "It matters", then select "From a USB device" and follow the instructions. You can then choose the photos you want to transfer to your computer.
If you are transferring to a Mac, connect the iPhone via USB and open the "Photos" app. Similar to connecting to a PC, you may need to unlock your iPhone and allow the phone to connect at the "Trust This Computer" prompt.
You should see the Import screen in the Photos app, which shows all your photos on the iPhone. If you don't see it, click on your phone name in the left sidebar. Later, you can select the photos you want to transfer or click Import All New Photos to copy each image to your Mac.
Transfer iPhone pictures to PC without app
If you don't have iTunes or iCloud on your PC and want to transfer photos from iPhone without additional installations, follow these steps:
Connect your iPhone to PC using the USB cable. If you don't have iTunes, instead of Trust This Computer, the message "Allow this device to access your photos and videos" will be displayed on your phone. Tap Allow.
On your PC, open File Explorer for Windows 10 or Computer for Windows 7. In the left sidebar, you will see the iPhone listed as a new device. Note that it will show the device name, it will not just be listed as "iPhone".
Double-click the phone in the sidebar. You will only see the DCIM folder as connecting without iTunes does not allow you to explore other files and folders on iPhone.
In the DCIM folder you will see one or more subfolders, depending on the number of photos you have on the iPhone and whether or not you are using iCloud. The default folder for images is 100APPLE, while for additional folders, the number will increase to 101, 102, etc. All your iPhone photos are located there.
Once you have found the files you want to transfer, drag them to your chosen location on your computer. Also, you can drag and drop the entire DCIM folder. Make sure you copy and don't move the files as the Move option will completely remove them from the iPhone.
You can copy the photos to the Pictures folder or to a new folder you created earlier. Also, if you want to transfer photos and clear your phone storage at the same time, moving files would be a better solution than copying.
Transfer iPhone images to PC via Bluetooth
Another possibility for transferring photos is using Bluetooth. Previous versions of iPhone didn't support Bluetooth connections to Android or PC, but modern devices don't have these problems.
Connecting iPhone to PC via Bluetooth is as easy as connecting any two devices via Bluetooth. All you need to do is enable the connection on your phone and make sure it's discoverable.
Then, turn on the Bluetooth on the PC and let it discover new devices. Connect to the iPhone, enter the one-time security code and that's it.
Once the Bluetooth connection is established, transfer photos using the same methods described for USB connections.
Transfer iPhone photos to PC via email
If you encounter unexpected problems with the iPhone-computer connection, there is a workaround that works every time. Maybe you don't have a Lightning to USB cable with you or your computer doesn't support Bluetooth? Maybe you want to send the same image to several people at the same time? You can always use email.
Images can be attached to emails using an iPhone as easily as doing it from the desktop. Make sure they are in the correct format and don't exceed the size limit, include them in the message, add recipients and send.
If you don't need to transfer a large number of photos, this might be the best way - you don't even have to be in the same room as your PC and you can send yourself an email.
Handling of specific file formats
Most of the files transferred from your iPhone will have the usual JPEG, MOV and PNG extensions. However, from iOS 11 onwards, the default format for pictures on the iPhone has changed to HEIF or HEIC.
This new image format allows for the same image quality as JPEG but with smaller file sizes. There is a downside: the file extension is not viewable on anything other than an Apple device without using a third-party viewer.
If you find HEIF or HEIC photos on your iPhone and don't want to install third-party software to view or convert them on your PC, there is a built-in solution. In your iPhone settings, go to "Photo Gallery" and touch "Automatic" in "Transfer to Mac or PC". The iPhone automatically converts images to JPEG when they are transferred to a PC.
Also, you can set your iPhone to always create JPEG images by going into the camera settings and selecting "More compatible" in "Formats".
Find photos on your computer
After you have transferred the images to your Mac or PC, you may want to access them to copy or edit them. On Windows, this is relatively easy - they'll be in the Photos folder or a custom folder you created if you transferred the photos without iTunes.
However, to find the actual photo file on Mac, you will have to go a little further. Here are the steps to find your photo files on Mac:
In "Finder", click "Home" and find the folder "Images".
Find the "Photo Library". This is the complete photo library on your Mac. Don't double-click on it as only the Photos app will open. Instead, use the right mouse button and select "Show package contents".
In the new window, open the folder "Master".
You now have access to all the images on your Mac and can edit or copy them as you see fit.
Alternatively, you can use the "Spotlight" search to find photos by type. This method is a little more complicated and works best if you know exactly what you are looking for.
Finally, there are a fair number of third-party apps built to search and organize photos on Mac. If the first two methods seem too daunting, you can let the software do the work for you.
In closing, transferring files and photos from an iPhone to a computer, especially a PC, is no longer a problem. Sharing between different platforms is becoming more convenient as time goes on.
Now that you have learned all the relevant methods, such as using cloud services, USB and Bluetooth connections, and even email, you can transfer photos from iPhone to a computer in no time.
Further Reading:
How to transfer photos from iPhone to MAC
How to transfer photos from iPhone to PC
How to transfer music from iPhone to Android
How to transfer files from iPhone to PC
How to use iCloud on Android