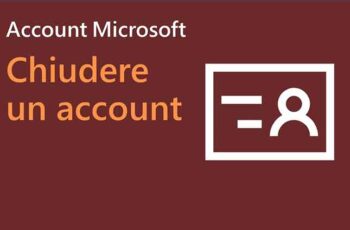 If you're not a Microsoft fan or a fan of serious privacy violations, closing your Microsoft account might be a good start. Of course, that might not be a great idea if your life depends on your Outlook account. But in the grand scheme of things, having and using a Microsoft account is more of a hassle.
In this article, you will learn how to delete Microsoft and all other accounts from Windows, as well as how to delete it forever.
How to change Microsoft account in Windows 10
How to delete Microsoft account from Windows
You can delete a Microsoft account from the Windows settings. This will remove the account from your device, but not from Microsoft's servers. There are additional steps you need to take to make this happen Delete your account locally:
Click the Windows button.
Click the Settings icon.
Go to the Account section.
Go to the Your Account tab.
Find the Remove Account option below.
Note that you can't actually delete an account if you're signed in. So before you do that, log in to another account or just create a local account and then follow the steps above.
Another way to delete Microsoft accounts from Windows, or all accounts, from your local computer, is to reinstall Windows. This is still a good idea. It will clean the entire system, allow you to start from scratch, and improve performance.
It will also ensure that your computer is free of viruses, malware, spyware and damaged files. Not to mention the increase in startup speed for the first few weeks. Also, this way you can only choose the Microsoft account that you are sure you want to use.
How to check if Windows 10 is activated
Delete your account from Microsoft servers
This is where things get serious. When you reach this point, you must be firmly convinced that you want to delete your Microsoft account.
Log into your Microsoft account on the Microsoft website.
Enter your credentials and log in.
Click "Next" in the lower left corner
Verify your identity with your email address or phone number.
Enter the verification code.
Start checking all the boxes on the various reminders that appear.
Finally, select a reason to continue.
Click on the "Mark Account for Termination" option.
Click the Finish button.
Note that Microsoft offers you the option to come back on your decision as long as you prove your identity and sign in within a two month period.
Alternatively, you can follow this direct link to the cancellation form. Log in with your credentials and follow the steps above.
Why activate Windows 10?
Do you need a Microsoft account to use Windows?
Here is an interesting question. What benefits do you get from using a Microsoft account? Not many if all you really need is to use Windows 10.
You can use Windows 10 legally without even activating it. You can activate a Windows 10 license without having to log into your Microsoft account to use Windows.
So why are more and more users creating local accounts and not using their real accounts? Well, if you can provide your technical support in certain matters, using a local account can save you from facing a lot of privacy issues.
Microsoft doesn't do the same type of tracking and monitoring for licenses that use local accounts. There are also many services that are disabled unless you are using a Microsoft live account when you log into your Windows account.
Plus, you can still benefit from the same upgrades and optimizations Microsoft could do, regardless of whether you have an account or not and whether you pay to use Windows 10 or not.
How to clean a hard drive
What happens when you close a Microsoft account
When you delete your account, many things go away forever. If you take the time to read the reminders, you will notice that the Xbox and OneDrive subscriptions disappear. You can even lose access to your email, archived photos, and even the money in your Windows Store wallet.
Therefore, it is important that you read your account overview page and take a look at all the subscriptions you have and the money you have left. Withdraw your money, cancel any subscriptions linked to your Microsoft account, before closing your Microsoft account.
If you use an Xbox to play, you will lose your gamertag and all your games and progress will be deleted. Completely removing your account could have serious consequences. Deleting your Microsoft account will also affect your Skype messaging history and account.
It could be very unfortunate that you have to cancel a subscription to an account if you can no longer access the account itself or the email associated with the account. Of course, you have to save your personal data.
This is if you still want to access it after closing your account and after the 60 day period.
How to cancel Microsoft subscription
If you want to keep your Microsoft account active but are tired of paying for subscriptions (like Microsoft Office or Xbox) you can cancel the services. To cancel subscription services using your Microsoft account, follow these steps:
Sign in to your Microsoft account page
Find the subscriptions you want to cancel and click "Manage" on the right
Click "Cancel subscription" on the right
Confirm that you want to remove the service
You can check the next payment date on this screen by scrolling down to the previous payments. Your subscription may not be canceled until this date, so you can still enjoy the benefits for a while longer. Check for a confirmation email to make sure you have successfully canceled the service.
Try to keep the Microsoft account and the Windows account as separate entities
If you don't want to lose your Microsoft account, there are ways to improve your Windows 10 experience. Just make sure that when you install your new copy of Windows, you don't log in using your Microsoft account but create a local account.
This will disable many of the tracking features and you will still be able to use Outlook, post on the Microsoft forum to get help with your operating system problems, and so on.
Further Reading:
What happens when you delete your Skype account
How to archive, delete and restore your Microsoft Teams account
How to delete old user accounts in Windows 10
How to change Microsoft account in Windows 10
How to delete Spotify account