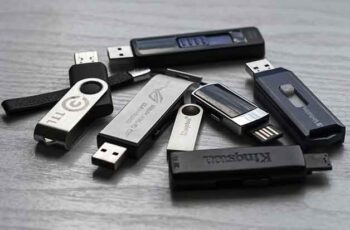 When using the PC it is normal to feel the need for an external support on which to store documents, photos, videos, music, files in general. In order not to burden the computer memory, you can resort to one USB pendrive, which is one of the most used technological gadgets by those who play with the PC, a mobile storage device that allows you to keep the folders containing your files without burdening the space available to your device.
To choose a USB stick you have to consider some aspects, in order to avoid being unfairly disappointed.
With a few simple steps, it will be the best and most useful purchase you can make.
Here is a list of 7 factors concerning the USB pen to take into consideration before buying:
1) The capacity
The first aspect to consider obviously refers to the capacity of the key.
Depending on the use you need to make of it and the type of file you need to store, a mobile device with more or less storage space may be fine.
For example, if you need to keep images or word files, an 8 GB memory stick may be enough, while if you need to keep videos, films, songs, needs change, so you will have to buy a key of at least 32 GB (even if 64 GB or more would be ideal).
However, the advice in this regard is to buy a USB stick with a greater capacity than what you really need. This is to make sure that you do not have to buy a new flash drive in the short term, both because the files are constantly increasing, and because they become heavier and heavier with the passage of time.
Consider that the photos of mobile phones of a few years ago took up less space than today, this is because the resolution of new smartphones continuously increases and with it also the weight of the files.
We also specify this because you must take into account, and you should know it, that the capacity of the stick declared on the package never really corresponds to that actually available: if you buy a 16 GB pen, the actual space available will be about 15,4 , XNUMX GB, therefore, when you are about to choose the capacity of your USB stick, keep this last aspect in mind as well.
2) Transfer speed
Another relevant factor for the purchase of the USB stick is the transfer speed. The latter, expressed in MB / s that is in megabytes per second, is none other than the speed with which the pen drive it can read files on the device itself along with the speed at which it can write new data on them instead.
If you are evaluating between two models of the same capacity, find out, for both types, what the read / write speed is.
For example, prefer the one of 30/10 MB / s rather than the one with a read / write speed of 15/5 MB / s, because it will be much more efficient transferring files in shorter times than the second.
To date the best technology concerning the speed of USB sticks has arrived at 3.0, so you prefer only the keys that are declared with the word 3.0.
However, since such information is often not expressly indicated by the pen-drive manufacturer, especially on cheaper models, we suggest you do some research on the web to understand if someone who bought the key before you, has expressed an opinion. on its performance.
3) Dimensions and physical design
Have one key compact, to put in your bag or pocket without taking up a large space, it is an aspect to take into account when buying.
For the same price you can in fact prefer a model not only with an attractive design, but also with a small (physical) size.
Furthermore, as a matter of convenience, instead of buying models with protective caps, opt for a retractable model, that is, which is inserted into the PC without the need to use a special protective cap, very easy to lose.
4) Write protection
If you want no one to look at the files contained within your key, then you must purchase a model that allows you to protect the data contained in it.
These are pen-drives that allow write protection, both from the software point of view, through a specific encryption, and from the hardware point of view, thanks, for example, to a particular keypad integrated on the device itself.
5) The robustness
If you are a clumsy type, who easily breaks what he has, to avoid unpleasant surprises with his own USB pendrive, spend a few euros more but buy a resistant model, that is, capable of not being damaged in contact with high temperatures, possible falls and / or probable immersions in water.
There are now many resistant models on the market, that is, capable of protecting the internal part of the device from shocks.
6) Compatibility with mobile devices and operating systems
Big compatibility problems don't exist today. In fact, if you need to move photos, music and videos from smartphone and / or tablet to PC and vice versa, keep in mind that there are also USB sticks, which with a special adapter, you can also use the stick in mobile devices.
Almost all those currently on the market are compatible with this step, as well as compatible with all PC operating systems.
7) The brand
We have listed all the basic requirements for choosing a storage stick. One last tip that we intend to give you concerns the manufacturer of the device. In fact, there are many brands on the market, pen drive of any price, from the cheapest to the most expensive.
Try to rely on a well-known brand that can give you an extra guarantee compared to devices made by companies not yet finished on the crest of the wave.
Further Reading:
How to recover deleted files from USB stick for free
How to create bootable USB stick Windows 10
How (and why) it is important to put Windows on a USB stick
How to connect a USB stick to an Android mobile
Fire TV Stick won't connect to Wi-Fi, fixed