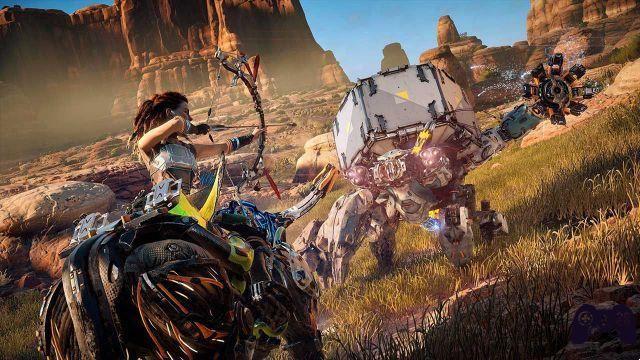 After the remake of The Last of Us (which you can buy on Amazon), according to some rumors verified by authoritative sources such as Andy Robinson of VGC and Lance McDonald, Sony would be working on a remastering of Horizon Zero Dawn, the first game in the franchise produced by Guerrilla Games. The journalist Multiplayer First thought about launching the scoop, also revealing some details of this operation, not yet officially announced.
According to reports online during the Spanish night, the remastered version of Horizon Zero Dawn it should feature more realistic game models and a new lighting system. It is not clear whether the title will receive the same treatment as The Last of Us, practically rebuilt from scratch for PS5, or if Guerrilla Games has limited the work to a real remaster. Currently this "new" game (which we repeat, has not yet been officially announced) should see the light only on PS5 and not on PC, where, however, the title is already available in its best version.
According to the sources who revealed the possible remaster of the game, Guerrilla Games would also be working on a multiplayer title, probably cooperative. The game should be launched on both PS5 and PC, but it is not clear whether at the same time or not. Even in this, however, it is good to remind you that we are in the field of rumors and speculations. The information has been verified by decidedly reliable journalists and insiders, but as usual it is better to wait for any official announcements.
This is actually true https://t.co/f9KYStwqwf
— Lance McDonald (@manfightdragon) October 2, 2022
The first reaction of Twitter, ResetEra and Reddit users to the possible arrival of this remaster was decidedly cold. Many do not find the sense in launching a remaster for a game that is still very valid on a technical level and with so few years behind it, considering that Horizon Zero Dawn debuted in 2017 for PS4. However, it will be necessary to wait for a possible confirmation from Sony, which however could come even further in time: the remake of The Last of Us was in fact revealed by some insiders in March 2021, but the official announcement only came in June this year, on the occasion of the Summer Game Fest. Any plan the Japanese giant has in mind for the Aloy franchise will probably not be revealed between now and the end of 2022.