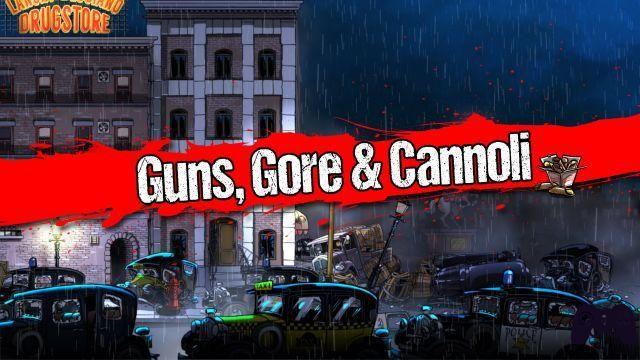 The indie landscape in recent years has significantly expanded into all possible genres, with combinations in gameplay and plots, sometimes even brilliant on certain aspects. This time it is the turn of Guns, Gore & Cannoli, developed by Crazy Monkey Studios and Claeys Brothers, which pleasantly surprised us from every point of view. Without wasting any more time, let's immediately see what prompted us to appreciate this title, which we remember being available on Steam for € 9.99.
Mafia and zombies, a winning combination
Guns, Gore & Cannoli is set in Thugtown imagery in the late 20s, roughly at the height of Prohibition. As the criminal Vinnie Cannoli you will be involved in a situation bordering on the mysterious and the paradoxical. The player will find himself fighting his way through a sort of zombie "apocalypse", a war between gangs and an American army that wants to hide the truth, all to try to understand what is really happening. The story, in principle, is quite simple, but at the same time it is full of brilliant elements that will often manage to get you a few laughs. The characters present there reflect the clichés relating to the criminal model that has been seen in so many films of the genre, but they have all been revisited in an ironic and parodic key.
"Guns, Gore & Cannoli"
The name of the game perfectly reflects its nature. Guns, Gore & Cannoli, in fact, looks like a horizontal scrolling shooter with an incredible variety of weapons, full of "splatter" scenes in some ways and ... full of cannoli! With your paraphernalia, ranging from a simple pistol to infinite ammunition to a "futuristic" weapon that electrifies the enemies, you will have to make your way through alleys, sewers and roofs full of zombies, rival criminals and members of the army that do not they can't wait to blow themselves up. The game mechanics are very reminiscent of those of the Metal Slug series, which have been revised in order to acquire its own style autonomy. In particular, we will have a more truthful management of weapons, since the magazine capacity will have to be constantly taken into account (finding yourself with the weapon to reload during a horde could be fatal). Vinnie will also be equipped with an HP bar (restorable through portions of cannoli), the ability to kick enemies (useful for knocking them down from any protrusions or to have the ability to reload the weapon). In addition to the classic bombs, you can use very powerful Molotov cocktails capable of incinerating the enemy. And let's not forget the massacres that you will carry out along your path, which will be characterized by a series of severed heads, exploded, charred or "melted" bodies. The longevity is not among the best, as the title can be terminated in about 5 hours by the less experienced. Although it can be faced again at different difficulties, there is no online co-op that potentially could have dramatically expanded the proposed game offer. However, there is a local co-op, which minimally tries to make up for this lack.
[nggallery id = 711]
An indie with 2k
From an aesthetic point of view, Guns, Gore & Cannoli is truly impressive. The characters, the incredible amount of weapons and enemies, various backgrounds and settings have been entirely hand drawn, all in high definition. Although it is not possible to change the quality of the images (which is remarkable despite the use of content resources), it will instead be possible to change the resolution with those present, which range from the lowest ones up to 2k. The system requirements, which can be viewed in the "table" below, are moderately high. However, as we mentioned a few lines above, it will be possible to play quietly even with less powerful configurations.
Minimum requirements:
OS: Windows XP, Vista, Windows 7, Windows 8, Windows 10
Processor: Intel i3 or AMD equivalent
Memory: 4 GB RAM
Graphics: ATI or Nvidia Videocard with at least 256MB, or Intel GMA 950 or newer
DirectX: version 9.0
Hard Drive: 5 GB available space
Recommended Requirements:
OS: Windows XP, Vista, Windows 7 or Windows 8, Windows 10
Processor: Intel i5 or AMD equivalent
Memory: 8 GB RAM
Graphics: GeForce GTX 550 Ti or Radeon HD 6770
DirectX: version 11
Hard Drive: 5 GB available space
We tested the game on two different stations, one equipped with an i7-3770k processor and an nVidia GeForce GTX 580 GPU, the other with an Intel Celeron 1007U processor with integrated GPU. What we have been able to observe is that the computing capacity required for the management of the game is very low, as well as the necessary RAM (as long as you leave a few applications in the background). The only component on which it is necessary to pay a minimum of extra attention is the GPU: playing the game at 1080p you will need a quantity of vRAM at least equal to 1024MB, otherwise you will be forced to adapt the resolution.
Last, but not least, is the audio sector of the game. Guns, Gore & Cannoli boasts a soundtrack of great depth, largely inspired by those featured in films such as The Godfather. Even the sounds related to the animations are treated with particular attention, as well as the dubbing manages to contextualize the whole story wonderfully.
Verdict 8.5 / 10 Eat cannoli Comment Guns, Gore & Cannoli is a truly extraordinary indie title. It is certainly one of the games that I have enjoyed the most in recent times, with its "fresh" game mechanics and its irony that permeates every millimeter. The audio and graphics creation helps to make everything even more impressive and to make the game easily recommended to anyone. To really want to nitpick, it must be said that there is no possibility to play online with other players. While it may seem like a minor lack, it makes it inaccessible for many to enjoy playing with others. This does not mean, however, that it remains a very valid and available title at a really low price. Pros and cons
✓
Fun gameplay
✓
Brilliant from every point of view
✓
Technically impressive
✓
Very low price
x
The online co-op is missing