You know when, in a moment of ordinary madness, you are somehow attracted by the unknown to the point that you don't worry about what you might find in front of you? With Goat simulator 3, developed by Coffee Stain Studios, it is in fact impossible to remain serious and impassive. Either because ignorance is rampant everywhere, or because being a goat is fun and there's no breathing space, the second chapter of this bizarre franchise (and not the third, as the team ironically pointed out) continues the journey into madness undertaken for the first time in 2014, publication date of the production of the same name that presented a video game to the panorama that made fun of everything that is frequently talked about on social networks. Often irreverent and sometimes exaggerated, Goat Simulator was a video game that someone defined so crazy that it can't even be evaluated.
Eight years later, however, returning to the role of the most famous goat in the world of video games has been unusual, fun and at times even more exaggerated than I remembered. and in those days the ultimate goat simulation only looked like a big one, monumental and mammoth mockery. But is it really just that, or is there something else? Because if I've learned anything in the past, is that sometimes it is necessary to explore the minds of developers to understand what really lurks in the depths of their subconscious.
Surely, I can confirm that in the psyche of some of them there is room for everything, and I have had confirmation of this in the past, interfacing with their first chapter in a completely unaware, innocent and yes, unaware way. Here, however, I already knew everything: I'm not without fault, because in my experience on Goat Simulator 3, and I say it unceremoniously, I did everything I was allowed to, not limiting my imagination in any way.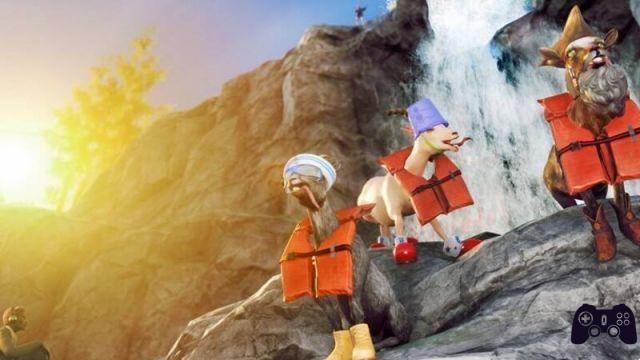 "At the game of the goat you either win or bleat"
Once you start the game, forget all seriousness. If you are coming from God of War Ragnarok, forget the father and son relationship between Atreus and Kratos. And if you're playing Pentiment in the meantime, forget about being associates in search of lighting (no, not that of an electrician). In short, forget even your name, what you do in everyday life, and forget the dichotomy between good and evil, that here there is no time to think about others. You are a goat (no, stop, I'm not insulting you) named Pilgor, a recognized threat to any polygon model, textures and bugs you may run into. He is, in fact, the same protagonist of the previous chapter, who returns for the occasion in better shape than ever.
In this sense, not even a second passes and the first meaningless element of the production is already there: we are on a cart pushed by a tractor, in the middle of a farm inhabited by peasants and simpletons. A resounding "Ah, you finally opened your eyes" and the mind, traveling to eleven years ago, returned to Skyrim and the adventures of the Dragonborn. The beginning of the adventure, precisely, begins like this, by not presenting anything and by not saying what is going on. One way or another, a new journey begins, and the premise of the main plot leaves no room for further interpretation. Here someone must be crowned, and who must be crowned is Pilgor, the goat future queen of the goats, a sort of Cersei Lannister without a scepter and without Wildfire, but at the same time capable of sowing panic, destruction and a few licks everywhere as only a quadruped without a conscience might do. And that quadruped is the player, so we are in very good hands.
Although the story of Goat Simulator is marginal, it was still nice to find a story behind Pilgor's adventures, who at this point becomes a full-fledged protagonist of the video game landscape, as well as a pop culture star who, like Paddington, he might even have tea with King Charles of England. An image that, to be honest, would make anyone laugh out loud, except Queen Camilla. In this regard, the production of the Swedish developers embraces a typical irreverent, brutal and unbridled irony, the same used by the Simpsons and the Griffins, with the only difference that Pilgor, in response to the complaints of the citizens of San Agora, responds by bleating, licking and running away, combining misfortunes, disasters and ruining an ordinary day, turning it into one big party filled with crazy happenings.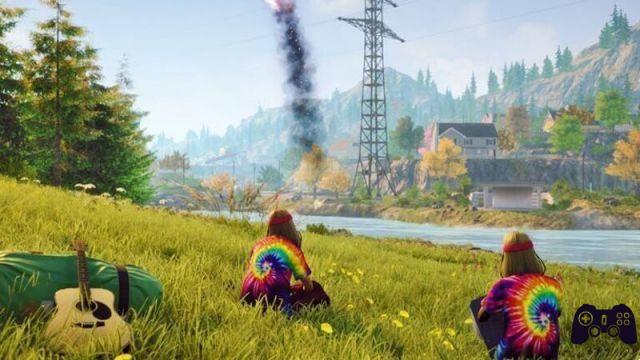 The approach used, far superior to its predecessor, sees Pilgor protagonist of events so crazy that it is impossible to count them all, because the goat finds itself triggering even potentially dangerous events. I have participated, and I do not regret pointing it out, in a satanic mass by sacrificing scarecrows, in the destruction of a similar dam and yes, even in the explosion of a nuclear bomb which I activated simply by warheading it. But that's not all, because the Swedish team, in addition to making everything possible, also makes fun of the giants of their country, including Ikea, which certainly needs no introduction.
In this sense, Goat Simulator 3 is divided into tasks to be tackled in single or multiplayer, with situations so extreme that I didn't imagine at all that the team would materialize its own madness. On the other hand, it's easy to understand: impersonating a goat is obviously unruly, yet it's fun, especially for the many activities to be carried out. The adventure, precisely, sees the protagonist making her way inside a manor that sets a figure to be reached to unlock a moment in the main story, which has a longevity of six hours, really good considering the very nature of the production.
The actual duration of the game, however, can even increase fivefold based on the time taken by the player, who could spend fifteen or one hundred, two hundred or three hundred hours on it, literally doing what he wants, between situations at the limit of human consciousness and unpredictable moments. Goat Simulator 3 exaggerates everything, but it exaggerates so much that it is sometimes even too absurd. There is no limit, and how could there be any, considering everything that happens?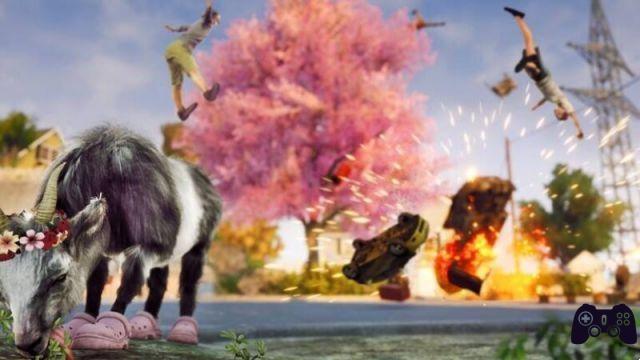 Goat Simulator 3, the time bomb that explodes only when you "Beee"
What could be said about the gameplay of Goat Simulator 3? Which is identical to the predecessor, but that doesn't make it any less fun, caciarone and completely senseless like every single particle on the screen, which in itself is enough to earn its own unmistakable space. However, Goat Simulator 3 is a third-person video game in which the player moves Pilgur around the game map. It's a sandbox, plus a wacky adventure, which allows the player to interact, make and destroy anything that comes within range, breaking fences, houses and peaceful places, devastating monuments and other follies of this kind. The goat will even be able to lick a non-player character, carrying it around and making jumps and spins worthy of Yuri Chechi.
Pilgor butts shop windows, people and, if threatened, cars that he can now also drive. It seems that the goat, in the last eight years, has taken his driving license and has become a sort of CJ in Grand Theft Auto: San Andreas, because he is also capable of stealing cars, jump on them and go around the game map, performing various tasks and screeching like a subspecies of Toretto in a manic-compulsive crisis. As I mentioned before, Goat Simulator 3 offers a story and random tasks to be carried out scattered around the map, which can be activated simply by passing over them.
These missions, useful for increasing one's prestige, are used to unlock new areas of the castle, which represents the nerve center of Pilgur's power. Furthermore, it will be possible to increase it by completing the instincts, simple and crazy requests that see the protagonist do a somersault forward, backward or slip on a highway guardrail. A fun addition, which mocks Assassin's Creed and Far Cry in one fell swoop, concerns the Towers of the Goat, or structures that unlock tokens, question marks and many other areas on the game map, with different challenges to face, however, in multiplayer with some friends.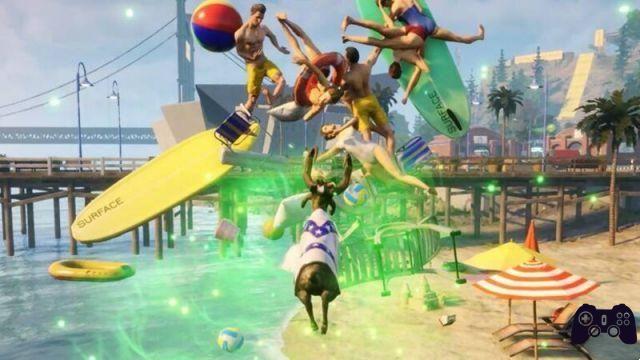 Fun, varied and always crazy, the multiplayer sector is in fact the most interesting novelty, with missions other than multiplayer ones, but equally freaked out. The mode gives room for four players to cause mischief around the entire game map. As in the previous chapter, Goat Simulator 3 also allows excellent customization of Pilgor, with the goat who can wear clown costumes, ice cubes instead of paws and a cannon capable of devastating anything that comes within range. As you progress, you can also choose characters other than Pilgor and play as a hammerhead shark, a piglet and yes, even a scarecrow.
The work, however, tends to become monotonous after ten hours of playing, inevitably leading the player, once the entire map has been cleaned, to have nothing more to do. And this is where multiplayer and additional content come into play, which cannot be missing in the future of production. In short, interfacing with Goat Simulator 3 is a rather particular journey: it is not a work that intends to surprise but simply to amuse, because its game design is deliberately chosen to be crude and easy to approach for anyone who is curious about it.
Ugly, yes, but good
Forget about first-rate artistic direction, pWhy Goat Simulator 3 is anything but a nice looking video game. Focusing all its energy on making itself a video game that makes fun of the medium and even pop culture, it does not offer noteworthy scenarios or memorable glimpses capable of making one scream at the miracle. Thanks to a lame technical side, between interpenetrations and bugs that sometimes make you laugh, Goat Simulator 3 is in fact a production optimized in a somewhat superficial way. Nothing serious, of course, because the experience is not undermined by these issues, yet the production needs an adjustment from this point of view. The predecessor, on the other hand, did not shine, but here the situation has certainly improved.
Goat Simulator 3, whether you love it or hate it, is a production that doesn't take itself seriously and makes fun of everything that comes within range, dealing with issues in an irreverent and unfiltered way, descending into the part of the video game that wants to be ugly at all costs, but which somehow manages to give hours of fun, laughter and absurd situations, including social, political and internal criticisms of the medium. A goat can twist everything as well as unite it. So praise the goat. Praise to the queen of goats.