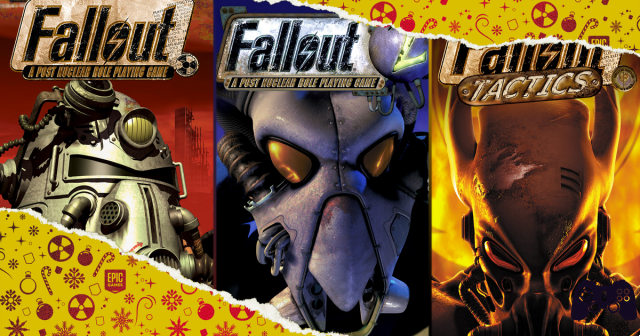 There are fewer and fewer days until Christmas, and to allow us to celebrate this end-of-year holiday in the best possible way, the Epic Games Store is giving away an impressive amount of free games. It's about one title a day in a sort of advent calendar full of very good experiences. In recent days we have been able to get our hands on titles of the most diverse genres, from arcade racing games to the most frenetic shooters on the square. But let's find out what is today's surprise Thursday 22 December 2022.
Unlike other days, today the Epic Games Store gives us not one, but ben three free games that are part of the Fallout franchise. Let's talk about the classic chapters that gave birth to one of the post-apocalyptic RPG sagas most appreciated by fans. In addition to the first two chapters, developed by Interplay and in an isometric view, the Epic Games store has also added Fallout Tactics, the tactical spin-off set in the universe of the franchise.
For the first two chapters of Fallout there wouldn't even be a need for introductions, but if you were never approached these historical titles this is the perfect opportunity to discover the origins of the saga. You will be able to discover where the unique DNA comes from which, from the third chapter onwards, has been translated into a first or third person experience. Furthermore, both games will give you hours and hours of content to be discovered.
If you had never approached the first chapters of Fallout yet or you simply want to add these three titles to your digital game library, know that you can redeem the games in question by comfortably clicking on this address and scrolling down until you find the free post-apocalyptic triplet . Finally, as always, we remind you that these free games will remain free on the Epic Games Store for the next twenty-four hours only. Then it will be time to unwrap another gift and find out what the new free title will be for tomorrow, Friday 23 December 2022.
Before saying goodbye, we advise you to also visit our YouTube channel, where you can find videos dedicated to the gaming world at 360 degrees.