Football Manager it's reached a tired phase, but it's been there for a few years, actually. However, in that country of coaches, football players and politicians that is Spain, it continues to be the undisputed prince of a very strong niche that cannot help but concentrate on that managerial activity that allows us to fully live the dream of soccer. But that's not all, because Football Manager manages to be prince all over the world, no longer having any kind of rival to oppose him, not even that Fifa Manager who up until about ten years ago had also tried to oust him, in vain. Thus Sports Interactive enjoys that monopoly destined to remain so, with an annual publication that satisfies those enthusiasts, but which inevitably raises some criticism. Let's go pit them together now.
Football Manager 2023: plan your future
Let's start from the first novelty that is inserted in F, i.e. the Squad Plan, originally proposed as Squad Planner. Inserted in the dashboard where a few years ago the space for the data center was also added, it is a window that allows us to go and analyze our players role by role, understand in which position it would be better to deploy them and where to intervene to modify something in the transfer market. The most interesting aspect of the Squad Planner lies in the fact that within our analyzes we can also include players who belong to other teams and who are not, therefore, within our squad.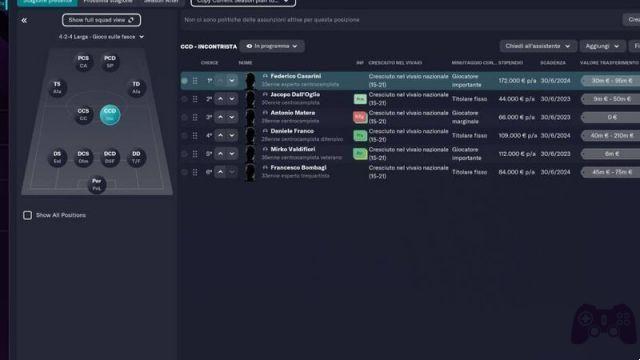 This means being able to anticipate any interventions on the transfer market, already knowing what improvements we are going to make to our squad. A fundamental aspect that goes beyond what it was a mere comparison between player A and player B, to be entrusted among other things to numbers and what could have been a limited knowledge of our staff. As you know, on the other hand, some statistics of certain players, especially if your career will unravel between the lower leagues, including the Spanish Serie C, are not immediately visible and it will be necessary to invest in the network of observatories. Therefore, being able to take advantage of this new tool will also allow you to have a projection on what you are going to build next year, in the event that the negotiations are successful.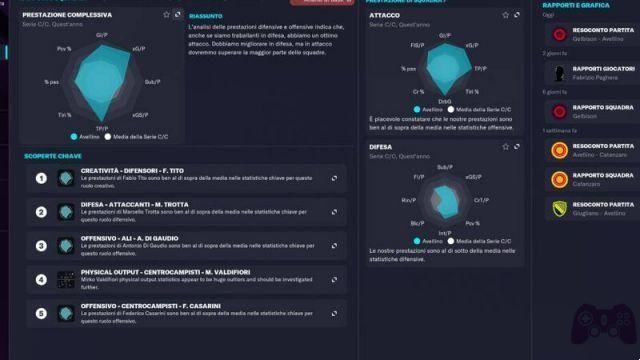 For those who are used to Football Manager and have not missed even one edition of the series, they will know that we are not faced with innovative evaluations, nor with a system that allows us to carry out our activity as managers. It is simply a summary and summary screen of what is happening around us, able to give us an effective projection of the future and a quick and effective comparison with the players we have included in our shortlist. Furthermore, the most fascinating aspect lies in the fact of being able to have vision up to two years into the future, so as to also have visibility on the natural deterioration of the players and their possible swan song.
The attorney on the roof of the world
Apart from this addition, Football Manager 2023 has changed practically nothing. The weight of the agent is certainly more and more at the center, becoming more and more the fulcrum as it happened in the course of the previous edition. We will be able to continue contacting them in advance to find out what estimates the possible agreement will be based on, both with the company and with the player, as if the prosecutor were an omniscient being who knows everything and controls everything. In some cases it was crucial, last year as well as this year, for avoid embarking on exhausting negotiations who did not arrive at a conclusion or others who could not find sensible outlets to get to the point.
The additions from a technical point of view, where Sports Interactive continues to insist on the same formula of the graphics engine, lead us to talk about the purchased licenses for the Conference League, Europa League and Champions League. Official graphics both before, during and after matches, but also during the draws, with all stages reproduced to make the adventure real. An aspect that clashes with the fact that many teams, however, do not yet have the official names and crests: among these Napoli, present as Parthenope, or even Monza, which is called Brianza, up to Salento, which would be Lecce. A pity that, we imagine, it could be granted to a database so huge that you can also do business with your country's team, wherever you are.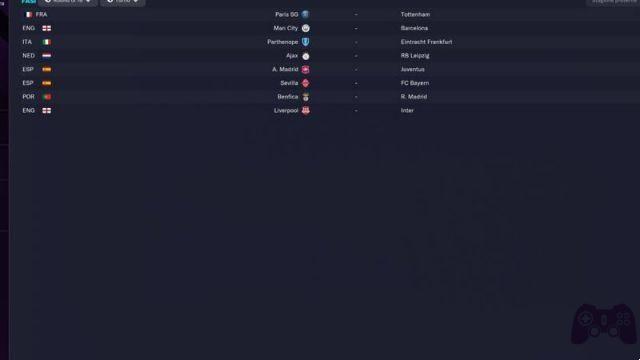 In that sector where useless and long-winded press conferences still continue, with always redundant questions even during the most natural and basic events, let's go and place the activities with the fans. The relationship with the club has become more intense, with organized groups that are ready to make requests to the manager, as is the case with management. The feedback from supporters comes in the same way, with a general vote and with missions to complete, on which you will be updated from time to time: some requests are often very unrealistic (in my case, as coach of Avellino, to have the better of Salernitana, who play two categories above, or with Bari, who play in a different championship), but others are realistic and practicable, up to having an overall view of the stadium and how the various fans are divided.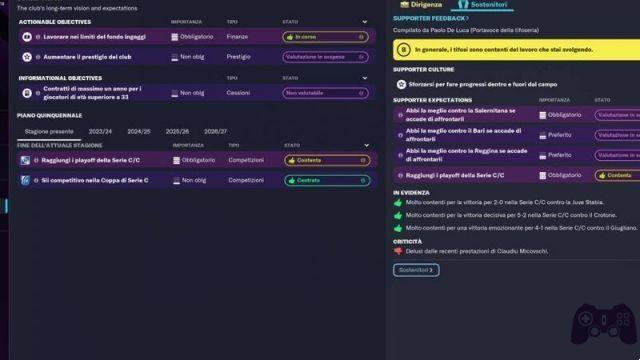 A certainly interesting aspect, which in some situations becomes much more suffocating than others: think of the big teams that have immense supporters and compare them to local realities, which instead will allow you to have more leeway in the event of an error and still be able to fix all your mistakes. Definitely a fine job not to be underestimated, because in addition to the huge database already at our disposal, we thus also found ourselves faced with knowledge regarding the fans which, in some cases, might not be within our reach.