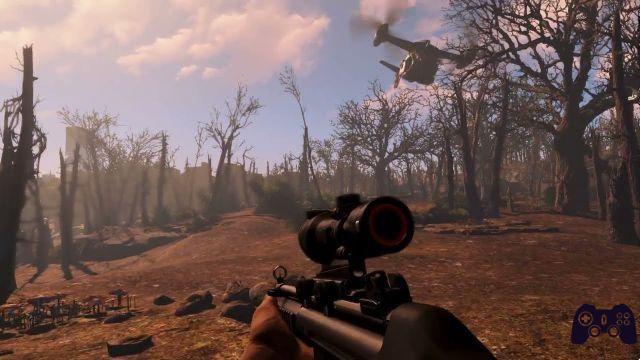 During the years, Bethesda games have received several mods. Fallout 4 remains one of the titles that has had the most support from modders, between completely new games under development and small but necessary add-ons. Today the mod we present to you is a sort of hybrid: no changes to the storyline of the game, but more gameplay elements that radically modify the experience.
The mod, called Dark IV, in fact, it transforms Fallout 4 into a sort of shooter à la Call of Duty. Clearly the entire game can't turn into a single player with a campaign narrowed down to a few hours. "The game world is a sandbox, full of rather strange elements and it is necessary to understand what to do", the words of the modder who created this mod. There are new weapons, new factions, new NPCs, new lore, and new combat mechanics.
Clearly, to make everything more coherent and more realistic, a new, decidedly complex story was also created. "There is a civil war. You are aligned with the faction of the Minutemen and the enemy faction is instead composed of terrorists, and is called the Separatists of the Commonwealth". This new plot is accompanied by a darker narrative, more dangerous game environment and gunplay definitely more refined. You can take a look at the mod thanks to the trailer that you find just below.
Dark IV is available for free on Nexus e you can download it at this address. If this mod has tickled your fancy, know that it could be a great way to entertain yourself before the release of Fallout 5: the new game in the series is still many years away and this new project could be the right choice to fool a long (but inevitable, given the many projects in progress at Bethesda) waiting. Keep following Tom's Hardware for all the news and upcoming announcements from the world of video games.