Anyone who is passionate about the boundless videogame world can now find a whole series of accessories to significantly improve their gaming sessions; whether long or short. Whether you love the PC world, the console world or why not both, what could be better than owning one of the most nice and large gaming desks? These products will give you even more space to fill and sort with game consoles, monitors and various accessories.
There are various types and sizes of gaming desks, and never before has it become easier and cheaper to be able to take home one of these very comfortable workstations suitable for playing in comfort. We are talking about easy-to-assemble desks that can also be easily purchased online on Amazon. To find out which is the economic gaming desk that best suits your needs, we have prepared a guide that will allow you to choose from a number of products easily available and above all suitable for all budgets, remaining below 200 euros.
Cheap gaming desks, the best
Himimi desk, the best overall
Dripex desk, the best under 200 euros
IntimaTe WM Heart desk, the best under 150 euros
Yaheetech desk, the best under 100 euros
Desk Trust GXT 711 Dominus, the reliable alternative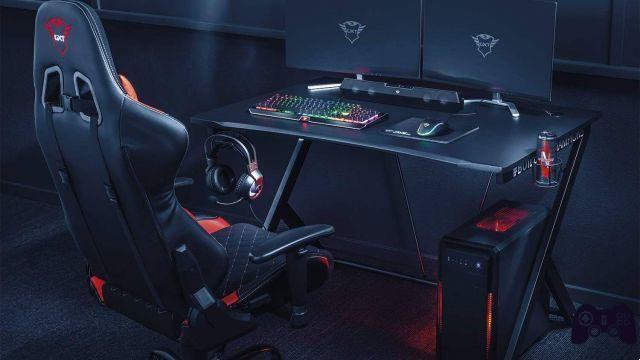 Himimi desk, the best overall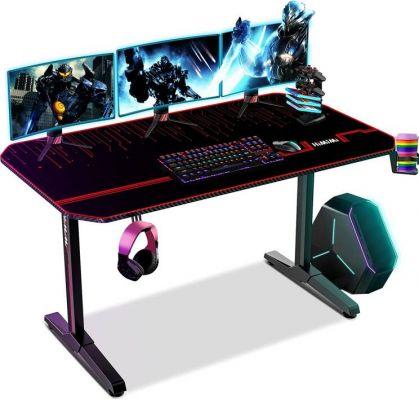 We start our list of the best cheap gaming desks with that of the Himimi brand, perfect for
hold up to three monitors
and complete with a microfiber mouse pad, cable management space, a hook for hanging headphones, and even a cup holder. The surface is made of carbon fiber in such a way that it is easy to clean, as well as giving it an elegant and anti-slip look. This desk is among the best currently available on the market, and is sold in three different sizes, allowing you to choose the one that suits your needs.
See on Amazon
See on eBay

Dripex desk, the best under 200 euros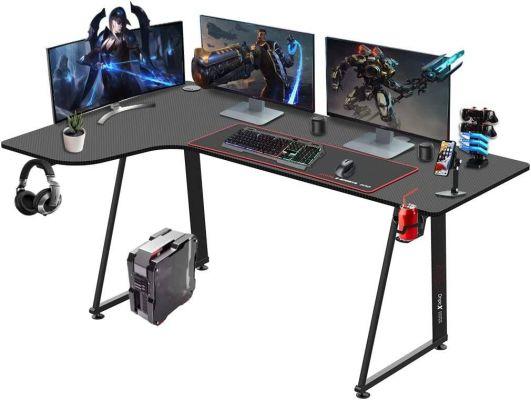 If, on the other hand, the space you have available is quite large and you plan to use your gaming desk as a real entertainment command center, this
Dripex desk
it will surely suit you. At a price that remains low, you will have a large, comfortable L-shaped desk at home with various accessories such as the headphone stand, the controller charging stand and the drink holder. Again a mouse pad is included, and the feet are height adjustable to suit your set-up perfectly.
See on Amazon
IntimaTe WM Heart, the best under 150 euros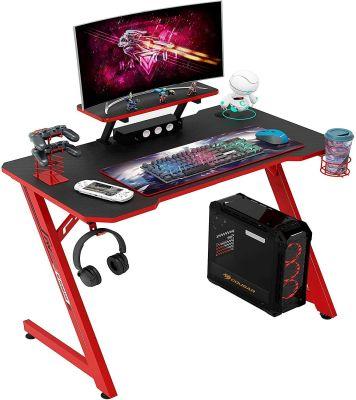 We continue this buying guide with one
scrivania da gaming IntimaTe WM Heart
. With its generous dimensions, this desk is able to provide enthusiasts with convenience and space to be filled with consoles and accessories. With its Z-shaped supports it offers optimal general solidity and, as we have already seen in the previous choices, this desk also has various supports that will help you keep your workstation and all the gaming accessories you own in order. including a rotating cup holder, a rotating headphone holder and a handle holder.
See on Amazon
See on eBay
Yaheetech desk, the best under 100 euros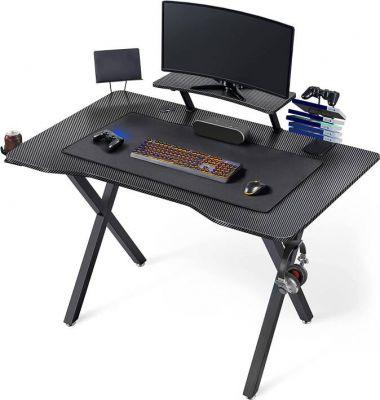 If your budget is very limited but you still want to take home an excellent gaming desk, the Yaheetech is for you. This writing desk indeed presents
several shelves
where you can conveniently place the whole set-up, in addition to the standard accessories such as the cup holder, the headphone hook, the mouse pad and the smartphone charging stand. The robust structure can withstand up to 90kg of weight and the MDF panels covered in carbon fabric veneer will guarantee you a long lasting and quality product.
See on Amazon

Trust GXT 711 Lord, the reliable alternative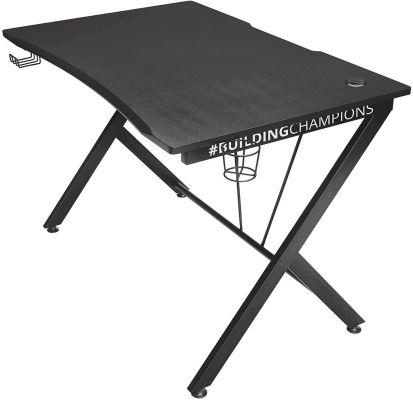 If there's one certainty in quality for gaming accessories, it's Trust. In addition to headphones, mice and keyboards, the company also offers us this fantastic gaming desk suitable for all types of gamers. With the
Trust GXT 711 Lord
you will have the necessary space in which to arrange all your gaming equipment, including supports that will help you manage and organize all the scattered cables. Also inevitable is a hook to hold the headphones and a support in which to place cups or water bottles.
See on Amazon
See on eBay
How to choose a gaming desk
Playing on a nice comfortable desk is as important as working on it, which is why for several years fans of the gaming world have begun to give due importance to both gaming desks and chairs. At the moment, the gaming desk market is quite flourishing, and anyone can find the product that best suits their needs, even those who don't want to spend an exaggerated budget.
Dimensions:
One of the most important things to take into account before buying a gaming desk are The dimensions. It is essential to choose a product that can first of all cover the necessary spaces at your disposal, and then consequently go and choose the gaming desk that best suits you among the various models and different philosophies.
Before making your purchase, therefore, it is essential to take the right measurements of your room and of the corner where you want to go and insert a new gaming desk. In addition, you will also have to take into account the size of your monitor: in this guide we have proposed desks such as the Himimi which can contain up to three screens thanks to its large width, and others such as the Yaheetech which are sold with a special shelf for the monitor.
Price
Another element that should be kept an eye on is definitely the price. It is true that in this guide we are talking about cheap products, but even among the lowest prices you can find very distinct price ranges. Depending on the budget you are willing to spend, here you can find a series of cheap gaming desks that do not go below 100 Euros, but not even above 130 Euros.
An very fair price range, especially if we count that some of the desks that we have proposed bring with them not only excellent materials, on which we will go into more detail shortly, but also a whole series of accessories that will allow you to enjoy an all-round gaming experience. other than low quality.
Ergonomic spaces and furniture
Another important aspect to say the least is undoubtedly theergonomics, especially if your gaming sessions last several hours. When choosing a gaming desk it is always better to aim for a quality product in terms of materials, so as to face your favorite games without the worry of feeling uncomfortable throughout the game.
Don't worry, even in the case of the cheap gaming desks that we have proposed in this guide, we have well thought of giving ergonomics special attention. Furthermore, this fundamental aspect is also reflected in the next point to take into consideration before making the purchase, namely: the materials.
Materials
Even gaming desks, like the more traditional ones, are on the market with a whole range of materials well distinguished. It may happen, in some products, that the various production brands use more types of materials to give greater quality on the product's neuralgic points.
Among the desks that we have proposed, solid iron supports are the most popular, but there are also desks with a base covered with very large carpets, which are integrated directly into the desktop. All this offers players an excellent support on which to place the various accessories and mouse and keyboard to play. Most gaming desks are in carbon fiber, to guarantee more freshness in hot climates and for a seal capable of withstanding as much as possible heavy weights over time.
Accessories
As you may have noticed from the choices proposed in our guide, some gaming desks offer some basic ones very useful accessories to keep your station in order. If you have a lot of wired devices you should buy a desk with a cable ordering system, while if you are a console gamer consider a purchase that also offers a support for the pads. Furthermore, if you need other accessories to make your set-up even more complete, we advise you to take a look at our dedicated guide.
Difference between a normal desk and a gaming one
Doing a quick search on the internet, you might come across a doubt: what is the difference between a normal office desk and a gaming one? Although the two products are similar, there are fundamental differences that start from the aesthetics. Gaming desks are in fact distinguished by being less sober than normal ones and being built not in wood, but in metal and often with a carbon fiber coating. In addition, gaming desks usually feature accessories such as headphone hooks, controller and smartphone holders, and dedicated spaces for cable management.