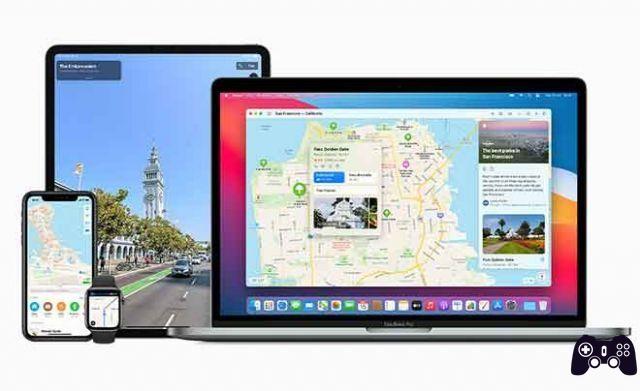 Apple Maps has come a long way in the past few years. While it's nowhere near Google Maps, many iPhone users often use Apple Maps. These users often find that Apple's maps don't work. If you are experiencing the same problem on your iPhone, read on to find out how to fix it. In the meantime, we suggest you use an alternative like Google Maps if you are in a hurry.
1. Restart the app or iPhone
More often than not, the simple act of restarting Apple Maps or restarting your iPhone solves the problem. We recommend that you try it even if it seems too simple. There is no way to clear app cache or data like we do in Android smartphones. So, this is the only way.
2. Turn off WiFi
If you connect to a Wi-Fi network, it may not work or be too slow to load Maps. It's time to move to the data network. Open Control Center to quickly turn off WiFi and make sure the cellular data icon is turned on.
3. Enable cellular data for maps
You have enabled cellular data and your plan is active and you have sufficient bandwidth. However, the cellular option must be enabled for individual apps in Settings. Maybe it's disabled for Apple Maps?
Open Settings> Cellular and turn on Apple Maps if not already.
4. Check coverage
Open Signal is a great app to check if there is enough mobile network coverage in your area. Perhaps your network provider is missing or offering slow speeds and is facing connectivity issues. Using Open Signal, you can track the mobile network in your area and move to a location where there is a better signal. It will track the locations of cell towers on a map that you can easily follow. Download Opensignal
5. Enable Apple's Map Location Service
We just looked at how to enable cellular service individually for apps like Maps. The same goes for GPS too. You need to enable it along with a few other options to allow Maps to do its thing.
Open Settings> Privacy> Location Services> Maps and you will see three options. You need to select While using the app.
We have also enabled precise location for maps because it provides better and more accurate results for your current location.
Note: Turning GPS off and on can also help restart the Maps app. Worth a try. Wait a few moments before activating it from the Control Center.
6. Disable Bluetooth
Bluetooth can be unreliable at times, especially when you need it to work more. Turn off Bluetooth if you're using it to connect to external GPS devices like Fitbit or even your car's GPS unit. While it's not necessary, we recommend that you restart Apple's Maps app once.
7. Storage problems
You should only pay attention to this if Apple Maps crashes. What happens is that the app will stop working suddenly because there is no more space to write data and it crashes. The Maps app will close and you will return to the main screen. Add to the fact that Apple charges a premium for additional storage. Many users choose lower storage models to save money.
You can check the storage space in Settings> General> iPhone Storage. You will see the total storage space left with an app analysis of every single app installed on the iPhone. Another way to free up space is to upload some files to iCloud or Google Photos.
8. Reset your network settings
IPhone users who are facing network related issues should try resetting network settings on iPhone. This has nothing to do with your apps and data, and you can always back up to iCloud if you're worried.
Open Settings> General> Reset and select Reset Network Settings.
You will be asked to enter your passcode for security reasons. Follow the onscreen instructions. Note that you will need to reconnect to the WiFi network and re-enter the password, so make sure you have it with you.
9. Reset your location and privacy settings
The same logic applies here as in the previous point. Resetting your location and privacy settings can help fix common mistakes with apps that depend on GPS to do their jobs. Go back to the same screen as in the previous step, but this time select the Reset location and privacy option.
Note that any GPS app you have installed on your iPhone will ask for permission again. Tap Allow when the pop-up appears. It should be when you launch Apple's Maps app.
How to fix when Apple Maps is not working
Conclusion
Apple Maps is good, but Google Maps is infinitely better. In addition, there are many offline map apps that you can use without an active internet connection. It is recommended to use them because connectivity to the Internet and to the mobile network has improved. However, this is not the case, especially when traveling to remote locations. What do you think? Let us know in the comments section below.
Further Reading:
How to use Apple Maps on Android and Windows PC
How to fix when Apple Maps is not working
How to fix when your iPhone's GPS is not working
How to use Google Maps offline on Android and iOS
How to sign out of iMessage on Mac in just 5 simple steps