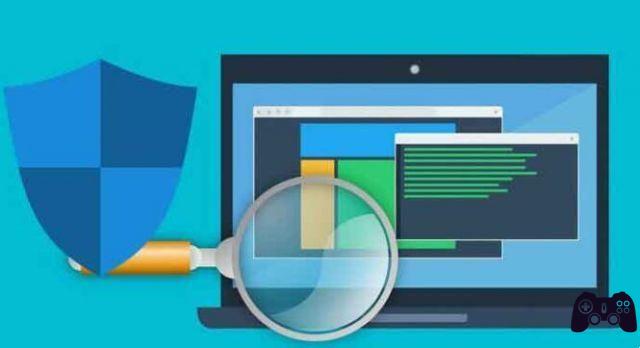 Use these software antivirus online to scan your computer for malicious programs such as viruses, without using any third-party antivirus software. You should always keep the best antivirus program on your PC. But did you know that you can scan your computer for viruses without using any third party antivirus software?
Keep these methods in your security arsenal. In 2002, 60.000 computer viruses, network worms, Trojans and other malicious software were known. Trends indicate that as of January 2022, the total number of new malware detections worldwide reached 677,66 million programs.
These proactive methods can form a second line of defense. Before we begin, it's helpful to understand the symptoms of an infected PC so that you can instantly realize when your system's security is compromised.
Symptoms of an infected PC
A computer virus, just like the common flu virus, is highly contagious and hinders even the simplest of computer tasks. It damages programs, deletes system files and interferes with system performance.
It is not always easy to determine the presence of malware su un PC because hardware failures and system incompatibilities can also cause the same problems. However, watch out for these red flags and scan your system immediately.
Poor system performance
Frequent application errors
Unusual error messages
The browser crashes frequently
The PC is not responding
The computer restarts by itself
Opening pages you haven't clicked on
Access to files and programs blocked
Cyber ​​criminals and hackers are smart enough to hide their malicious codes while operating on your computer. Modern malware can evade antivirus detection and infiltrate your PC without showing any of the aforementioned signs.
4 ways to scan for viruses without purchasing antivirus software
The only way to determine if your computer is infected is to scan it and manually delete the virus using the methods below.
1. Look for Unusual Activity in the Task Manager
Il Task Manager di Windows provides detailed information on all processes and programs running on your computer. You can use this feature to search for unusual activities that consume system resources. Open the Task Manager and check the system processes.
Type Task Manager in the Start menu or simply press Ctrl + Shift + Esc. Alternatively, you can press Ctrl + Alt + Canc and select "Task Manager" in the new window.
Click on the tab Processes to view all system activities.
If you see a smaller list, tap Other details to see a complete list of processes.
Analyze the processes and look for any suspicious activity.
Right-click on the suspicious activity and tap End activity.
A computer virus or malware will often use a large amount of memory, CPU, and disk resources. They usually have weird names, but they can also impersonate legitimate files to avoid detection. If you are suspicious of a process, simply right-click on it and choose Cerca online to find more details about the program.
2. Use built-in Windows Defender
To get rid of viruses from your PC without antivirus, Windows 10 comes with a built-in Windows security application that constantly scans your computer for viruses and malware. However, you can also run manual malware scans with the application. Here is a step by step procedure on how to use it.
Open the menu Start and select Settings.
Click on Update and security , then select Windows security in the menu.
Among the many Protection Areas, click on Virus and Threat Protection to open the scan window.
click on Scan options to view the three options, including Quick Scan, Full Scan e Custom scan .
Select the desired option and tap Scan now to perform a manual scan.
Windows Security Defender will scan your computer for malware and return the scan details. The integrated tool also allows you to take action against threats. can remove , restore , block or put in quarantine a threat using Windows Defender.
3. Use the command prompt
Since most viruses and malicious programs lurk in drives, you can use the command prompt to reveal the hidden attributes of the file and then delete it. Here's how to get rid of viruses from your system using CMD.
In the Windows 10 Start menu, type cmd.
Right-click on Command Prompt and select Run as administrator.
Go to the infected partition or drive using the "X:" Replace X with the infected drive.
Type the command attribute and press Submit.
attrib -s -r -h /s /d *.*
Enter the command dir to view all directory files and subdirectories on the assigned drive.
Now, look for suspicious files with names containing words like 'Autorun'and an extension'.inf'. Use the command Delete to remove the virus, as below:
del infected file name
In the attrib command, h represents the hidden attribute of the file, r shows the 'read-only' attribute, while s change files from user files to system files. /s extends the search all the way, including subfolders, and /d includes all process folders in the search. It is vital to mention using CMD with care because improper use can damage important system files.
4. Edit the Windows registry
The Windows registry is a database that stores system hardware and software configuration settings. It also allows you to manually delete a virus from your computer. However, the virus must be identified before it can be removed from the registry.
It is a technical process that requires some familiarity with the Windows registry. Therefore, we recommend that you only try this method when you are completely sure of the identity of the virus. Here's how to use the Windows registry to eliminate a virus.
Type Regedit in the Start menu or window Run.
click on Windows registry to access the Register of system.
Go to HKEY_LOCAL_MACHINE as this is where malware typically installs itself on the system.
Now, look for a suspicious file in the registry in:
Software/Microsoft/Windows/CurrentVersion
Look for an unknown program or a file with a confusing name and search online to confirm if it is malware.
Right click on the confirmed entry ed delete it from the Windows registry.
Before deleting a virus without antivirus from the Windows registry, it is recommended that you back up important files and programs. You can also use a data recovery software in case of an emergency, but make sure it doesn't happen.
Protect your PC from prying eyes
Regardless of your caution, you cannot completely eliminate the threat of computer viruses. Use these methods to thwart malware threats and protect your valuable data from prying eyes. And if the above methods aren't enough, there are plenty of other antivirus tools to further strengthen your PC's defenses.
Further Reading:
The best alternatives to Avast Antivirus
How to delete Android virus in an easy way
How to uninstall Kaspersky Antivirus from Mac or PC
How to delete malware from Windows 10 PC
How to remove advertisements that pop up on their own