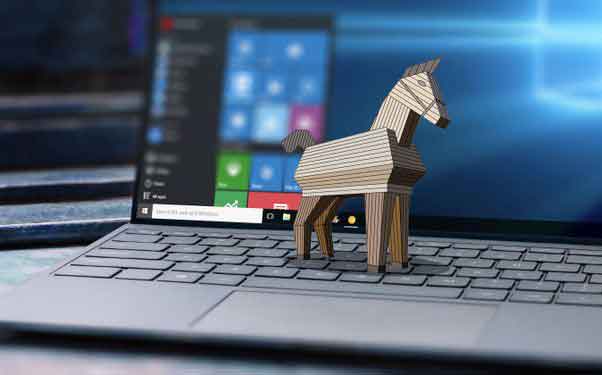 Troubled by Trojan Malware Infection? Find out how to remove a Trojan from your Windows computer and keep it safe for the future too. Do you suspect your PC is infected with a Trojan horse? Does it move slowly or suddenly freezes while a program is running?
If you are looking to remove a Trojan from your Windows 10 PC, you have come to the right place. In this guide, we'll take a brief look at what exactly a Trojan horse is, how it works, and what steps you need to take to remove it from your PC. So, let's start with a brief definition of a Trojan horse or Trojan horse.
What is a Trojan horse or Trojan horse?
A Trojan horse, or Trojan, is a type of malware that deceives itself as a legitimate application. It might be hidden in an email attachment, games, software, movies or songs, etc.
It differs from a computer virus in that a Trojan does not replicate itself and must be installed by the user. Trojan's main goal is to try to interrupt, crash or sometimes completely steal a user's data from their system.
And it also seems to be on the rise.
The Malwarebytes State of Malware 2020 report [PDF] identifies Trojans as the second most frequent malware attack faced by companies, right after Adware.
Although there are thousands of different Trojans out there, some popular and particularly debilitating Trojans include Danabot, Lokibot, Trojan T9000, and remote access Trojans.
What does a Trojan do and how can you detect it?
Although Trojans come in different forms and threat severities, all of them are classified as such because they perform more or less the same specific activities on your PC. These include things like:
Keep track of the websites you visit.
Installing other malicious software on your PC, such as a worm or virus.
Send crucial information like usernames and passwords to black-hat hackers.
Backdoor creation.
Use your PC to conduct DDOS attacks.
While there is no surefire way to recognize a Trojan without an antivirus program, one subtle giveaway is the gradual decline in your PC's speed, which is hampered due to the CPU resources used by the Trojan.
Methods to remove trojans from Windows 10
Suggestion : Before you start removing the Trojan, you need to back up your Windows 10 files. This is to make sure you can easily restore your data if something goes south. Note that you may also be backing up the Trojan horse, so you'll need to fix the backup once it's restored. After finishing the backup, you are good to go.
1. Run Microsoft Defender
First introduced with Windows XP, Microsoft Defender is a free antimalware tool to protect Windows users from viruses, malware, and other spyware.
You can use it to help detect and remove the Trojan from your Windows 10 system. Follow the steps below to start using Microsoft Defender.
In the Windows search box, type "Windows Security" and click Virus and threat protection.
From there, click Scan options and select Full scan.
Finally, click Scan now.
The software will then start scanning and remove all trojans found.
2. Run System Restore
System Restore helps you to return your computer to an earlier point in time and helps to troubleshoot your system due to any malfunctions.
If your PC's files have been infected with a Trojan, performing a System Restore is a good idea, as it will restore previously uninfected files, but only if you have a restore point from before the Trojan appeared on your computer .
Figuring this out can be a little tricky, but try to remember how long your computer hasn't been working properly and find a restore point before that time. To get started, you first need to check if your system has a previous System Restore.
To type Restore in the Start menu search bar and click Create a restore point.
In the card Protection of work. click System Restore.
In the next window, select Choose a different system restore and click NEXT to choose a specific restore point.
However, if you don't have a previous restore point, this method won't work for you. If so, don't worry. Move on to the next method.
If, however, you have a previous System Restore, follow these steps.
Select a time when you think your system has worked fine and click NEXT. Finally, click end. Your PC will restart and your settings will revert to a previous time.
By following this method you should delete the Trojan, along with its files from your PC.
3. Run anti-trojan software
If you don't already have an antivirus program, you should install one. Microsoft Defender is Windows 10's default antivirus program, but there are many other options available.
An antivirus program is your PC's Achillies Shield, which protects it from online threats. However, you can also download specific Trojan horse removal tools. Avast Trojan Remover
Avast Trojan Remover is one of the best Trojan scanning and removal tools available. It is also free. Download Avast Trojan Remover and install the program on your PC. From there, it's a simple click and scan process. Scan your PC with Avast AntiVirus and the tool will delete the trojan for you.
Bitdefender is another great antivirus tool you can use. It is available in both free and paid versions. Available for free, it is offered for Windows, Mac OS and Android.
Download Bitdefender and launch it on your PC. The software will then download all the necessary files to your PC. Open the application to scan and delete the trojan from your PC. Bitdefender Antivirus
3. Use Safe Mode
While you won't remove the Trojan itself with this method, starting your PC in Safe Mode can come in handy. Sometimes, Trojan malware may interrupt your antivirus and thus make it difficult to delete. By opening your PC in safe mode, your antivirus program will be able to do its job properly.
click on Windows key + R to open the dialog Run.
There, type msconfig and click OK.
In the card Start. select the checkbox Safe Boot and click Apply.
Now restart your PC for the changes to take effect. At the next boot, your PC will boot in safe mode.
4. Reset Windows 10
Follow this method as a last resort. If none of the above methods have worked so far, you can reset Windows 10 to definitely remove the Trojan.
All installed files and apps will be erased from your PC by performing a Windows reset, which means your PC will become as clean as it came when you bought it. After deleting all apps and files, Windows 10 will be reinstalled.
To begin the reset process, go to Settings> Update & Security> Reset. From there, click Start to begin the restore process.
Next, you will have two options to choose from: Keep my files o Remove everything. Choose the one you want to use and start with the reset. While you are attempting to remove a Trojan horse from your system, you should select Remove All, but be warned - he does exactly what he says on the box.
Trojan removed forever!
A Trojan horse infection can be a hindrance to the smooth running of your PC. We hope that following one of the methods worked to permanently delete the Trojan malware from your PC.
Further Reading:
What is a trojan virus?
How to delete malware from Windows 10 PC
The difference between viruses, worms and trojans
What is dllhost.exe file? How do I remove it from Windows 10?
What is the Spooler Subsystem app and is it safe?