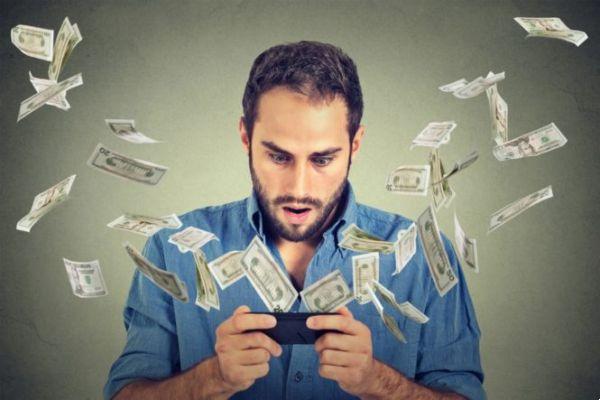 The eternal utopia. Earn money with your smartphone. Reality or myth? Nothing is taken for granted on the Internet. It is a lesson we must learn. But with patience and dedication, in fact, you can make money with your phone, without filling it with spam.
If we ignore the emails we often receive in our email, we are able to earn thousands of euros a month with our mobile, or work from home. But this is just spam. Lies and scam attempts. It's possible earn money with your phone?
Honestly, it's true you can earn a few euros using your smartphone. We are not talking about earn a salary with your smartphone, but some sporadic extra income to pay for a pizza, or buy yourself a whim, even if with some occasions it depends on your skill. We have selected 10 ways to earn money with your mobile. All of these methods are legal and they work.
It is important to clarify that most of these methods require repetitive and, in most cases, tedious tasks. And the money you will earn is not a lot. But these are tasks that can be done at any time.
here are the 10 ways to earn money with your mobile. There are thousands of apps on Google Play, but most of them do nothing but fill your mobile device with ads, slow it down and steal your precious time for pennies or, directly, the only thing they are looking for is your personal data. .
We discarded all of that and focused on apps that might make you some money, you can earn some money without turning your mobile phone into a spam nest.
Sell ​​your photos online
Are you good with photography? Have you taken original, quality photos, with professional finishes? You can sell them to one of the many paid photo sites out there.
It is a very simple process. Just create an account on the corresponding platform (most of them are free), upload the photos to the database and wait for someone to download them. You are charged a fee for each download, which can range from a few cents to several euros, depending on the platform.
Logically, to get money, photos must be original and of quality, because there is a lot of competition. You also need to label them correctly so that they appear in the platform's internal search engines.
If your photos become popular, you can earn big bucks with your mobile with this system.
Some platforms that allow you to sell photos are:
Adobe Stock (Fotolia)
Twenty 20
Getty Images
Dreamtime
Shutterstock
Snapwire
HQ Trivia
HQ Trivia is an iOS and Android app that was released last year. And even though the fever has dropped, it still offers luscious rewards.
È a question and answer contest offering real money prizes.
Each day comes with a battery of questions and you get a series of free answers, although you can buy more with microtransactions.
If you answer correctly in a limited number of attempts, you win the corresponding prize. If there is no winner, the prizes accumulate. There are players who have won € $ 25.000.
On certain special days, the biggest prizes are presented by a celebrity or advertising brand.
It is important to remember that the contest runs live between 21pm and 00pm, so you must be logged in at that time. And a lot of questions are about American local culture, so they're more difficult for those who don't live there.
If you win a prize, you will be paid into a Paypal account.
You can download Trivia HQ via these links for iOS and Android.
Patreon, use your talent
If you have a hidden talent or are good at creating content that is interesting, you can use Patreon to monetize this talent.
Maybe you are good at recording funny videos, creating programming tutorials, teaching how to play Fortnite or making travel reports on Instagram.
If you think you're ready to run a business and get paid, you can add a link to Patreon during that activity e manage your earnings from your mobile.
Patreon is a platform that allows you to collect donations or monthly subscriptions. Normally your followers pay by card or PayPal and you receive the money in your account. patreon it easily manages and allows you to send notifications with news to your affiliates, news, questions and answers, etc.
Patreon is available for iOS and Android.
Google Opinion Rewards
There are many apps that pay to answer surveys, some are not reliable, take a while to pay or you have to answer many surveys to earn just a couple of euros.
It's tedious work, but if you like answering questions about your habits or opinions, one of the most trusted apps (it's an official Google application) is Google Opinion Rewards.
Once a week you receive at least one survey (although you can receive more), with questions inviting you to choose a logo, select the promotion you like or where you would go on a trip. Most are easy to answer and it doesn't take long. When you complete the survey, you receive a minimum of € 0,75 per survey, but please note that this is virtual money to spend on Google Play. You can use it to buy apps, movies, music, etc.
When you register in the app you need to fill out a form on your tastes and knowledge. Add as much as you can because the content of your profile card will depend on how many responses you have entered. Many of these are geolocation based - when you walk into a store that has an agreement with Google Opinion Rewards, you will receive the survey. So if you want to receive more, you must have the GPS activated (geolocation) and move around the city. If you stay home all day you will get a lot less.
Download Google Opinion Rewards from this link on Google Play.
Other websites for earn money with surveys:
mi iyo
Global Test Market
Toluna
Earn money by completing small tasks
We are not very supportive of this type of app, because as we said in the introduction they always end up filling your phone with advertisements, or you have to install test apps and other content that ends up interfering with the performance of your smartphone. But if that's not a problem you can earn with your mobile, or with Amazon gift cards, PayPal, etc.
Payment is not made in cash, but in Amazon and PayPal gift cards. They pay an average of 7.000 gift cards every day.
Cook for others on EatWith
If you have a nice house or an idyllic corner in the garden, and you are good at cooking, you can preparing meals or dinners for other people.
More and more people are looking for alternatives to traditional restaurants, today it has become fashionable to be invited to private homes or to travel in private cars, many people decide to dine in cozy homes that offer dinner or lunch.
One of the most popular services is Eatwith. Accept culinary experiences and you can propose yours. It doesn't have to be just a meal. You can give cooking lessons or a special presentation. Through Eatwith you get in touch with potential customers and accept the menu and the program. If you get a good rating, you will attract more guests and you can get a good bonus on the days that interest you.
Keep in mind that, before inserting your proposal in the catalog, Eatwith he will give you a little test or ask you for more information.
Log in to Eatwith for iOS and Android.
Take care of pets
Do you like animals? Don't mind having one at home from time to time, take care of it and take it for a walk?
There are services like DogBuddy or Gudog that allow you to become a pet sitter. Create a profile with photos of where the animals will be housed and how you will care for them. From the mobile application you receive proposals and interviews with pet owners, to set the days in which you have to take care of them and the attention they need.
Dogbuddy guarantees that you can earn up to € 900 per month with animals, but it logically depends on the demand in your area and your reputation as a caregiver.
Become a tour guide
If you know your city well (tourist spots, restaurants, party areas) and are good at dealing with people, you can become a local tour guide con ShowAround.
It is an app available for iOS and Android. You register as a tour guide and wait to receive proposals from tourists who want to visit your city. With your mobile, you accept the type of activity you want to carry out: visits to museums, typical places, restaurants, etc. And so you can start doing the local guide.
It works in Spain, and on average the guides currently in service are made pay between € 10 and € 15 per hour. ShowAround holds a small commission.
Like other services of this type, if you get good ratings you will have a better chance of being hired.
Earn money with your texts in TextBroker
If you are good at writing on all kinds of subjects (or if you specialize in some) you can accept texts on request, in servizi come textbroker o greatcontent.
You register for free and create a profile with your skills. You don't have to be a journalist, write well in the languages ​​you indicated.
Receive commissions on topics you know, based on your profile, to post on blogs, advertisements, websites, manuals, etc. You can earn up to € 100 for each of them, but it depends on the extent or the difficulty.
As your writings are better rated, you will receive more and more commissions. Even if you have to work a lot, you can earn a salary using this system.
We just finished seeing the 10 ways to earn money from your mobile.
Further Reading:
How to withdraw money from your TikTok account
How to earn XP in Harry Potter: Wizards Unite
How TikTok Gifts Work
The fastest and cheapest ways to get Spell Energy in Harry Potter: Wizards Unite
How to quickly grow Mora in Genshin Impact