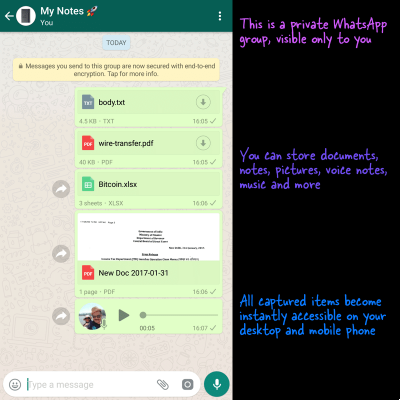 WhatsApp as a private archive. You are using WhatsApp mainly for text messages and calls, but there are a couple of other interesting uses for WhatsApp, which will help to further enhance the use value of this application. Other than communicating with the outside world, it is also possible to use WhatsApp to:
Capture and save ideas, notes, voice memos, scanned documents and everything in between in a private space that is accessible from around the world.
Quickly transfer web links, documents, screenshots and other files between your computer and phone.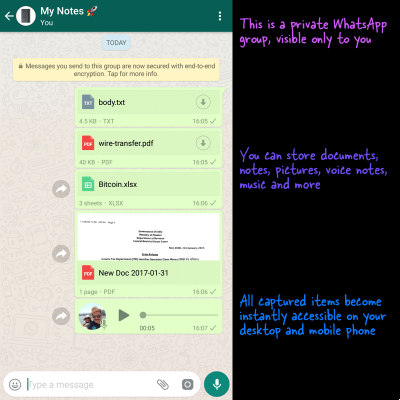 WhatsApp as a private archive - Send Whatsapp messages to yourself
The idea is simple. You create a new virtual contact within WhatsApp and, whatever you want to capture privately, you can only share with this virtual contact.
It is not possible to send WhatsApp messages to your number, but there is a simple trick to get around this. Create a new WhatsApp group with only one participant - you !!!. That's how:
Open WhatsApp on your phone and create a new group (go to the three dots at the top right New Group).
Add a contact from the address book for this group and name the group (like my archive).
Now go to the created WhatsApp group, go to the participant list by pressing on the three dots at the top right and group info.
Now go on participants and holding down the contact previously added to create the group, delete it so that only you who are the administrator of the group remain.
That's all.
It now has a WhatsApp private archive which is visible only to you and accessible from the web (desktop) and mobile phone.
Now you will be able to share less vocal files and documents from your smartphone on this group in which you will be present alone so that you can access them as many times as you want and have a private archive on your whatsapp.
By accessing whatsapp web from the PC you can transfer the files you have saved to the group created as an archive without having to connect the smartphone to the computer.
In short, now with this new group set up with only you inside you can use it to save us by sharing all the files you want, photos, documents, etc ... so you can find them directly on Whatsapp.
What are you waiting for? Create your archive on WhatsApp.