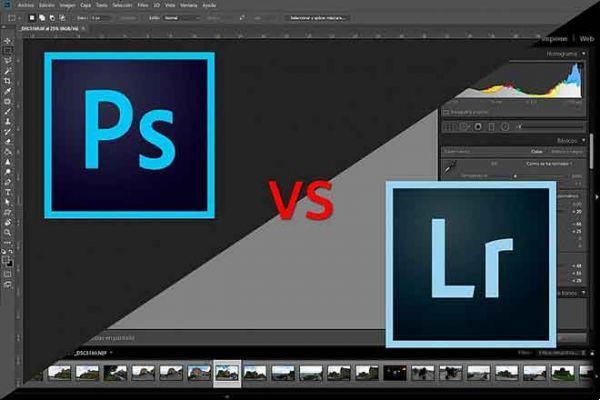 If you have recently started to process your photographs, surely looking for the ideal program you have found two that stand out above all the others: Photoshop vs Lightroom. But which is the best? The point is not to argue which of the two is better, since they are different programs and each has a different purpose.
Photoshop vs Lightroom
Therefore, what we will try to do in this article is to broadly analyze both programs to find out, not which is the best, but which you need Lightroom or Photoshop. Are you staying to find out?
What is Photoshop for?
Adobe Photoshop is a program that is not only useful for photographers. It can also be used for graphic designers, web designers, illustrators, advertisers, and even architects. That is why it is such a comprehensive and also so overwhelming program. Having so many options can be both its main advantage and its main drawback let's see below which one to choose between Photoshop or Lightroom.
If you've just entered the world of photo editing, chances are that when you open Photoshop you don't even know where to start. It has so many utilities, tools, and menus that it can be overwhelming at first.
With Photoshop we can find infinite options to retouch our photography:
Perform basic photo development: color correction, lens correction, reformulation, straightening, etc.)
Make any kind of color correction to our photography
Distort and change the perspective of the photo to your liking
Work with selections and masks for precise zone retouching
Work with layers and blending modes between them
Apply different effects and filters, both to the whole photo and to specific areas
Add or remove elements of our photography as we wish
Create objects digitally
Make photomontages, fantastic and realistic
Apply advanced photographic techniques, such as frequency separation or dodge and burn.
As you can see, Photoshop is a program that will help us refine even the smallest detail of our photography . And yes, I say photography in the singular, because we will have to retouch our photos one by one.
Yes, there are automated actions that can make serial retouching work a little easier, but this is actually one of Lightroom's strengths, as we'll see below, so unless you want to automate a special retouch, for easier development and retouching you will see how Lightroom offers you a simpler and more versatile system.
What is Lightroom for?
Note: before starting to talk about Lightroom, it should be noted that, with the new versions of 2018, when we talk about Lightroom we are referring to the Lightroom Classic, that is, the Lightroom of a lifetime.
Unlike Photoshop, Lightroom focuses only on some of these utilities that Photoshop offers us, in particular on all those dedicated to basic development of our photography:
Exposure correction
Color correction
Perspective correction
Finishing and ironing
Lens correction
Stain removal
Thanks to this, Lightroom is a much simpler and more intuitive program than Photoshop , ideal for retouching our photographs when you are not looking for a more exhaustive retouching, but simply want to carry out a basic development.
In addition, Lightroom also offers us some retouching options for areas which, although limited and not excessively precise, are very useful for a more accurate and personalized retouching.
But without a doubt, Adobe Photoshop Lightroom's main selling point is that there allows you to retouch our photographs in series . It will be very easy to switch from one photo to another, retouching what we want in each one, copying the settings of each one and even synchronizing multiple photos to retouch them all at once.
Also, when we copy the adjustments of one photograph over another, Lightroom allows us to choose exactly which of them we want to copy and which not. And of course you can edit them later without any problems.
Catalogs are also an interesting part of Lightroom. Any changes we make to each file will remain stored in the catalog and we can restore or cancel them whenever we want.
This is very important, as we will be doing a non-destructive retouching of our photographs, and we can always go back to the original photo, or to any of the intermediate steps if the retouching we have done does not convince us.
This is an advantage if you are just starting out, as it will allow you to practice and test without fear of making mistakes or "ruining" the photo.
Furthermore, with Lightroom we can organize our photos and even give them keywords to make it easier to find all photos of the same theme or motif. On the other hand, if you want to organize your photos in Photoshop as a catalog, you will need to use a separate program, Adobe Bridge.
Finally, Lightroom also allows us to create collages, album layouts and projections photographic in a very simple and intuitive way.
And what about Adobe Camera RAW?
Finally, it is interesting to name Adobe Camera RAW, which is a RAW develop filter built into Photoshop. If you open a RAW file with Photoshop, the Camera RAW interface will open automatically. Otherwise, you can always open it from the Adobe Camera RAW Filter / Filter menu.
This filter is pretty much like a Lightroom built into Photoshop. However, it has its limitations and that is why it is usually better to use Lightroom than Camera RAW:
Does not allow for serial retouching or synchronization of file retouching.
It only integrates the retouching portion of Lightroom, but does not include catalogs, layouts, or projections
However, it can come in handy if we want to do a more exhaustive retouch of a photograph but first we want to develop the RAW file. In this case we could do everything directly in Photoshop, first using Adobe Camera RAW and then finishing retouching it in the Photoshop interface.
Lightroom vs Photoshop, which one should I choose?
As I said at the beginning, no program is better than the other. I am alone different programs, with different purposes . And depending on what your intention is, it will be better for you to use one or the other.
Stick to Photoshop if:
You want to touch up areas VERY precisely
You want to use some sort of precise selection or mask
You want to add or remove elements in your photo
You want to make a photomontage
You want to apply some retouching that requires the use of layers
You want to apply advanced photo retouching techniques
You want to add an effect or filter to your photos
Stay with Lightroom if:
You are just getting started in the world of photo editing
You want to develop a series of photographs
You just want to apply a simple RAW development
You want to touch up some areas but not extremely precisely
You want to do a non-destructive retouching of your photo to experiment and learn in a practical way
You want to quickly and easily create collages, album layouts or video projections
And which one do you prefer between Photoshop vs Lightroom?
Further Reading:
How to install Photoshop on Chromebook
The easiest way to get rid of red eyes
How to use the Brush tool in Photoshop
7 best apps to view photos on Windows 10
How to edit photos like a pro