The latest creation of Ninja Theory is finally available, in Bleeding Edge we are ready to battle with the best tactics and characters to win
We are facing the latest creation from a development house with a vast knowledge of action games. Ninja Theory was in the spotlight thanks to the acclaimed: Heavenly Sword, Enslaved: Odyssey to the West and the enigmatic Hellblade: Senua's Sacrifice. Although Bleeding Edge is very far from the dramatic tones of the events of Senua, it still contains the same approach to attention to detail.
It is a stylish title that is not afraid to blind players with its bright colors, combining very different inspirations and never creating too much confusion in the battle. In this guide for Bleeding Edge we will explore the best tactics and characters to win.
The Bloody Edge
If you have looked at our other guide for tips and tricks to start playing in Bleeding Edge, it's time to throw yourself into real advice regarding combat and team play. Coordination is in fact essential for the game to the point of making certain solitary actions futile. Despite everything we will tell you which are the heroes so strong that they can resist or fight even in situations of disadvantage. We will also share some useful "evergreen" tips to improve team play. Always pay attention to your teammates and communicate to have a high chance of winning.
Beware of Healers - Bleeding Edge: Best tactics and characters to win
The one covered by this paragraph is a valid argument for any online game that has the sacred trinity, which is a nice way to define the three different classes "tank-healer-attacker". The number one rule in any group fight is in fact that of attack the curator first, in such a way as to leave the rest of the opposing team uncovered and unsupported.
The motivation is very simple due to the fact that the support units exist to make their companions stronger and more resistant at the expense of their survival (generally they have few life points). By taking down the healer, all opponents will appear weaker and more defenseless.
However if the healer should be your ally, try to defend him as much as possible. If there is no treatment from teammates, it could be that the opposing team is doing the right thing. Remaining on the topic of "healers" by pressing the skill button once the target will be allied, with a double click they will cast themselves on themselves. It is valid for both heals and shields.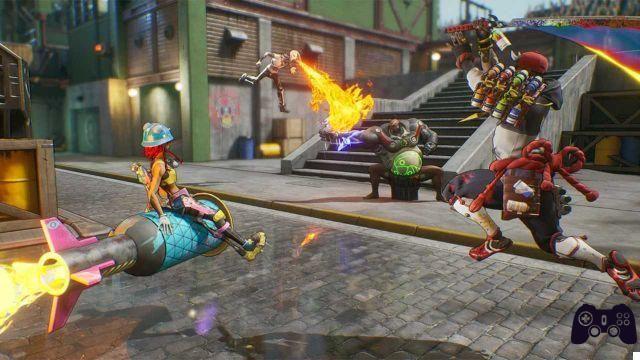 Learn to Counter Attack and Dodge - Bleeding Edge: Best Tactics and Characters to Win
Since in the game we will find ourselves engaged in 4vs4 battles for most of the time, it becomes extremely useful to understand our defense techniques properly. The base game offers two, which are useful in different situations. The first is the simplest one to use and is the dodge operated by pressing shift or R2 + by pressing / tilting in one direction. Normally it consumes a single unit of stamina (viewable at the bottom of the screen) and becomes free of use if we are undergoing a combo. The main purpose is to free yourself and escape from any dangers.
Furthermore Bleeding Edge gives us the possibility to fight back. When we are about to suffer a blow, just press R2 standing still to deflect it, opening the window for us to answer. This system consumes stamina and it is advisable to use it only when we are sure we want to respond. A big tip is to practice in the tutorial or in the Dojo.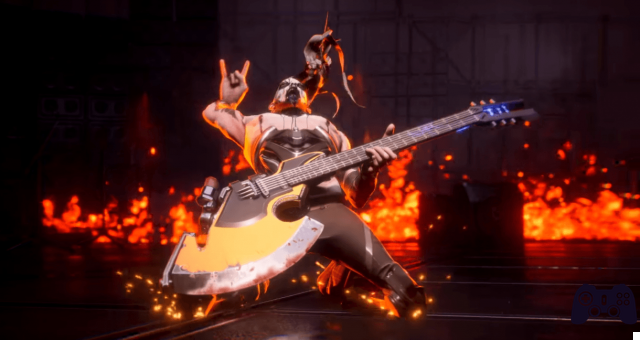 Take advantage of Mod bonuses - Bleeding Edge: best tactics and characters to win
The progression system in Bleeding Edge gives us the ability to upgrade characters. By using a certain fighter and finishing the game we will receive experience points for both the player level and him and being rewarded with a Courage. From the customization menu we can also view it and decide whether to equip it on the specific character. Some of these offer substantial improvements especially if they match our style of play. For example, they could boost Kulev's basic attack or perhaps increase the healing effect of his powers.
It would be useful to create your own combination of Mods in order to meet, not only your own, but also the needs of the team. Experiment and put together the ultimate fighter to win as much as possible.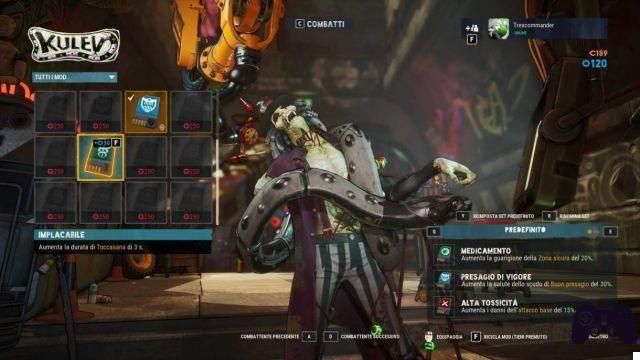 Best Fighters - Bleeding Edge: Best tactics and characters to win
Always on the wave of experimentation, what we will say now will be useful. In the game there are a total of eleven characters each with their own characteristics and different play styles. While they are all fun to use, some are certainly more impactful than others. Among all Nidhoggr he is perhaps the most powerful attacker due to his combination of skills. Using the blaze and ultimate slide attack in the attack, it becomes almost possible to neutralize an entire team.
A powerful character but without doing too much damage is Kulev, the friendly ventriloquist snake. His useful area and shield heal make him a very useful and durable support character, and both of his ultimate (you can choose only one), if used at the right time, can turn any situation around. For the defense we recommend The Bastard, tremendously strong in both attack and defense for his abilities that make him an unstoppable destroyer.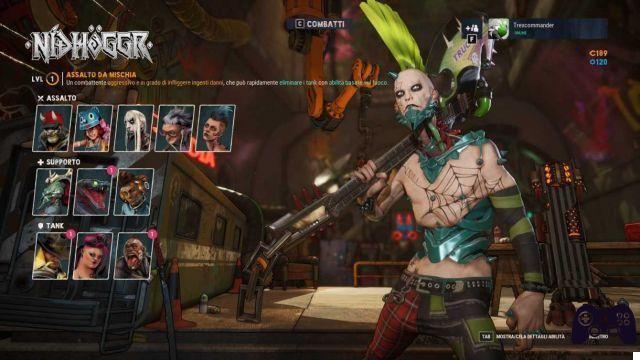 Let's go back to the arena
With the guide that we have provided you now you know the best tactics and characters to win in Bleeding Edge. In case you have doubts or want clarifications on this Hero Brawler created by Ninja Theory for Microsoft, ask us your questions below in the comments or check out our other tips and tricks guide.
Bleeding Edge is available from March 24, 2020 for Xbox One and PC also with Xbox Game Pass. In the meantime, I invite you to continue following us on Holygamerz to stay updated on the world of video games and technology.