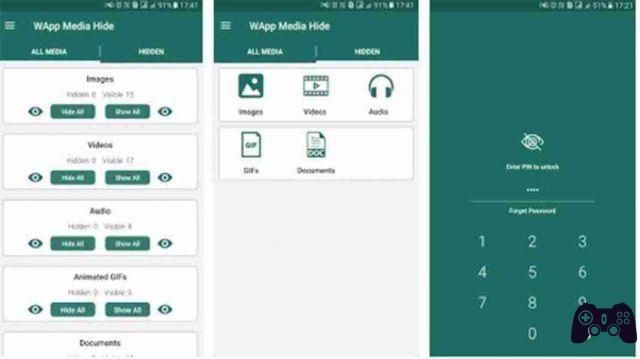 Hide video images and WhatsApp files on mobile. Would you like to be able to safely hide all multimedia files received on WhatsApp?
There is an app that will allow you to hide all the images, videos, gifs, or files you receive on whatsapp.
You will thus be able to protect them from prying eyes and only see them by typing a password that you will enter.
This app is very useful for protecting your privacy from prying eyes on everything you receive on WhatsApp.
Hide image, video of whatsapp: Hide video images and WhatsApp files on mobile
Just download this Hide image, video of whatsapp app on your Android smartphone and select the one you want to hide.
As soon as it is installed it will ask you to enter a security PIN and a question and answer in case you forget it to access the app to protect your privacy then it will look like this: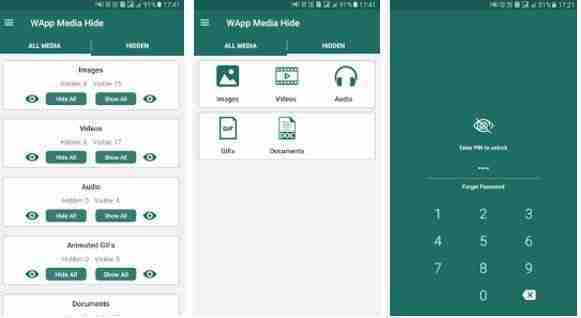 In All Media you will be able to see the summary of all the files you have received on Whatsapp and decide whether to hide them or not.
To hide them all in a category, just click on Hide All on the categories that interest you from images, videos, audio or GIFs and documents. Alternatively, click on the eye icon next to Hide All to manually select the images you want to hide.
Once hidden, you can only see them by going to the Hidden tab of the app and typing the password (PIN) that you have set to enter the app.
If you want to make the whatsapp media visible again in the gallery of your phone, just click on Show All in the categories to restore them all or on the next eye to choose them manually.
As you can see thanks to this app, all the files you will receive on WhatsApp will be hidden from prying eyes.