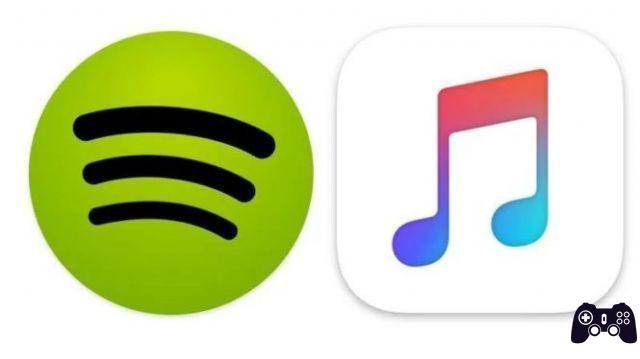 Spotify's music is set to compete with the likes of Apple Music, the streaming music service through which you can access a catalog of millions of albums, playlists and songs, both old and new, to listen to over the Internet. but also offline if necessary. Spotify needs no introduction.
While they all have their pros and cons, it's difficult to switch between services. It's hard if you've been using one for so long. You have all your own curated playlists that you want to transfer but you don't know how. Do not worry. You won't have to do it manually as it would be slow and tedious. Here are some of the best apps and services to transfer Spotify playlists to Apple Music. Let's start.
1. Soundiiz
Soundiiz supports many music streaming services including popular ones like Spotify, YouTube Music and Apple Music. First, you need to create an account using your favorite social media account through the social login feature.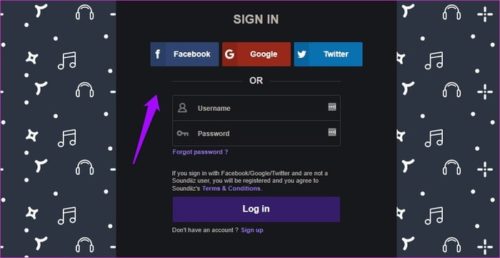 Choose the music streaming service that you will transfer the playlists to. You will need to enter your login details to connect to Soundiiz.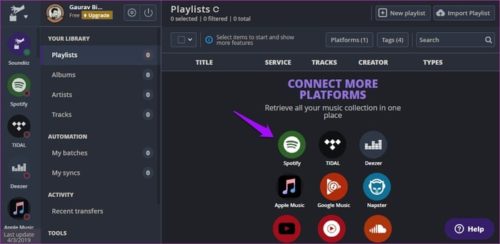 If you are having trouble adding Apple Music to Chrome, you should try Firefox. Also, make sure you have an active Apple Music subscription and iCloud Music Library is active. To do this, on your iPhone, go to Settings and select Apple Music.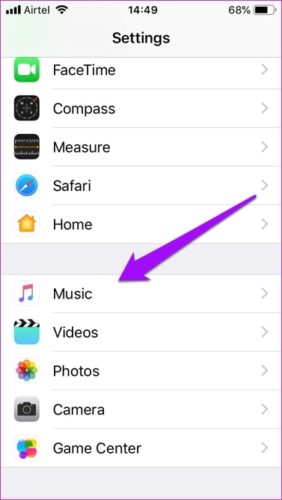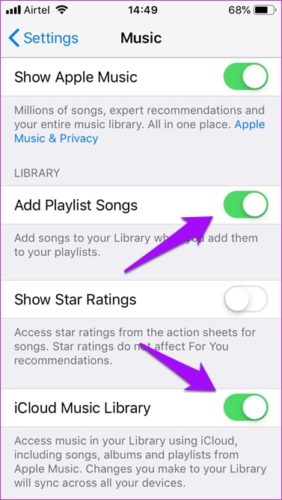 Activate both iCloud Music Library and Playlist Songs. If you still can't log in, you'll need to change the default language of the computer you're trying to transfer the playlist to.
Now select the Transfer option in the left pane and select Playlists in the popup.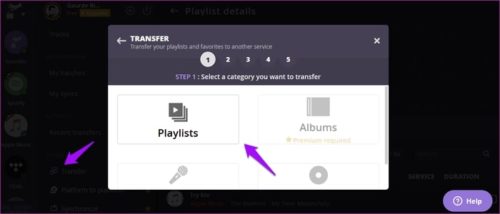 On the next screen, select the source you want to transfer songs from - Spotify.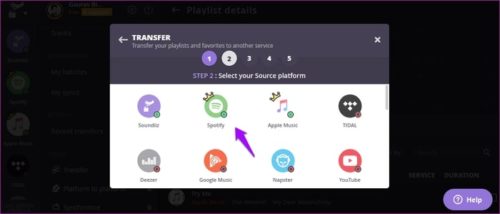 Select all the playlists you want to transfer to Apple Music.
You can add description or remove duplicate tracks now.
You can remove the tracks on the next screen if you wish. Click on Confirm to begin the process.
Select where you want to transfer the playlists.
The transfer will take a few minutes.
Check Apple Music to find the playlist you just transferred.
The pro version of Soundiiz allows you to transfer all your music data as favorites and keep your playlists in sync for € 3 per month.
2. Songshift
SongShift is an iOS app, so you'll need to use an iPhone. In the example above, you can use an Android phone because Apple Music is available on the Play Store. Launch the app and tap. Connect your music. This is where you will add the two music services.
Tap the '+' icon and choose the music streaming app, source and destination.
Select Spotify here and choose the Playlist option. Note that you can only select one playlist in the free version. In the pro version, you can also merge playlists.
Swipe a bit on the same screen to select your playlist.
Similarly, choose the destination where you can create a new playlist for the imported playlist or add it to an existing one. When done, tap I'm Finished to begin the process.
The pro version of SongShift will cost you € 3,99.
3. Stamp
Unlike the previous two options, Stamp is available for iOS, Android, Windows, macOS, and even the Linux platform. So you can use it wherever you want. You are now familiar with the process. Select and give app permissions for both Spotify and Apple Music.
First, choose Spotify because that is the source as Stamp doesn't show it to you we don't know why. Once you choose Spotify, it will directly ask you to select the destination. Now choose the playlist you want to transfer. Tap Next.
Note that the free version of Stamp will only transfer 10 songs from a playlist. To remove this limit, the pro version is required which costs € 9,99 only for iOS and € 14,99 for all other platforms. Stamp also supports a limited number of streaming services compared to SongShift and Soundiiz. There is no support for favorites or other data, just playlists.
4. Tune My Music
Among other things, Tune My Music supports a myriad of music streaming sites such as Pandora, Deezer and Rdio. There are no mobile apps. The good thing is that they have a dedicated page for transferring playlists from Spotify to Apple Music. The link is available here. Click on Let's get started to get started.

Select Spotify as the source.
You can choose a playlist from Spotify or enter the URL if you have it. You can also select songs from the playlist.
Choose your destination on the next page. Apple Music.
Click Start Moving My Music on the next screen to begin the process.

There are no ads and no limit on the number of songs or playlists you can move at one time. Tune My Music is completely free and works perfectly.
Conclusion
Transferring playlists and other music data from Spotify to Apple Music is not that difficult if you know which app or service to use. All you need to do now is make sure you've chosen the right music streaming service for your music needs.
Further Reading:
How to connect Spotify to Waze
How to connect YouTube to Waze
How to connect Shazam to Spotify
How to deactivate Apple Music subscription
How to move Spotify playlists to another account or service