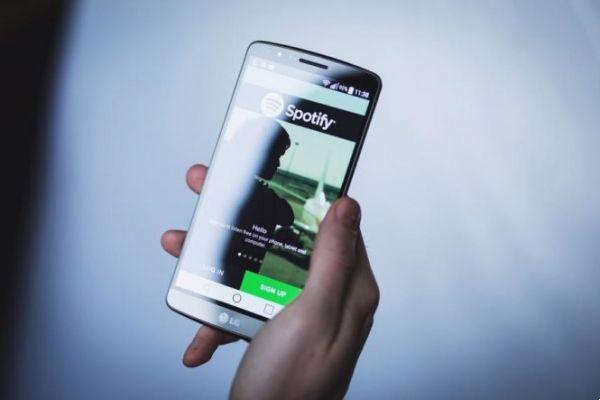 Spotify allows you to download songs to listen to them offline at any time. This way, you don't consume your data when you are away from home or risk not listening to your music when you go to the mountains and you don't have mobile coverage.
Of all applications for listening to music online, Spotify is the leader with some difference to Apple Music, YouTube Music or Tidal. Its leadership allows you to use some TOP features, especially for premium users.
If you are, you can download music from Spotify at no additional cost. This way you will have your favorite music on your phone, with the advantage that it does not consume data.
Without going further, if you decide to download songs from Spotify to your mobile, you can listen to them offline when you don't have an internet connection, on the subway, for example. Also, you can choose the quality you want to listen to the songs on your mobile device, something important if you have little or a lot of space in your device. Normally you can download the songs in high quality without any problems.
Here how to download Spotify music to your mobile to listen to it offline. If you also activate the offline mode from the Settings, Spotify will never use the data to play a song you already have on your mobile.
1. Choose where you want to save the songs.
Whatever the storage capacity of your smartphone, you have a useful option: download the songs from Spotify directly to the microSD card. You can put in hundreds of songs without occupying your memory.
This option allows you to save GB of your internal memory, which is especially useful if your phone has 32 GB or less of storage. If it is 16 GB it is essential that you have a microSD associated with Spotify.
To do this you have to go to the Spotify settings and slide to the lower end. There you will see an option called Storage. Click on it.
Once inside, select SD Card. A warning message will appear. Give Ok and wait for the process to complete. When Spotify is restarted, you will have all your data on the card and from now on all the downloaded songs will be saved in it.
2. Choose the download quality
Now you have to make another decision: if you want the music to be downloaded for normal, good or very good listening. You can choose between three qualities, and of course, higher quality will take up more space for each song.
Not all songs take up the same space, since it depends on the duration and quality.
As in the previous step, you need to go to the Settings. Go to a section called Music Quality. Inside you will see that there is an option titled Downloads and a menu on the right hand side. Choose the quality you prefer from Normal, High and Extra High.
3. Download with mobile data, yes or no?
The answer to this question is clear: if you have GB available, you will not mind downloading music from Spotify to your cellphone consuming the data. If, on the other hand, you have a base rate, it is best to do it when you connect to WiFi.
Just below the option to select the download quality, there is an option to download songs via mobile network. Keep in mind that if you turn it on, when you download a song it will do so immediately, whether you have WiFi or not.
4. The Ultimate Step: Download Music from Spotify!
Now comes the last step, which paradoxically is the simplest: download everything you want. To do this you just have to go to the playlist or album you want.
It is possible to download all the music you want from Spotify, but it is not possible to transfer it to another device. In fact, if you uninstall the application all this data will be automatically deleted.
Once inside you find two options: To download a playlist, check the Download box appears at the top. It will automatically start downloading all the songs from that particular list. This process may take a few minutes, depending on how many files we need to download.
If you don't want to save the whole album, you can download a single song in a playlist to download different songs individually. Click on the three dots icon to the right of each song, and in the drop down menu choose the Add to Playlist option. You just have to choose which one to download. This way, all the songs you want to save will be downloaded.
Listen to your Spotify playlist from Chrome with this extension >>
Further Reading:
How to download and install Spotify on Chromebook
How to disconnect Spotify from Alexa
How to Download Songs from Spotify to MP3
How to use a YouTube song as an alarm clock on your phone
How to connect Spotify to Waze