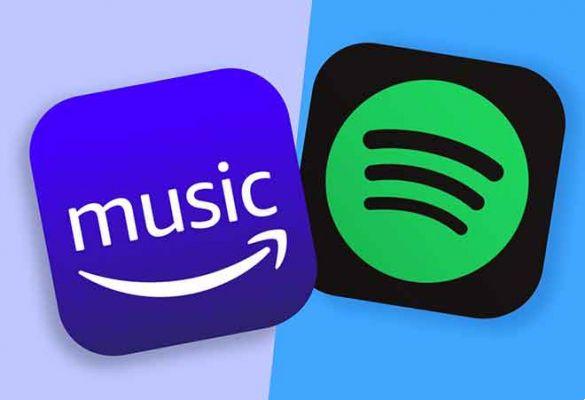 The music streaming market is on the rise. Gone are the days of buying music albums. Consumers have switched to online streaming services like Spotify, Amazon Music, Pandora, Tidal, and others. Even big names like Apple and Google have aimed at that segment with Apple Music and YouTube Music. Arguably, Spotify is the industry leader right now. Meanwhile, Amazon Music is also growing rapidly with a long list of ecosystem products and Alexa integration.
Spotify seems to focus on different areas such as podcasts to increase the offer and build a closed ecosystem with exclusive offers. Amazon is bolstering its music offering with the launch of Amazon Music HD, a music streaming service that leaves nothing to chance. In this post, we will compare Spotify vs Amazon Music. The comparison covers cross-platform availability, interface, features, music experience, price, and more. Let's begin.
YouTube Music vs Spotify: Which Music Streaming Service is Best for You
Multiplatform availability Spotify vs Amazon Music
Spotify is available on desktop, mobile and web. You can access Spotify on iOS, Android, Windows, Mac, Apple Watch, Galaxy Wear, Android Auto, Apple CarPlay, and Google Chromecast. Unfortunately, Spotify doesn't support Amazon Fire TV or Fire TV Stick.
However, you can use Spotify as a music source on Amazon's Echo devices. Amazon Music is available on iOS, Android, Windows, Mac, Fire TV, Fire Stick, Echo dots, and other Amazon products.
Bose Portable Smart Speaker vs Soundlink Revolve Plus: le 4 principali differenze
User Interface
UI has never been a strong point of Amazon apps. The same can be said about the Amazon Music app as well. It uses the bottom tabs for navigation, which is good. But Amazon has added a translucent effect that looks like something from 2010. You'll see that effect in several UI elements.
However, the user experience is perfect. Each menu, settings, profile, is easily accessible with a few taps.
Spotify's UI looks pretty alluring for dark mode lovers. I've seen many users stick to Spotify for the beautiful interface. The app uses the standard bottom tabs to navigate the options. I like the gradient effects that capture the main color from the album cover.
My only problem with Spotify is the "Your Library" menu. There is no easy way to switch between music and podcasts in the Your Library menu. You have to reach over each time you want to switch between them.
Chromecast vs Android TV: Which is Best?
Song suggestions
Every music streaming service focuses on auto recommendations and playlists. Spotify and Amazon Music are no different here. Amazon Music offers celebrity playlists, trending playlists, recommended albums, and popular albums.
Amazon has added the "My Discovery Mix" algorithm, which creates a custom playlist every Monday based on your listening habits. In the past four weeks of using Amazon Music, the recommendations have been iffy for me. Amazon keeps suggesting Sufi and Rock music, which I barely listen to.
Spotify offers song suggestions based on the artists you follow. The service also provides several ready-to-use playlists based on your moods, such as road trips, rain, party and more.
Daily Mix is ​​probably Spotify's biggest selling point. Spotify creates seven Daily Mix playlists based on your listening habits. As for my experience with this service, the recommendation algorithm is top notch. I found a lot of new songs thanks to their song recommendations.
As for the song library, I found that Spotify has much better English song content than Amazon Music. Of course, the final results may vary by country. For example, a song available in the Spotify library in the US may not be available in your country due to license restrictions.
Kaspersky vs Avast 2021 - The Ultimate Comparison
Special features
Amazon has integrated the Alexa voice assistant with the Amazon Music app. You can just go to the Alexa tab, allow microphone permission and specify the song name. It works well and can be useful while driving.
Amazon Music also offers a Sleep Timer, which closes the music player after a set time. I mostly use it at night because I don't want my phone to keep playing songs while I sleep. You can individually download songs and even stream them to a supported device using the built-in screencast tool.
My favorite feature is the ability to view what others are listening to on Amazon Music. When you're playing a song, you can tap the three-dot menu at the top and select the "Others are listening…" option to see what others with similar tastes are listening to.
As I mentioned earlier, Spotify offers podcasts along with music. If you're someone who listens to podcasts regularly and don't want a separate app for that, you can go with Spotify. The podcast experience will only improve with Spotify's aggressive push into the industry.
The feature list includes gapless playback, data saving mode, built-in equalizer, social integration and more. Unfortunately, there is no way to download a single song from an album. You can download the entire album or add the song to a playlist in the downloads section.
Music player, lyrics and listening experience
The listening experience was flawless with both Spotify and Amazon Music. I had no problem connecting and playing songs on my Mi Wireless Speakers or OnePlus Bullets Wireless Z. Both Amazon Music and Spotify offer high music quality of 320 kbit / s. However, the default download settings on Spotify are set to Normal (96 kbit / s). You should change them to "Very High" from the Settings> Music Quality tab.
Amazon Music offers a standard yet functional music player. All basic options are set down. It also offers support for lyrics. While playing a song, you can swipe up from the album cover to play the lyrics in real time.
Spotify's player screen is well laid out with large buttons that are easy to read and recognize. Spotify also offers a redesigned player screen when the phone is connected to the car's Bluetooth. It features a minimalist design with large icons that help you get the job done while driving.
There is no lyrics support on Spotify, but the company partnered with Genius to provide the lyrics section when playing the songs. It's nice. Behind the lyrics combine both lyrics and some fun facts that I'm sure listeners will appreciate.
Device and download limit
Both Spotify and Amazon Music allow you to use the service with as many devices as you want. But here's a problem. While you can download and install Spotify / Amazon Music on multiple devices, you can only stream songs using a single device at a time.
Spotify Used to limit offline downloads with 10.000 songs. The company recently removed that limit for users. Amazon Music also offers unlimited downloads.
Spotify and Amazon Music allow you to download songs for later use. But sometimes, Amazon Music failed to load offline library for me. I had to reconnect to the internet, update the library offline and then the downloaded songs appeared. I have not encountered any such problems with Spotify.
A word about desktop / web app
Both Spotify and Amazon Music are available on the web and on Windows / Mac. If you use these services a lot on the desktop, I recommend going with Spotify. I found the Amazon Music desktop app slow and unintuitive.
Spotify's desktop app is smooth and easy to use. Most of the options are nicely laid out in the left sidebar. You can also change the offline download path, connect your Facebook account with the desktop app, and make changes for social sharing.
Which to choose between Spotify vs Amazon Music
The answer is simple. If you use a lot of Amazon products like FireTV and Echo devices then you should choose Amazon Music as it comes bundled with the Prime subscription. If you want a nice-looking user interface with timely advice, and if you are a seasoned podcast user, you should go ahead with Spotify. As far as I'm concerned, I'm staying with Spotify for now. And you?
Further Reading:
How to deactivate Spotify Premium subscription
How to connect Spotify to Waze
How to listen to Apple Music with Amazon Echo or Echo Dot
How to connect YouTube to Waze
How to deactivate Apple Music subscription