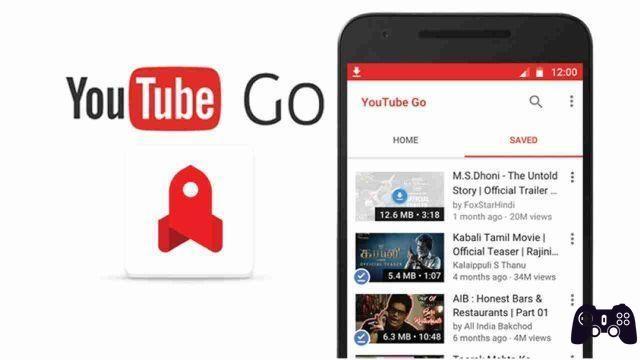 How to download YouTube Go on your Android device.
Google now offers a stripped-down version of the YouTube Android app that lets you choose the quality of your video and even download videos to watch later. It's perfect for anyone dealing with bandwidth limitations, or even just those looking for a simpler YouTube app than the default.
YouTube Go is out of beta starting this week, but currently only available in India and Indonesia… but there is a workaround for Spain and other countries. Unfortunately, users from other countries can't download videos without a VPN, but they can still take advantage of YouTube Go's simpler and lighter interface.
How to install YouTube Go
If you live in India or Indonesia, you can right now.
YouTubeGo will be rolling out to other countries shortly but for now if you want to install it you need a workaround. The simplest method is to download YouTubeGo from APK Mirror. You will download an APK file, which you can install to have YouTubeGo on your Android device. (Don't worry, APK Mirror is a trusted source for Android apps.)
Note To install the APK go to your smartphone: Settings> Security and make sure that "Unknown sources" is enabled.
On new phones with Android 8.0 "Oreo" things are a little more complicated: you will have to go to Settings> Apps and notifications, then give permission to your web browser or file to install the applications.
When you first open the app, you will see a list of recommended videos.
Here's a comparison, for reference, with YouTube Go on the left and the default YouTube app on the right.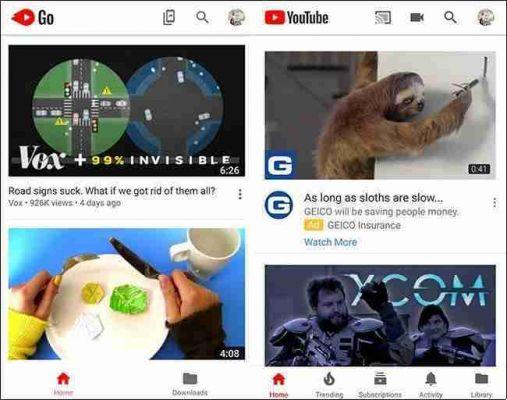 There is a new feature - a button to share downloaded videos directly with nearby users; it only works with other YouTube Go users and does not use any mobile bandwidth.
The simplicity of the user interface extends to video playback - the subscribe buttons and the like are gone, as is the YouTube comment section.
Some will see this as a downside, removing YouTube's core functionality. Others might be happy to have a comment-free version of YouTube with fewer buttons. It's a chance to focus on what YouTube really is: videos.
Watch and download videos on YouTube Go
When you tap on a video, you will be asked what quality level you want and if you want to stream or download.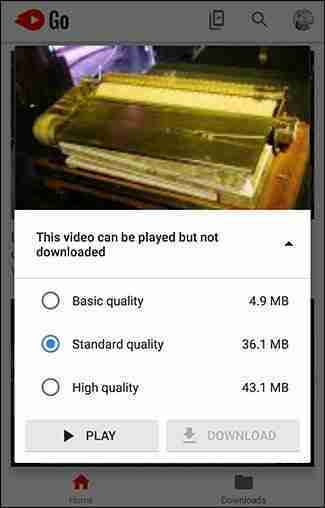 You can also see a quick preview of the video by tapping the thumbnail. This only shows a few frames, which is useful if you want to save internet data.
You will also see a download button. We tested YouTube Go in Spain and the download button was disabled for all the videos we found. (as we mentioned earlier, users from other countries outside India or Indonesia cannot download videos without a VPN until it is distributed to everyone.)
YouTube Go is a nice app for people frustrated by YouTube's cluttered interface, so trying it costs you nothing 😉