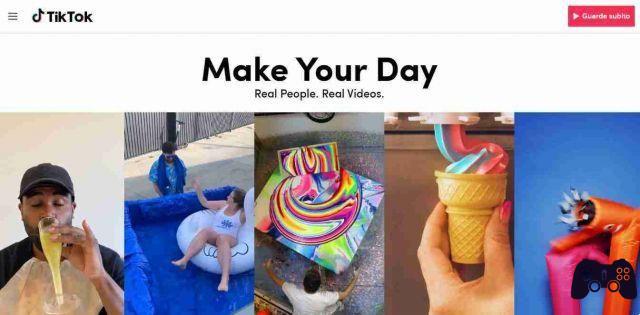 TikTok on your PC or Mac, you will be happy to know that TikTok gives you the ability to browse and upload videos to its website.
That's right you can browse Tik Tok and upload your videos directly from your computer without necessarily using the app on your mobile device.
Tik tok web: how it works
Go on. To start browsing its contents, click on the button Watch now in the upper right corner of the screen.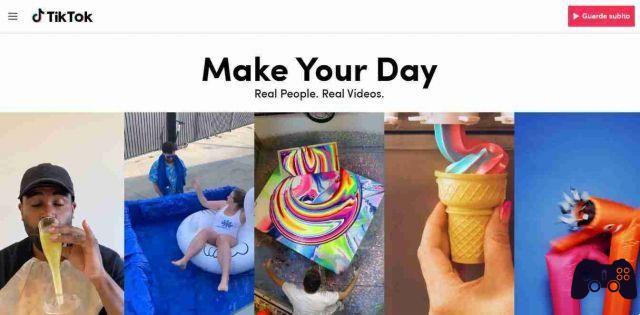 You will then be redirected to the main TikTok video feed. From here, you can freely browse the trending TikToks. As you can see, you can surf on Tik Tok even without having an account on the famous social network.
From this page you can also log in to your account, select Log in in the top right corner.
At the top of the feed, you'll see three titles you're likely to know if you're using TikTok on mobile: For you, Follow, and Discover.
The For You tab will display recommended TikTok videos, The Following tab shows you who you follow. Finally, the Discover tab offers new users and TikToks that you may like.

On the right side of the screen, TikTok provides a list of suggested accounts, as well as a list of new accounts and hashtags to discover.
You can follow users, watch videos, leave comments and share videos just like you would in the mobile app.
How to upload videos to TikTok from computer
Once you have logged into the site with your account you can also upload videos directly from your computer to your profile.
Once logged in, click Select video to upload on the left side of the screen.
Simply select the file from your computer and wait for it to upload. Your video must have a resolution of 720 × 1280 or higher and must be no longer than 60 seconds.
Once you've successfully uploaded your video, you can add a caption, select a cover, and determine the privacy of your video. You can also give your viewers a chance to comment, as well as respond with a duet or reaction. When you're ready to publish the TikTok, click Upload.
You cannot download TikTok videos from the desktop site.
Updating: It is no longer possible to access the web version of tik tok without logging into your account. So it is no longer possible to download videos from the web version. You discover .