It seems impossible given the heat wave that gripped us a few days ago, but Christmas is finally behind the door even this year. And what better way to prepare to celebrate it than with a sumptuous, useful, cheap and above all comfortable gift? The time has come to put one of the best under the tree chairs and gaming, whether it's for you or for some friends, and in this guide you will find the best proposals of the moment to give yourself (or make) a welcome gift at Christmas.
But why a gaming chair and not another perhaps more standard and, above all, less expensive product? The reason is obvious: especially if you work in the office or spend a lot of time sitting in front of the PC, in fact, a gaming chair will allow you to save your back and avoid too many pains. Gaming chairs are in fact the most comfortable, ergonomic and economical the market can offer. There are many types of them and they are good not only for casual players, but also for professional gamers, for workers or more simply for those who spend many hours on the computer. It doesn't seem like it, in fact, but often you stay at your desk (by the way, the best ones here) longer than necessary. The back suffers, especially if there isn't a correct seat to support it and you end up spending your days motionless like a cactus.
This guide to best gaming chairs to give at Christmas he therefore wants to take care of your back, your gamer needs and your wallet by recommending a series of truly noteworthy products divided by price ranges. Products that between now and Christmas will be continuously updated to always offer you the best overview of all the offers not to be missed before the end of the year.
Finally, I close by advising you to take a look at our others Christmas gift guides like the one with the best PS5 games or the one with the best 4K TVs to play to put under the tree, also because having only one gift to unwrap is sad and don't forget that there is certainly some friend or relative who deserves some your goodness this year!
The best gaming chairs to give at Christmas
Best gaming chairs under 100
Best gaming chairs under 200
Best gaming chairs over 200
More gaming chairs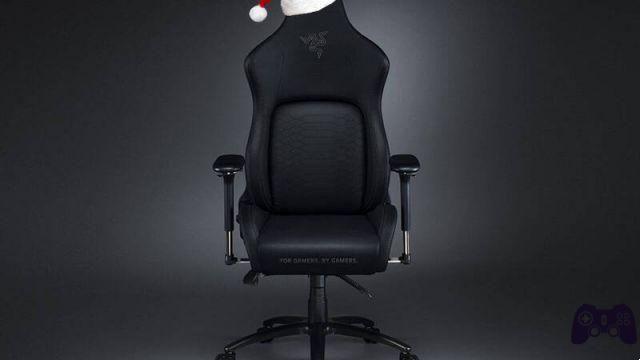 Best gaming chairs under 100
Let's start with gaming chairs low budget, or those that very trivially cost little. However, this is not necessarily a defect, on the contrary, some of these products are able to offer ergonomics and quality of much more expensive chairs though they give up some options such as cushions, trims and adjustments. However, they are products that make an impression, excellent if given as a gift at Christmas.
Songmics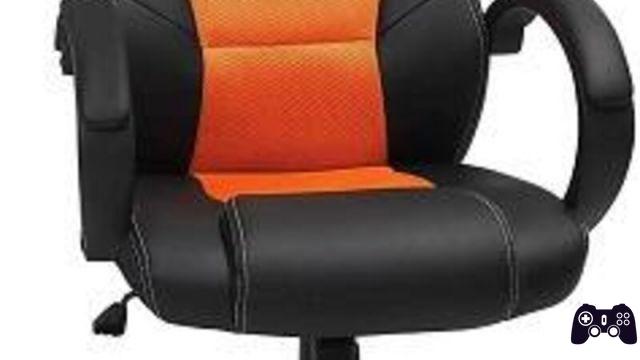 Let's start with the super cheap proposal of
Songmics
. A very basic waterproof PU leather gaming chair that is able to offer you a comfortable and ergonomic seat, with padded armrests and a 7cm thick seat.
a product recommended for those who spend a few hours sitting
but that could be a perfect gift as well
inexpensive
for those who want to renovate their studio or gaming station without emptying their wallet. So don't expect an incredible product with who knows what features, but if you have a very small budget it could definitely be for you. If you can spend a little more, however, our advice is to also take a look at the other recommended gaming chairs below.
See on Amazon
See on eBay
IntimaTe WM Heart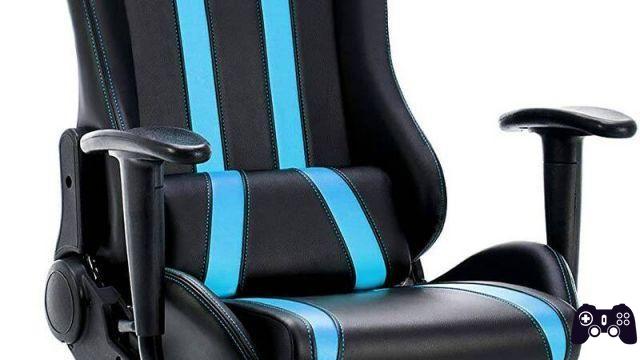 Still around the psychological threshold of 100 euros, it is also possible to find the
IntimaTe WM Heart
, a chair that
imitate the most famous brands
(like Diablo) and offers a wide seat, a lumbar cushion and even a neck cushion all included in the price. In addition to these, compared to the previous product, the adjustments also increase, with one
backrest capable of reclining up to 135°
and more functional wheels that guarantee perfect mobility. If you wanted to treat yourself or give away a design gaming chair that has nothing to envy to a higher-end product, you will surely be satisfied with this chair and your body will also thank you thanks to the
good ergonomics of the product
. In short, on a limited budget the
IntimaTe WM Heart
it's a great choice.
See on Amazon
See on eBay
You are black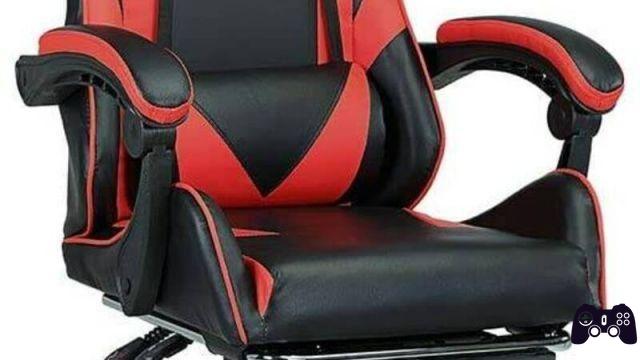 By adding only a handful of euros compared to the previous product and always remaining below the 3-digit threshold,
You are black
offers a gaming chair that not only imitates the big brands but adds, in addition to the lumbar and cervical cushions, also a
comfortable footrest
. This, completely removable, lengthens the seat and allows the legs to relax and stretch out avoiding being rolled up like a rubber band under the desk, a real panacea especially in periods of more intense gaming. Compared to the product seen before, the eco-leather it is made of is of lower quality and the adjustments of the backrest also decrease, but thanks to the footrest you gain in comfort.
See on Amazon
See on eBay
Best gaming chairs under 200
Il meeting point between great quality and savings, this selection of gaming chairs is what you were looking for if you want to innovate your gaming station at Christmas and stay with some money to give yourself something else. I am chairs able to last over time and to support the player in every situation, giving a touch of design and harmony even in an office where grayness often reigns supreme.
Oversteel ULTIMATE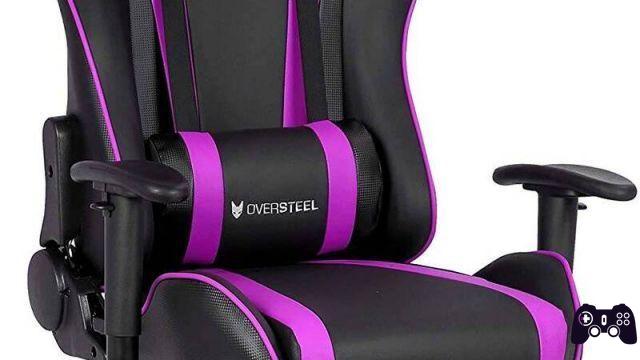 Let's now make a big jump in price with this one
Oversteel ULTIMATE
one of the best selling products at the moment. It is a gaming chair from around 150 euros
great build quality
, from the nylon and faux leather upholstery made to last over time and not fade to the high-density foam padding and lumbar and neck cushions. If you are a gamer who uses the chair to do everything, from taking a nap to watching movies, you should know that the adjustments of this product are maximum enough to fold the backrest until you are completely lying down and
adjust the armrests to support the arms of any type of player
. Difficult to find a similar product at such an affordable price, especially considering the many colors in which it is offered.
See on Amazon
See on eBay
Trust Gaming GXT 707R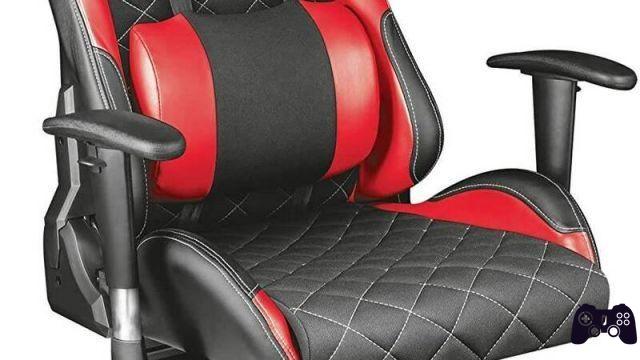 Let's go up about 20 euros to tell you about the gaming chair
Trust GXT 707R
. A chair made by the famous electronics brand that always offers lumbar and cervical cushions, 4 levels of backrest adjustment, adjustable elbow rests and a design that differs from the crowd. The chair is in fact made with
a network of seams that make it a beautiful product to look at and to show off
at your location, especially if you are a racing car enthusiast. The height adjustment also changes, this time managed by a mechanism
class 4 gas lift
, fluid and very comfortable to use and capable of holding up to 150 kg. If you want to treat yourself or give away a product of a famous brand without necessarily having to focus on the more expensive ones, this Trust chair could be an excellent alternative and guarantee you many hours of comfort.
See on Amazon
See on eBay
Cough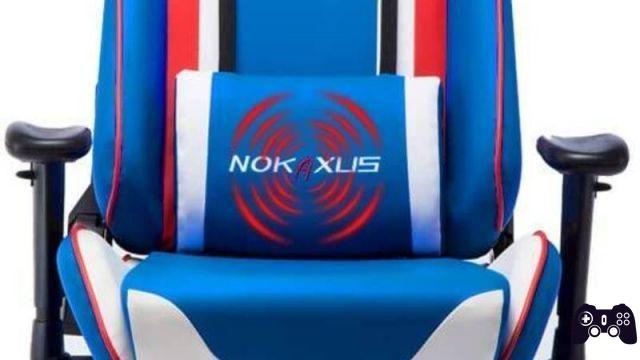 With gaming chairs
Cough
we are approaching the threshold of 200 euros, still remaining well below, to tell you about quality products capable of satisfying all those players with
an eye always attentive to design
. Gaming chairs are often all the same, especially when it comes to the cheaper ones. Chairs made with stencils where the only thing that changes is the color or the name of the brand written on them. Nokaxus, on the other hand, offers chairs with all the requirements of a chair of this level, therefore with various cushions, backrest and armrest adjustments, excellent lifting mechanisms and even the
removable footrest
, but to all this good things it adds a unique and colorful design capable of bringing a touch of originality to your workstation.
If you are an original gamer or maybe a streamer, this is the chair to show off in your live streams
.
See on Amazon
Best gaming chairs over 200
Finally we come to products built with high quality materials. We are talking about gaming chairs from which you will hardly lift your butt (but then why should you?). Extremely comfortable, functional, adjustable, design and perfect for streaming as well as for e-Sports. They are gaming chairs most famous brands of the market and which naturally cost a little more, but able to repay you at 360 degrees for the money spent.
Diablo X-One 2.0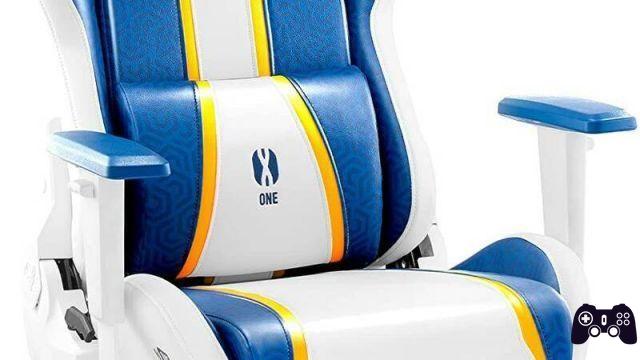 There's no getting around when it comes to gaming chairs
the Polish company Diablo is one of the best
, if not the best, in offering a product of
extreme quality at an enviable price
. We are talking about gaming chairs that cost just under 230 euros, with an adjustable backrest up to 140° and with 4 adjustment levels,
very comfortable memory foam pillows
(which are really another world compared to what we have seen so far) and a crazy ergonomic structure capable of guaranteeing hours and hours of absolute comfort. Here too design reigns supreme, which is why many famous streamers choose these chairs and why many families have started to do so too. Diablo chairs are in fact available in several sizes,
from the classic models to the XL versions up to the Kids ones
that support healthy growth of the little ones.
See on Amazon
See on eBay
Corsair T2 Road Warrior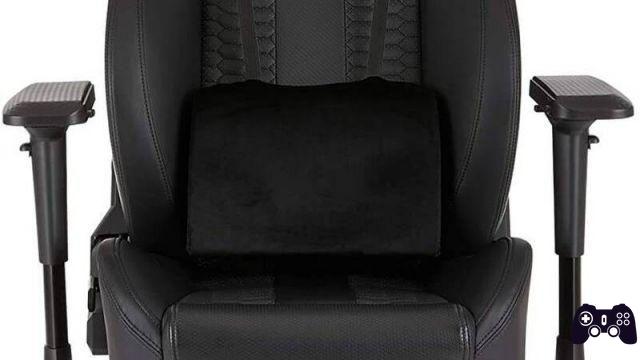 If you are still not satisfied with what has been recommended so far, the time has come to show off the big shots but get ready because these chairs are not products suitable for everyone.
Corsair T2 Road Warrior
, of the well-known electronics brand is a chair
very expensive
and recommended only to those who do not have budget problems. However, we are talking about a product of excellent quality, equipped with all the options seen so far,
always in imitation leather, but with velvet inlays
which make this chair perfect not only for a gaming station but also for a more professional environment such as an office. THE
4D armrests
of this chair can be moved and adjusted using the 4 available dimensions, the suspension mechanism is always level 4 gas and in terms of comfort it is almost unrivaled (see the next product). In short, it is about
a real gaming throne recommended to a real king.
See on Amazon
See on eBay
Titan Evo 2022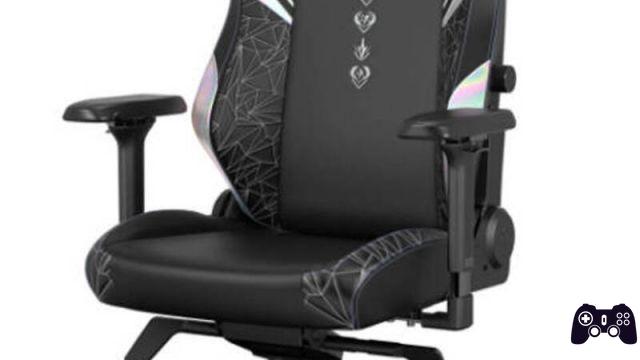 We close this selection with a gaming chair which can be considered without too many problems one of the best products in the category, if not almost the nec plus ultra. Built with the quality and excellence that only a brand like SecretLab can offer, SecretLab's Titan Evo 2022 is a guarantee from every point of view. Available in different materials, equipped with a 4-way lumbar support system, a magnetic memory foam head cushion, a hydraulic system and a cold-curable foam compound: the features of the SecretLab Titan Evo 2022 are absolutely impressive and ensure you a highly ergonomic product as well as irresistible in terms of design. It costs a lot, I agree with you, but if you can afford it your butt will never want to sit on anything else again.
See on SecretLab
More gaming chairs
Naturally, if our selection did not seem up to your expectations, if you want to deepen your research or if you simply want to get lost in the numerous offers on gaming chairs, visit the Amazon page dedicated to gaming chairs or our guides to the best amazon gaming chairs, the best gaming chairs ever or the best Secretlab gaming chairs, products branded with the titles of the moment such as Arcane, Cyberpunk 2077 and many other brands.