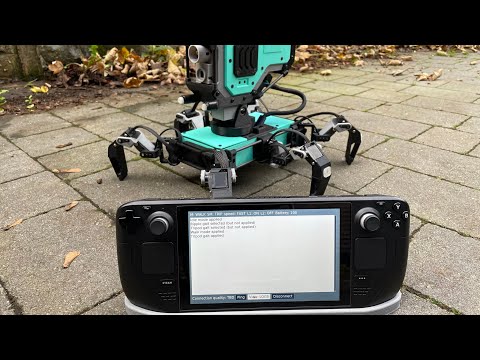 In addition to being a decidedly formidable piece of hardware in every respect, Steam Deck can now also be used to control robots. No, we're not kidding. The author of this discovery is the YouTuber Stanislau Arkhipenka, who has transformed the hardware of the house Valve making it a controller for the APC-1 Hexapod. It is a search and rescue robot, although in reality it is a proof of concept and has never intervened in an actual mission.
The work done by Stanislau is certainly impressive. With a simple touch on the screen, Steam Deck transforms into a real controller for the robot, although obviously the whole is devoid of any graphics. As demonstrated by the video, in fact, the handlded by Valve uses a sort of client that allows you to adjust every essential parameter of the APC-1 Hexapod and is also able to show the footage of the robot.
To control the robot it is necessary to exploit practically all the keys of the Steam Deck, starting from thumbsticks to triggers to control his walk. The movie, which you can find a little further down, doesn't make us understand exactly how all of this was possible, but only shows us the result of the job done and finished. However, it is an excellent exercise in style, which can potentially also be replicated at home, given that the robot can easily be assembled using projects on the net.
Clearly our advice is to avoid following the path traced by Stanislau. Steam Deck was born for one reason only, which is to make us play in total freedom all the games we love most. Experiments of this kind are still very interesting to seebut also difficult to replicate. So let's take it for what it really is, that is an interesting exercise in style.
For video reviews, previews and insights, the appointment is also on our YouTube channel.