What is the best controller for Warzone? Recently launched compared to other exponents of the battle royale, replacing what was Blackout in Black Ops 4, Call of Duty: War zone it has gained a lot of space and in a short time. Especially on consoles it has blown up completely, rivaling the likes of Fortnite and Apex Legends. It must be said that as far as style is concerned, it takes a completely different path, not going so far from having a realistic look. The success of the Activision product led to a real sequel, which replaced the original video game, a decidedly more unique than rare phenomenon in such a world.
Competing with such a vast community, however, is not easy: that's why we thought we'd recommend the best controllers to play it at its best. Of course this does not mean that if you collected losses yesterday, you will collect victories today. It is simply a big and substantial help that facilitates various in-game maneuvers, thanks to the capabilities and multiple keys of the controllers that we are going to show you. Before proceeding, we remind you that HERE you will find a guide dedicated to the best pro controllers in general.
The best controllers to play Warzone 2.0
Revolution Unlimited Pro Nacon
Razer Raiju
Elite Controller Series 2
Razer Raiju Tournament Edition
DualSense e Xbox Controller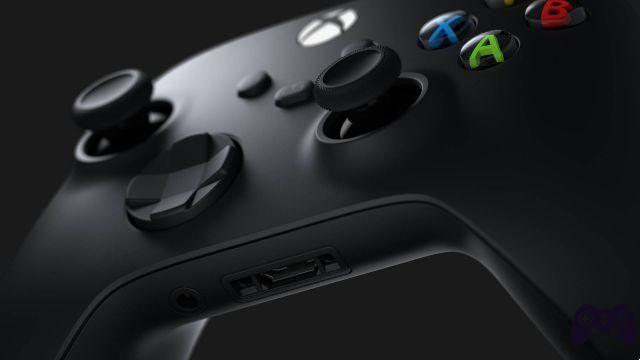 Revolution Unlimited Pro Nacon – the best for PlayStation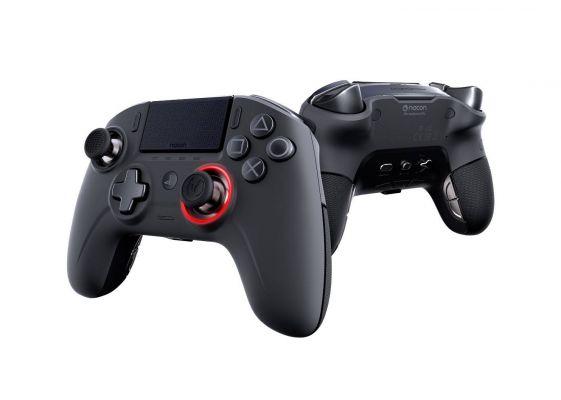 Revolution Unlimited Pro Nacon it is a practically perfect solution for competitive gaming on PlayStation 4, so also for Call of Duty: Warzone 2.0. Inspired by what Microsoft did with the Elite series, nacon launched this controller for the console Sony this very useful but also expensive device.
Let's start with the packaging, which immediately makes its nature as a premium controller clear: the box is in fact very full of accessories, from spare analog sticks to padding to be inserted inside the two handles to significantly increase the weight and return an even better grip. more successful. Even the build quality is what one would expect from a high quality product: every single material is worked to the fullest, designed to give excellent sensations to those who wield it; the same goes for the keys, really excellent.
But let's get to the highlight, perhaps the reason that will push many of you to buy this model, namely the addition of more keys than the traditional Dualshock 4. In addition to a noticeably better d-pad, Revolution Unlimited Pro Nacon contains a series of buttons placed on the back, reachable with the middle finger. Among these we also find the profile switch, because yes, this controller also allows you to save multiple configurations at the same time, in order to find them all ready for use. But the real highlight are the 4 fully mappable buttons to your liking, which allow you to perform actions without taking your thumbs off the sticks; an example is reloading, sliding and so on.
See on Amazon
See on Ebay
Razer Raiju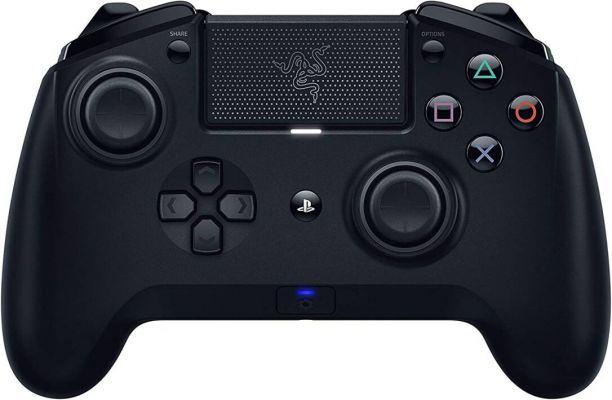 An excellent alternative to the Nacon Revolution Controller Pro is definitely the
Razer Raiju
. It is a pad that provides a mobile app for reconfiguring the keys and for calibrating the sensitivity and intensity of the vibration motors.
The action buttons are Mecha-Tactile and the layout adds four multifunction buttons
to allow you to customize your style of play and face the sessions with much more practicality and comfort. In addition, the controller is also compatible with PCs as well as Sony consoles. All of this is available at an even more affordable price than the previous one. It is therefore a solution that could appeal to many players of Warzone 2.0 and beyond.
See on Amazon
Xbox Elite Controller Series 2 – the best for Xbox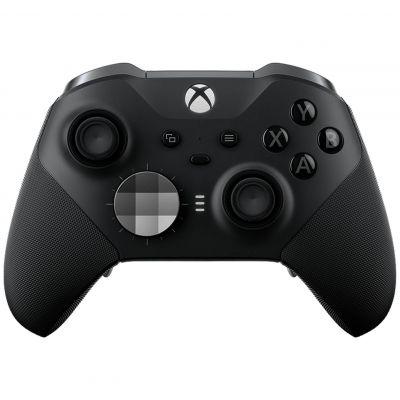 It might perhaps seem like a trivial, obvious choice. But why fall back on other brands when Microsoft itself offers an exceptional controller? In fact it would make no sense, except in rare cases concerning the price. It must be said that anyone who wants to make an investment of this type does not have a very limited budget, otherwise little would change from a traditional controller.
Elite Controller Series 2 it is a device full of additional features, built very well and compatible with the whole family of consoles Xbox, from the traditional One, One X see you next time X series.
We were saying that the price is not exactly the lowest, in fact it is around to the 150 euro. If you want to spend a little less, we therefore recommend cheaper alternatives. The first and inevitable is Elite Series 1, a little difficult to find after the release of his big brother but still very handsome and comfortable to use. The features are almost identical to its updated version or al nacon that we have suggested for you PlayStation 4, so we will avoid repeating ourselves.
We're a little sorry to have nothing to recommend to players who hate asymmetrical stick setups, but unlike what happens for PS4, unfortunately the market does not offer much.
See on Amazon
See on Ebay
Shortly before the launch of Warzone 2.0, however, Microsoft also unveiled another configuration for its Pro Controller. This is the Xbox Elite Controller Series 2 Core, sold with fewer accessories and at a slightly lower price. The pad allows you to save up to 3 custom profiles. The only difference is the absence of certain accessories, which can also be purchased separately.
See on Amazon
Razer Wolverine – the best for PC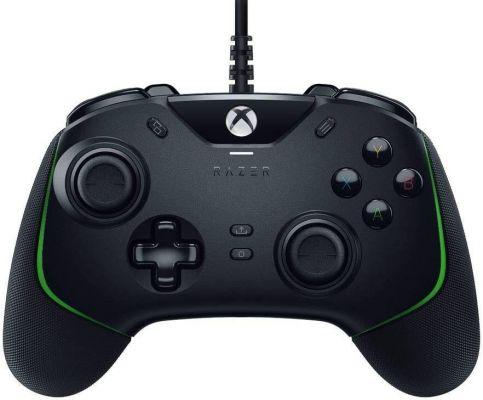 If you play on PC you probably already use mouse and keyboard,
but if you come from the console world
it is very likely that you will continue to search for a controller, even to play an FPS like Warzone 2.0. If you are looking for a controller for the Steam and Battle.net version of the game at this point the solution could be the Razer Wolverine V2, a gaming controller designed by Razer and compatible with PCs and also Xbox consoles.
The form factor is obviously that of the controllers Xbox and includes Razer's mecha-haptic buttons, additional keys located on the front of the controller and fully remappable. The controller offers the Hair Trigger mode, with the lock of the triggers, in such a way as to reduce the travel of the same. Also present is the input for the 3.5mm audio jack and you can connect to your PC either via cable (using the USB-C) or via Bluetooth.
See on Amazon
The best for mobile devices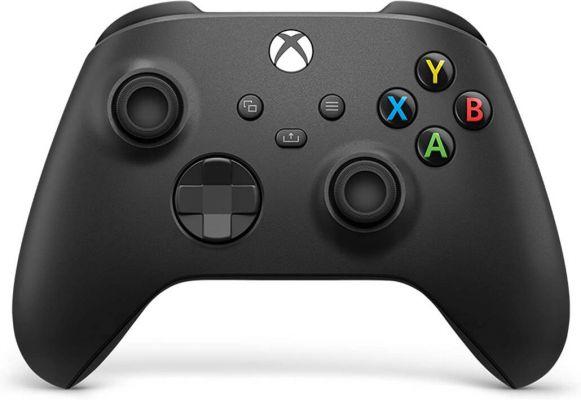 Considering that shortly, with the release of Warzone 2, the well-known Battle-Royale will also land on mobile devices, we thought it well to go ahead and recommend two of the most well-known devices available on the market: we are talking about the Xbox controller, the classic one that you find in the package together with the new Xbox Series X|S, and the PlayStation 5 Dualsense (the review of the controller), also contained in the console box. Why this choice? Because we believe mobile gaming is more relaxed and less competitive; hence the decision to focus on two devices that are widely known and perfectly suited to the purpose. In short, it seemed a bit of a waste to propose an elite pad for €150/200 to be used with a mobile phone.
Furthermore, the difference between the two devices, when connected to a smartphone, is purely related to ergonomics. From this point of view, you alone will decide: do you like the symmetrical or asymmetrical arrangement of the analogs? Here, even this alone could already be a more than decisive question to determine the purchase. In this regard, before leaving you, at this address it is already possible to register for access to Warzone 2.
See on Amazon
See on eBay
If instead you want to take advantage of a controller designed specifically for mobile, the choice falls again on Razer, a brand that we have already seen in this guide. The Razer Kishi is exactly what a mobile gamer is looking for. The phone is positioned in the center and on the two sides there are analog sticks (positioned exactly as in the Xbox controller) and the ABYX layout. There are obviously no particular indications that make it a real pro controller, but it is certainly a perfect solution for playing on the go, perhaps on the train or bus during longer journeys.
See on Amazon
How to choose the best controller for Warzone 2.0
Warzone 2.0, as we will also see in the following paragraphs, it's a pretty competitive game. For this reason, in our selection of controllers, we have chosen mostly premium products, full of additional features and full of comfort. In the following paragraphs, therefore, we will go to explore some of the features to keep an eye on before trying your hand at buying a suitable controller for your Warzone game sessions.
What is Warzone?
Warzone 2.0, conceptually born with Call of Duty Black Ops 4, is a free-to-play battle-royal video game that sees a fairly massive group of players collide within a huge map. The gunplay, just like the speed of the game, is the same as always, and enthusiasts will have no trouble recognizing it. Furthermore, the title is available on all platforms, which is why we have decided to select controllers for each platform.
Analog layout
A great debate that has been going on for some time: a symmetrical or asymmetrical arrangement is better? Difficult to answer, perhaps not even so correct to do so. The truth is that it all depends on your habits and comfort, there is no absolute best arrangement. Trivially, if you usually play on PlayStation, you will probably be used to a symmetrical layout; opposite speech in case you were Xbox players. It also has little influence on Warzone, since the question is purely subjective. Choose the most suitable one for you.
Ergonomic spaces and furniture
Hours and hours spent in front of your favorite game, perhaps even competitive as in this case. It's normal to get tired! After a while, your hands won't want to feel any more and the controller grip will become more and more slippery. When dealing with very long sessions, you have to make 100% sure that you are comfortable with the controller, and to do this you must first of all choose – as we said before – the most comfortable analog layout, and secondly a controller suitable for our hands, whether small or large. Also not to be underestimated are some non-slip textures, in case your hands are particularly sensitive to perspiration.
Additional features
Necessary in the case of video games like Warzone 2.0, the additional features of premium controllers play a fundamental role. In case you usually face many competitive matches, or maybe you aim to become real expert players, in this case there are two solutions: switch to the PC with mouse and keyboard, or, and if this is your case, buy a controller that has many additional functions such as fully mappable extra keys and levers positioned on the back of the controller . In this way, the controller will become perfect for the game in question and the matches will undergo a nice boost!
Price
In the guide, since there are mostly premium controllers, therefore devices designed to assist the most demanding and competitive players, the speech relating to the price is, this time, not very varied. It is useless to get around it: controllers of this type are expensive, and although we have tried to include not too expensive ones, however, the average expenditure remains rather highover 100 euros. But you should already know this well, since if you are looking for a controller to improve your performance in the game, you must necessarily focus on premium controllers.
Recommended controller settings
We know, we know, every single parameter in the game options is subjective, since many users may not be comfortable even with the default settings. However, there are settings that give your games a noticeable boost in movement, camera movement and aiming. Below, therefore, we provide you with a list of parameters to modify. We suggest you try them all, and if they don't work for you, you can restore them in the blink of an eye.
BR Command Scheme – Default
Thumbstick Pattern – Default
Visually invert your vertical ass – NO
Left Stick Minimum Deadzone Input – 0.4
Minimum Input Right Deadband – 0.4
Left Stick Maximum Deadband Input – 1
Right Stick Maximum Deadband Input – 1
Vertical Stick Sensitivity – High 7
Horizontal Stick Sensitivity – High 7
Scope Mode Sensitivity Multiplier – 0.80
Custom Zoom Sensitivity – NO
Target Reaction Curve – Dynamics
Controller vibration – NO
Aim Assist – Standard
Aim assist scaling based on field of view – NO
Shared Weapon Placement Input – Scope Mode + Melee
Weapon Placement Cancel – YES
Viewfinder Mode – Hold
Stable Aim Feature – Hold
Equipment Functionality – Hold
Functionality Use Reload – Contextual press
Weapon swap with depleted ammo – NO
Armored Plates Feature – Apply All
Glide Feature – Rewards
Auto Advance – No
Tactical Sprint – Double press
Auto Sprint – Auto Tactical Sprint
Vehicle Vision Centering – NO
Automatic Parachute Deployment – ​​NO