Every year, in the period preceding the Christmas holidays, Qualcomm announces in a dedicated Summit the news related to high-end smartphone processors and, for some years, to ACPC (Always Connected PC). Also this year the event of the American chip manufacturer is approaching and new rumors have leaked about the next top-of-the-range SoC: Snapdragon 875.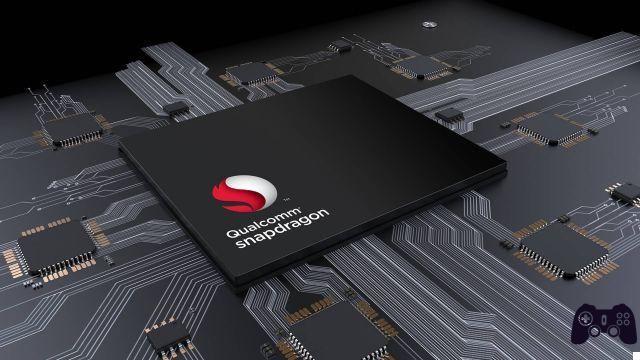 Qualcomm's announcements began in the past few weeks when the company held its Summit dedicated to next-generation 5G networks and new indoor wireless connectivity solutions. The most awaited announcement by mobile phone enthusiasts, however, is certainly that of the next chip that will be integrated into all flagship smartphones of next year and part of the series. Snapdragon 8xx.
Lo Snapdragon 875, this is the name that the company will almost certainly use for the successor of Snapdragon 865 and its Plus variant currently on the market, seems to have already made its first appearance. A user on Weibo he claims to have seen a first prototype and to know its technical characteristics.
Digital Chat Station said the Qualcomm chip will, as planned, be manufactured with a manufacturing process a 5nm and will consist of three different core clusters dedicated to different functions. The more powerful core will use the brand new one Cortex-X1 architecture and will reach the maximum frequency of 2,84GHz. They will think about supporting him for the most complex operations 3 core Cortex-A78 high performance and from the maximum frequency of 2,42GHz while I 4 core Cortex-A55 a 1,8GHz they will be destined for less important tasks to improve the efficiency of the chip.
According to information shared by ARM during the presentation of Cortex-X1, the core will be able to perform the 20% better of previous generations in sustained workloads and can rely on 30% higher peak performance.
Read also: Acer Chromebook Spin 513, the first laptop with Snapdragon 7c arrives in good company
The Snapdragon 875, again according to the leaker, will use a Adreno GPU 660 whose cache and memory bandwidth have been improved by Qualcomm and which is able to achieve better performance without burdening too much on the battery.
There are only four weeks left for the official launch to be held in Hawaii, in the United States. More information will surely leak in the coming days regarding the more powerful Snapdragon chip of the next generation.
OnePlus 8T is just one of the many smartphones on the market that support 5G networks thanks to Qualcomm modems, you can find it on Amazon.