New Pokémon Snap allows you to capture Pokémon by taking photos. Let's see in this guide how to get 4 stars by photographing Comfey in New Pokémon Snap
The new title dedicated to the Pokémon franchise has finally arrived. In this new game, your goal is to capture all Pokémon by photographing them and obtain the maximum level of stars from each one. New Pokémon Snap brought back Comfey, one of the weirdest Pokémon ever. Not only that, he did so by managing to integrate the Pokémon into the beautiful field of flowers that enriches the vegetation of the new Lental region. Although we have had equally absurd in the history of the Pokémon brand, such as specimens that resemble ice cream cones, Comfey however, it remains one of the strangest and most peculiar. Difficult to describe, the latter rather resembles a grade floral wreath.
Comfey: how to get all 4 stars in New Pokémon Snap
This Pokémon has a large variety of animations unique. If you can't get all the stars from Comfey, don't despair. In fact, let's go and see together how to get all 4 stars from Comfey in New Pokémon Snap. So here are all the situations and contexts in which you can photograph the Pokémon:
1 Star: Without interacting with him, photograph him while he is levitating on the site.
2 Stars: Throw him a Fluffruit and take a picture of him while he is annoyed by your gesture.
3 Stars: You don't have to do anything difficult to get 3 Stars. Apparently it is enough to photograph the Pokémon while it is on the right side of the flower field, near the end of the first stage. Shoot while it is flying in front of you showing you its red flower.
4 Stars: When you have unlocked the skill Melody, use it in the flower field inside the Florio Nature Park. At this point all the Comfeys will start dancing. Take a photo of the group dancing to the rhythm of music to get 4 Stars.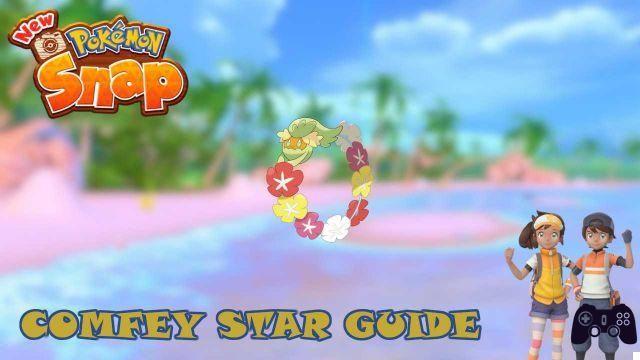 If you can't reach 4 stars, remember to increase yours Research Level in every area. With each new level you will have the opportunity to observe Pokémon in new behaviors and situations. Then continue taking photos in a specific area to unlock all Research Levels in that area and complete yours Photodex. Recall that New Pokémon Snap is now available for Nintendo Switch.
Tell us what you think of the game in the comments. To buy securities in discount go to our Instant Gaming link! To stay updated on the latest videogame news follow the pages of Holygamerz.