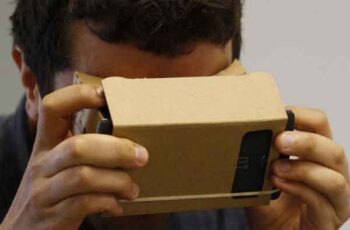 How to use the Google Cardboard virtual reality app with any compatible headset. The Google Cardboard app and compatible headsets allow you to experience virtual reality from your smartphone.
Google Cardboard app helps you use your phone as a VR device for free. The Google Cardboard VR headset is no longer available, but the website provides a selection of other convenient headsets and instructions for making your own at home. The Google Cardboard app also helps you to properly configure the phone screen for your VR headset.
Google Cardboard is the company's budget answer to a virtual reality (VR) experience - it's a free app that works alongside other VR apps to allow users to effectively turn their phones into a VR device.
They also offer relatively inexpensive viewing options on the Google Cardboard site, lowering the costs for entry to virtual reality. Here's how to find Google Cardboard compatible VR headsets and use the Cardboard app on your iPhone or Android.
What is Google Cardboard?
The term "Google Cardboard" can be used to refer to two different things:
L'app Google Cardboard: the app, which can be downloaded for iPhone or Android, helps users experience VR on their device.
The Google Cardboard VR viewer: this cardboard headset was made to fit your smartphone and function as a VR goggle. Google has blocked sales of the device, although it does provide instructions for making your own cardboard viewer.
How Google Cardboard works
To use the Google Cardboard app, you just need to do the following:
Download the Google Cardboard app from your phone's app store.
Authorize the app to use the camera.
Find the QR code on your headset and scan it.
Place your phone in the VR headset.
Upload your desired VR experience, within the Cardboard app or via a Cardboard compatible VR app.
What is Google Play? The online store for Android devices
How to get and use Google Cardboard
The VR headsets shown on the Google Cardboard site start at around € 8,95 to € 39,95 and are made of cardboard, plastic and ABS nylon. They can fit screens up to seven inches in size, depending on the model purchased.
You can also download Cardboard-compatible VR apps, which you can find within the Cardboard app. To use an app in conjunction with Cardboard and the viewer, select the option View in Cardboard.
From there, you should be able to enjoy your VR experience, configured correctly for your headset.
Further Reading:
How to use the Virtual Background feature of Zoom
How to activate WhatsApp without SIM
How to change the Bixby button with Google Assistant on the Galaxy Note 10
How to create fake Whatsapp account
What is virtual reality?