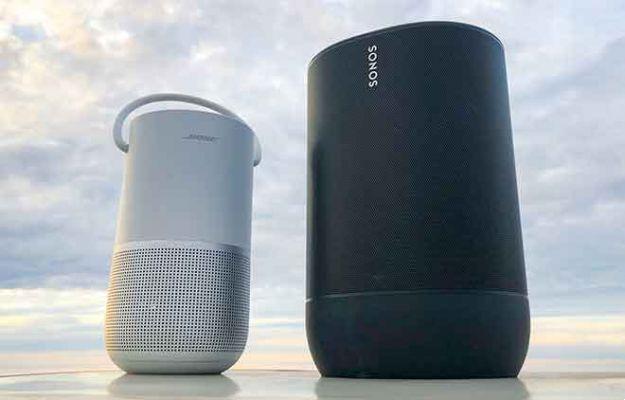 Until a few years ago, smart assistants like Google Assistant or Amazon Alexa were limited only to internal products like the Echo Show or Google Home. Thankfully, things have changed and now many speakers offer smart assistant integration. These speakers combine excellent audio output and smart features, and Sonos One (Gen 2) is one of the new speakers in this category.
Available for around € 200, this one carries the quirks of a smart speaker. Another popular but slightly old speaker is the Bose Soundlink Revolve Plus. The highlight of this speaker is its lantern-like shape and, more importantly, its sound quality.
JBL Flip 5 vs Bose Soundlink Color 2: Which Portable Bluetooth Speaker You Should Choose
However, as we all know, the heart of any speaker is its audio quality. So how does the new Sonos One (Gen 2) compare to the Bose Soundlink Revolve Plus? Do the features of the smart speaker make it a better speaker? Well that's what we're going to do today in this post, we're going to pit both speakers against each other to see which one delivers the best results.
Portability and design
One of the first things about the Bose Soundlink Revolve Plus that grabs attention is its design. This has a bizarre shape and is shaped like a mini lantern. It includes an elegant handle at the top, which completes the look. Seriously, this handle makes it easier to take the speaker anywhere. Thankfully, the Soundlink Revolve Plus isn't heavy and weighs just 900g.
It has an IPX4 rating, thus making it safe from splashing water and the like. However, if you were to take it to beach or pool parties, make sure you don't drop it in the water. However, it is an omnidirectional speaker, making it ideal for most garden parties and barbecues. It's loud, light, and the ability to lift it like this makes it even sweeter. There is also a built-in microphone for hands-free calling.
Sonos One looks pretty basic when compared to the Soundlink Revolve Plus. It appears to be round. However, a closer look reveals a more boxy design. Speaker grilles flank the sides of the speaker, and a thick cap covers the speaker. It weighs about 1,8 kg.
Like the Bose speaker, the buttons are at the top here too. But unlike the hardware buttons on Bose speakers, the Sonos One packs touch-sensitive buttons. In step with the times, I would say.
However, the thing that sets this speaker apart from most portable speakers is its Ethernet port. Yes, this speaker comes with one on the back. So if you can't find a good Wi-Fi connection, this port can connect to the internet. Great, right?
Battery VS Power
So how long do both speakers last? When it comes to the older Soundlink Revolve Plus, it achieves an average battery life of 16 hours. However, if you are taking it to a party, you should also bring the charging cable.
Conversely, the Sonos One (Gen 2) is a wired speaker and requires continuous power. This ultimately minimizes its portability and ease of access. Unless you have a very long power strip plugged into the Sonos speaker, as close as possible is to the patio. Bummer? Well, I'll leave it to you.
Samsung Galaxy M51 vs Samsung Galaxy M31. What are the differences
Intelligent integrated assistant
The One tries to fill the above gap with the integration of the smart assistant. It supports both Amazon Alexa and Google Assistant, thus allowing you to turn it into a smart speaker with all intelligence intact.
One of the crux of this speaker is support for streaming services. It supports more than 50 services, such as Amazon Music, Apple Music, Google Play Music and Pandora, making it easy to listen to your favorite songs without interruption. At the same time, it supports AirPlay 2, which means you can stream it from your Apple iPhone as well.
Of course, you can't activate both assistants at the same time. So, whichever assistant is your favorite, you can set it up. And like the Echo Show or Echo Spot, you can issue voice commands to control other smart home products. Speaking of smart home devices, Alexa integration is better than Google Home. You will experience this once you start using both of them alternately.
Sound performance
Bose is no stranger when it comes to good audio output, and the Soundlink Revolve Plus is no exception. This omnidirectional speaker gets loud enough and can easily be used for garden and indoor parties without cranking up the volume all the way.
Audio is smooth audio output and has a hint of powerful bass. And even when the volume is at its maximum, there is minimal distortion. Well that's what anyone would expect from a $ 250 speaker.
Likewise, the Sonos One (Gen 2) can get loud enough and fill the void during parties and meetings. Compared to its rivals like the Amazon Echo or Google Home, it easily outperforms them in terms of volume and audio quality.
However, compared to conventional speakers and the Revolve Plus it offers bass that is a bit weaker, which is a huge shame for a speaker of this size. Also, if you turn up the volume, the notes distort slightly.
Which one will you choose?
Overall, the Bose Soundlink Revolve Plus is a decidedly decent speaker. It has an extravagant design, which sets it apart from the rest. While it offers great audio quality, the absence of some features like smart assistant integration and an IPX7 rating makes it a bit outdated. And considering all of that, the Bose Portable Smart Speaker turns out to be a better option.
On the other hand, Sonos One (Gen 2) brings the benefit of smart assistants and music streaming capabilities.
The audio performance is excellent and its versatility is a huge advantage. If only the power cord could be cut. But if portability isn't an issue (and if you can extend your budget), Sonos Move is a better choice.
See the price of the Sonos One (Gen 2) on Amazon
See the Bose Soundlink Revolve Plus Amazon price
Further Reading:
How to set up Sonos One for the first time
Bose Portable Smart Speaker vs Soundlink Revolve Plus: le 4 principali differenze
JBL Link Portable vs Sonos Move: which portable smart speaker to choose
JBL Go 3 vs Bose SoundlLink Micro: which speaker to buy
JBL Flip 5 vs Bose Soundlink Color 2: Which Portable Bluetooth Speaker You Should Choose