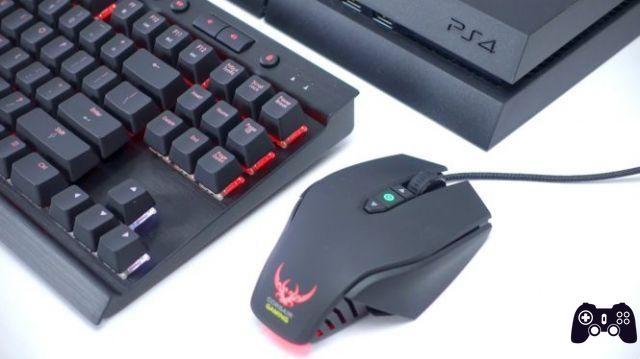 Fortnite, how to use the mouse and keyboard on PS4. It still comes back to talk about Fortnite, the phenomenon of the moment that is depopulating on any platform and that eventually it will arrive on android, after landing just a few days ago on Nintendo Switch.
In today's guide, in particular, we will explain to console owners PS4 how to play Fortnite using a mouse and keyboard. As you can surely imagine, play Fortnite using a mouse and keyboard allows you to be much more precise in your battles and to defeat enemies in a simpler and more immediate way than with the classic joystick.
And then don't forget that using a keyboard and mouse with Fortnite on PS4, in addition to a more precise objective, we will map the weapons and the different constructions, one for each key, without having to go in sequence one after the other with the Triangle key of the PS4 controller. Comfortable!
We will always have at hand each of the 5 weapons, we can switch between them by simply pressing the keys 1 to 5 and, moreover, as soon as an enemy hits us, we can build a fortress around us in less than a second.
Fortnite, how to use the mouse and keyboard on PS4
So if you are looking for the best way to play Fortnite on PS4 by connecting mouse or keyboard, with cable or bluetooth, read this guide and find out how to do it. You can take your Fortnite games to another level, I assure you!
You play Fortnite as you do with the PC version and you'll also have key mapping available to customize every single game command.
That said, let's see how to use any USB and Bluetooth keyboard and mouse to play Fortnite on PS4.
How to connect a keyboard and mouse to the PS4
You will see for yourself that the procedure is very simple. The PS4 is in fact ready to recognize external devices, both USB and Bluetooth, such as mice or keyboards.
In fact, if you have a wired / wired mouse and keyboard, insert them into the USB ports on the console e they will be recognized immediately automatically.
Things don't change much if you have a Bluetooth keyboard and mouse. In this case it is sufficient:
turn on the device and connect it (read your product instructions to understand how)
on PS4 go to the menu: Settings> Devices> Bluetooth devices
the mouse or keyboard you want to associate appears in the menu
select the device to connect and follow the simple instructions displayed on the screen
After doing this, going to Settings> Devices in the dedicated menus is also possible adjust the sensitivity of the mouse and have access to advanced keyboard settings. Just like on PC, but in this case you can play directly with your PS4.
Keys and controls to play Fortnite PS4 with mouse and keyboard
Now that you have connected mouse and keyboard to the PS4, you must know that there are predefined commands to control the character, but you can freely map and customize the controls to suit your play style.
The main controls are these:
you can move around the game world using the classic "WASD"
jump with the space bar
to shoot use the left mouse button and aim with the right mouse button
the weapon is reloaded with R
to run, use the left SHIFT key
you can quickly change weapon by pressing keys 2 to 6
the pick-up with L is activated / deactivated
the map can be consulted with the M key.
Nothing could be simpler.
As stated above, however, all controls are editable. As?
Just enter the dedicated menu in the main menu> icon with the 3 horizontal segments at the top right> gear icon> Input tab.
Easy and fast!
We concluded with this new guide dedicated to Fortnite.
For any doubts or questions, leave a comment at the end of the article and we will get back to you as soon as possible!
Have fun!
Further Reading:
So you can control the mouse via the keyboard in Windows 10
How to use an Android phone as a mouse or keyboard on your PC
How to use keyboard and mouse to play on PlayStation 4
Fortnite keeps crashing on PC - What to do
Fortnite Mobile on Android: here are the compatible phones