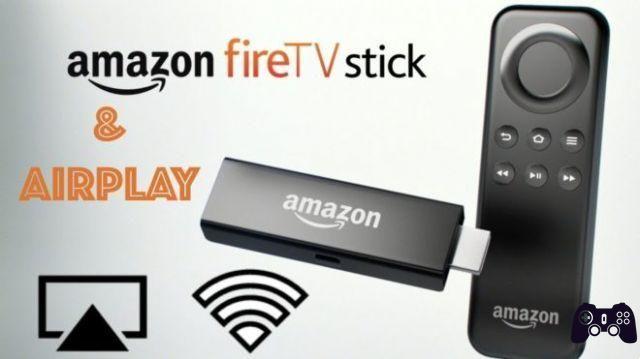 How to use Airplay on Firestick and Fire TV [iOS]. Amazon Fire Stick and Fire TV devices have become so ubiquitous that it's hard to imagine anything related to streaming that these devices can't do. The current Amazon Fire TV and Fire Stick models are capable of launching video games, allowing users to stream live TV, and use various features for watching sports and TV series.
Of course, these devices are also perfect for streaming movies. Additionally, users can have even more content available if they spend some time sideloading new apps that aren't available on the app store.
What is AirPlay and how does it work?
AirPlay is a method that Apple uses for its devices to mirror content (of any kind) from one device to another. People who own iPhones, Apple TV devices, or iPads can use AirPlay to share videos from one device to another.
The only problem with AirPlay is that it's not compatible with devices like the Amazon Fire TV. This is one of the reasons why people have to install specialized applications that "mirror" the screen mirroring function on other devices. Therefore, the way to play AirPlay on Fire TV is by installing third party apps.
The main problem with using AirPlay on FireStick
Screen casting and mirroring are a big deal. Nobody likes to watch movies on the screens of small smartphones or even on tablets. Everyone wants to experience the big screen in the form of 4K TVs and other advanced streaming products.
Using AirPlay, iPad and iPhone users can mirror content to their TV. The only problem with this situation is that AirPlay only really works when users pair it with an Apple TV. So even if you're an iPhone or iPad user, but don't have an AppleTV set, AirPlay is pretty much useless.
People who own Amazon Fire TV already know that all Apple devices run on the company's proprietary iOS operating system. So any non-Apple TV will not work on iOS. Because of this, Apple's AirPlay app simply can't run on the TV or connect to internet-enabled devices.
The Amazon App Store offers several mirroring apps that help users use AirPlay on FireStick and FireTV. These mirroring apps are all capable of bypassing any iOS restrictions.
Some apps work by mimicking the functionality of the AirPlay app, allowing users to pair their Apple devices with their Amazon TV. Currently, the most downloaded AirPlay-playing app on the Amazon Store is AirReceiver, which costs $ 2,99.
Step-by-step guide: how to use Airplay on FireStick and Fire TV
Download and install AirReceiver (one of the best screen mirroring apps) on FireStick or FireTV.
Tap the search function, available on Amazon FireStick or FireTV, then enter the text: AirReceiver.
Next, buy the AirReceiver application ($ 2,99) and then install it.
Then launch the AirReceiver app via FireStick AirReceiver.
There is an AirPlay option on the main screen of the AirReceiver app. Click on it to select the option.
Change your Amazon FireStick or Fire TV device name. You can enter anything you want here.
Now you will need to know how to connect your Apple device with the AirPlay app to your Amazon FireStick or FireTV device with the AirReceiver app installed on it. Here are the steps you need to follow:
First, you need to connect your Amazon FireStick or FireTV and Apple device (whatever you have) and connect it to the same network. This will make it convenient for the devices to communicate with each other.
Open the AirPlay application of your Apple device.
Take a look at the list of displayed devices. From the list, tap the device with the name FireStick or FireTV. (Remember, as mentioned in the previous steps, you should have changed the name of your FireTV or FireStick device on the AirReceiver app.)
After following all the steps in the right order, you should see your Apple device automatically mirror its screen to FireStick or FireTV.
Now, if you want to disconnect one of the devices, just disconnect that device from the wireless network they share. That's it: you can now connect the AirPlay app from your Apple device to the Amazon FireStick and / or FireTV.
How to use Airplay on Firestick and Fire TV for free
If you don't want to pay $ 2,99 for AirReceiver, you can download the free iWebTV app for both the Amazon Fire TV and your iOS device.
iWebTV has fairly good ratings on both app stores and supports 4K content. It is one of the best Fire TV compatible mirroring applications and it is completely free.
Click here to get iWebTV for iOS.
Click here to get iWebTV for Amazon Fire Stick or Amazon Fire TV.
Install the application on both devices and then open it on your iPhone / iPad. Next, use iWebTV's built-in web browser to select the video you want to screen mirror and it will play on the FireStick.
Although the app is free, it displays a banner overlay. You have to pay $ 0.49 per month to remove the banner. You can also pay $ 0,99 / month for the pro version, which removes the banner and unlocks additional features like video previews, video ad skip, and settings to change your homepage and add bookmarks.
Further Reading:
How to update your Amazon Firestick
How to install ES File Explorer on FireStick?
How to install the Downloader app on FireStick?
How to install and use Whatsapp on Fire Stick
How to install and use Mediaset Play on Fire Stick