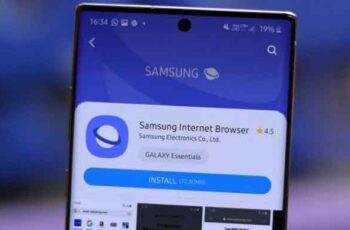 Samsung continues to add value to Galaxy users with pre-installed apps, such as Samsung Internet Browser, My Files, Calendar, Messages and more. These apps are packed with features and integrate seamlessly with the rest of the interface. The Samsung Internet Browser is one such example and is also available for other Android phones on the Google Play Store.
However, the app works best on Samsung devices. If you plan to switch from a Samsung phone to another Android phone, you should look for an alternative to the Samsung Internet Browser from the Play Store.
The fastest browsers for Windows 10, 8, 7
1. Google Chrome
Google Chrome comes preloaded by default on every Android phone. It is by far the most popular browser around with billions of users. Simply log in with your Google account and you can sync passwords, bookmarks, sessions and other data.
The Chrome browser is great for anyone switching between Mac, Windows, and Android. Recent Tabs is a neat add-on that allows users to have tabs synchronized across platforms.
As for the Android experience, Google Chrome offers a lite mode to save data, group tabs to manage tabs, a password manager for a seamless login experience, Google News integration, dark mode, and more. .
2. Microsoft Edge
Microsoft is one of the best browsers to use on Android and Windows. If you are using Windows, look no further and choose Microsoft Edge as an alternative to the Samsung Internet Browser on Android.
Microsoft recently rolled out an update to send web pages between Android and Windows and vice versa. We always use it as it makes it easier to switch from desktop to mobile. We also appreciate that Microsoft uses the bottom menu bar with the most used options like tabs, sharing, and more.
Microsoft Edge is based on the Chromium web engine, which means it will work flawlessly with most websites out there (which we can't say about Firefox).
Other features include extensions, news add-on, and shopping features that help you find the best coupons to save some money.
Microsoft Edge is free to download and is available on Windows, Mac, iOS, Android, and even Linux.
Edge Chromium vs Google Chrome: You should switch to Microsoft's new browser
3. Firefox
Firefox was a mess on Android. Users hated slow performance and scroll delay when browsing web pages. Mozilla has finally taken the issue seriously and has announced the Fenix ​​project to build Firefox from scratch.
The result is the best possible for Mozilla. The new Firefox is a worthy rival to the Samsung Internet Browser. The company completely redesigned the browser and placed all the necessary options at the bottom.
Firefox uses its custom web rendering engine to load web pages. We had no problem loading web pages with heavy graphics. Firefox also allows you to add extensions to improve browser functionality.
The feature list includes advanced tracking protection, Firefox Monitor, Firefox Lockwise integration, Pocket add-on, and more. It's good to see Firefox has completely removed the unnecessary news tab from the browser.
4. Brave
The Brave browser has made a name for itself by focusing on privacy and security. The company offers essential information such as trackers and ad blockers, saved data and estimated time saved directly on the home page.
Standard options such as Home, Bookmark, Search, Tab selector and other menu are located at the bottom. The search bar may appear at the top, but it is accessible from the search menu at the bottom. The home page offers a good-looking background.
Brave is a Chromium based browser and you can have good scrolling and page loading performance. Brave has added Brave Rewards to the browser.
Brave allows you to earn Basic Attention Token (BAT) by viewing Brave ads. You will see the real-time value of these tokens from the menu above. Brave also allows you to reward creators using the rewards you have earned. Unfortunately, it loses the reading mode.
Safari vs Google Chrome: Which Browser Is Better on Mac
5. Vivaldi
Vivaldi has been around for a few years and has made a name for itself thanks to rapid development and cross-platform availability from the very beginning. The browser offers other features like ad blocking, tab style, theme, and sync option from the default main menu.
Every aspect is customizable here. You can change the style of the tabs, the viewing experience of the tabs, change the default search engine, and more. There is also no irrelevant news integration.
Vivaldi has added the Vivaldi Game option in case you get bored of surfing the web. The browser is available on Windows, Mac, Android and iPhone.
Conclusion
While Samsung Internet is an excellent browser, it is not available natively on the desktop. This could leave advanced users looking for alternatives. Scroll through the list of apps above and choose the best Samsung Internet Browser alternative, the best for you. As for us, most of the team uses Chrome on Android. And you? Talk about it in the comments below.
Further Reading:
The best applications to convert your photos into drawings
How to change the default web browser
How to install apps on Android without the Google Play Store
Top 5 alternatives to OneNote for Android
Buying Guide