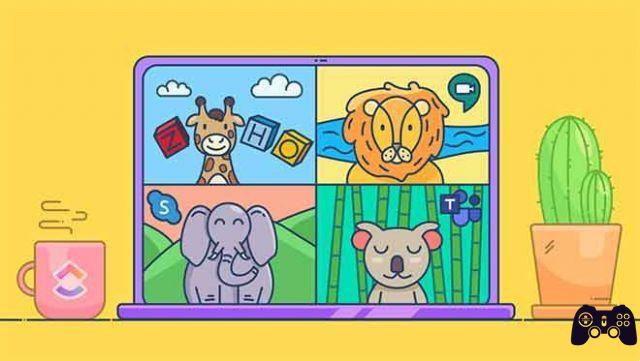 Zoom is a well-known video conferencing tool and it is likely that you have used it in one of your meetings. While this tool holds a market share of nearly 10% and is growing 100% year-on-year, its competitors are not weakening. The market for Zoom alternatives has also grown and there are a huge number of video conferencing apps to choose from.
Zoom alternatives offer features, pricing plans, and features that lure shoppers to opt for them. Who are these competitors and what do they offer different from Zoom? Let's find out.
1. Skype for Business
Who doesn't know Skype, right? Probably the most popular video chat tool in the world, used by masses and classes alike. I have used it so many times to talk to my friends around the world. It also has an app for business use.
For companies or teams of less than 20 people, Skype is a great tool. It's free, but if you want to make calls to landlines and mobiles, you need to purchase Skype credits to make those calls.
You can host online meetings and webinars, share your screens, and use the collaborative whiteboard feature. What's more, you can record, enable live subtitle and subtitle while enjoying crystal clear audio and HD video call.
Skype for Business lets you collaborate and connect with up to 250 people online.
The software also offers amazing features like enterprise-grade security, cloud storage, end-to-end encryption and compliance, and on-demand support.
Skype for Business is integrated into your Microsoft 365 package and therefore offers a complete meeting solution with all free features in addition to Microsoft Office 365 for business.
The price is available in three categories. Office 365 Business Essentials for $ 5,00 per user per month. Office 365 Business for $ 8,25 per user per month and Office 365 Business Premium for $ 12,50 per user per month.
Skype is easy to use. However, you need to install the software package on your device to use it. Skype stores video recordings for only 30 days.
What to do when the Skype camera is not working
What is Skype? How does it work? How to download and use Skype? and more
How to add subtitles to a Skype call on Android
2. Zoho Meeting
Zoho Meeting is another great video conferencing tool. This solution is web and browser based, so you don't need to download any software or perform any installation to use the tool.
With a simple Chrome extension you can host and record online meetings and webinars. Additionally, you can share and record screenshots across various platforms.
It is suitable for both single users and small and large organizations. This solution prides itself on being easy to use.
Zoho Meeting provides you with a detailed analytic report of registrations, engagements, questions and answers, and surveys after your webinar.
You can also embed meeting links on your website so attendees can join the meeting using their email addresses. Plus, you can safely moderate meetings.
Pricing for Zoho Meeting starts at $ 10 per host per month for up to 100 attendees. The webinar plan starts at $ 19.
However, you can save on costs if you choose the annual payment plan as it offers more discounts.
Zoho meeting has a 14-day trial period and does not offer a free version. Also, the features are limited compared to competitors in that space.
3. GoToMeeting
GoToMeeting is another fantastic tool that enables seamless collaboration and communication over the Internet in real time. It is one of the simplest video conferencing, screen sharing and online meeting solutions.
You can access GoToMeeting using desktop and mobile apps. Also, you can join online meetings via your web browser, but it has limited web browser functionality.
You can enjoy some great features. The private meeting room allows you to create a personalized meeting link that never changes. The video-to-slide feature automatically converts slides from multiple presentations into a shareable PDF format.
Plus, with unlimited storage, you can record and save your meeting in the cloud or locally.
Calendar integrations allow you to schedule and join meetings using Google Calendar and GoToMeeting's Office 365 plug-ins.
You can access and share automatic transcripts of your recorded sessions.
GoToMeeting offers a 14-day trial period and a variety of price ranges for users. The Professional plan starts at $ 14 per month and allows users to host up to 150 attendees.
The business plan starts at $ 19 per month and allows users to host up to 250 attendees. The business plan will allow users to host up to 3000 attendees.
However, the annual payment plan will allow you to save 16 percent. Users requiring webinar features may need to visit GoToWebinar.
4. EZTalks
EZTalks is a video conferencing solution that allows users to access innovative collaboration services such as webinars, online meetings, audio and video conferencing.
EZTalk has amazing video and web conferencing features like comprehensive controls for online meetings and an interactive whiteboard for brainstorming and bringing ideas to life.
You can share presentations, presentations, audio and video with up to 10.000 attendees. You can also organize polls, participate in group and private chats, and host unlimited free meetings.
While EZtalks' free plan has a 40-minute limit for group meetings, it allows you to host up to 100 attendees.
Paid plans unlock more advanced features and start at $ 13 per month per host, Pro costs $ 39, Business starts at $ 65.
However, a paid yearly plan can save you 23%.
The software is simple and easy to use. Plus, you can use EZtalks on a wide range of platforms, including Windows, Mac OS X, iOS, and Linux.
5. Adobe Connect
Adobe Connect is a web conferencing platform that offers collaborative experiences. The user can participate in online meetings and webinars, video and audio conferencing, screen sharing, polls, instant messaging and file sharing.
The software is intuitive and easy to use. Adobe Connect lets you customize meeting rooms to suit your needs.
You have complete control over the features and appearance of your meeting rooms. And you can customize your meeting rooms with layouts and background images, add functionality and features.
It is possible to host interactive sessions within a meeting. In addition, each user can access multiple meeting rooms.
Other features include meeting recordings, notes, chats, and whiteboard. The USP of this software is that it is highly customizable and adaptable.
Adobe Connect offers a 30-day trial period and subscription plans are expensive compared to other solutions.
Adobe Connect Meetings start at $ 50 per month, Adobe Connect Webinars at $ 130 per month, and Adobe Connect Learning starting at $ 370 per month.
6.WebEx
WebEx is a business solution and feature-rich tool for video conferencing and audio conferencing, online meetings, screen sharing, and webinars. Web conferencing, cloud calls.
WebEx has a simple but slightly less intuitive user interface than Zoom. Enables cognitive collaboration and secure cloud calling.
Plus, it enables active, collaborative teamwork with group messaging, whiteboard, file, screen sharing, and more. You will also provide engaging and interactive online training for your students.
Video Support offers real-time technical support, accessible from anywhere.
The Webex pricing plan starts at Cisco WebEx Premium 8, for $ 24 per user per month. Premium 25 costs $ 39 per user per month. Premium pricing 100 to $ 69 per user per month.
The default browser is Internet Explorer. Therefore, users may need to change their browsing settings if they prefer to use Firefox or Chrome. You will also pay additional fees for the call me feature.
7. Join me
Join.me is an interactive teleconferencing solution that allows the user to communicate with collaborators on different platforms.
Additionally, Join.me has features like audio and video conferencing, screen sharing, one-click scheduling, and whiteboard.
You can customize the meeting link and URL to give it that unique vibe. Plus, you can brand it with your company name or the subject of the meeting or even match your nickname.
Join.me also allows you to customize the meeting background. They make your account and meeting room great.
While hosting your meeting, you can use interactive graphics and images to keep session attendees engaged.
The Join.me rate plan offers three subscription plans. Lite starts at $ 10 per month, Pro starts at $ 20 per month, and Business for $ 30 per month. The software is simple and easy to use. You will also have access to email and phone support
The only drawback of this solution is that the features are limited compared to other software in this space.
Conclusion
The video conferencing market offers several unique alternatives to Zoom. For the most part, these solutions are scalable and customizable. However, each of these has its weaknesses. Therefore, you may need to evaluate the features most useful for your business to make an informed choice.
Further Reading:
How to show profile picture instead of video in Zoom Meeting
The best applications to convert your photos into drawings
How to record a Zoom meeting
How to cast Zoom on Chromecast
How to turn off the camera during a call with Zoom