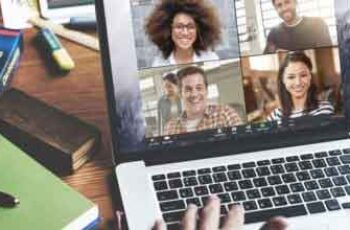 When it comes to video conferencing, Zoom is one of the best choices on the market. It doesn't matter if you are using it from home or in the office, it will connect your team members in no time.
But you don't need to use the video function if you don't need to. You can simply set a profile picture and use the audio only option.
Adding a profile photo is more personal than just displaying your name during a meeting. In this article, we'll show you how to change your profile picture and some other useful customization options.
Adding the zoom profile picture
One of the really great things about Zoom is that you can customize your profile in many ways. To change the settings, you will need to log into your Profile via the Zoom web portal. So, if you have the perfect profile picture ready, here's what you need to do:
Log into your Zoom account and select Settings.
Click Profile, you will see the option to change your profile picture. Select Edit.
Upload the image you want and adjust it to fit well.
You can refresh your page and check your profile picture. If you are not satisfied with how it looks, simply repeat the process. Or, if you change your mind about having a Zoom profile photo, select Delete.
Also, keep in mind that your image must not exceed 2MB in size and must be in one of the following formats: PNG, JPG, or GIF.
On the same profile page, you can also edit other personal information. Next to your profile picture is your display name. You can select Edit in the upper right corner of the screen and change it. You can also change your email address and change the Zoom user type.
How to raise your hand on Zoom
Adding a picture during the call
The next time you make a Zoom video call and decide to turn off the camera, other participants will see your profile picture. But you can also add a profile picture during your Zoom video call.
Just right-click on the video preview and select Change Profile Picture. When you stop the video, you will be able to see your image.
The option to change your profile picture will not always appear. Sometimes, you click "More" just to find the "Rename" option. You may also notice that nobody's profile pictures are displayed in this meeting. This happens when the meeting moderator has the option disabled.
If you are the moderator, you can enable this option from the Zoom website. Go to "Settings" on the left side and make sure you are in the Meeting tab at the top.
Scroll down to "Hide attendee profile pictures in meeting". Make sure it's activated. If that doesn't work, Zoom warns you that the feature is only available in versions 5.0.0 or later.
Add an image to your Google account
There are four ways to log into your Zoom account. You can use your work email, Facebook, a single sign-on or use your Google account. In the latter case, Zoom will automatically load your Google or Gmail profile picture as your Zoom profile picture.
In case your Google profile doesn't have an image, you can add it there first, then go to Zoom. This way, you'll have the same image in both places with just one upload. Here's how to change your Google account picture:
Log into your Gmail account.
Select Settings in the upper right corner of the screen.
From the menu, select My Image and then Choose an Image.
Upload a profile photo of your choice.
When the image has uploaded, select Done.
You can also change your Google profile picture from your mobile device. But keep in mind that no matter where you make these changes, you will have to wait a while before they are applied. But once that's done, the same image will appear in all Google products, wherever you sign in with your account.
How to turn off the camera during a call with Zoom
Change the default zoom language
In terms of customization, the choice of the Zoom's display language is right there with setting a profile picture. English is the default language on Zoom, but it's not the only one available. On your profile page, you can also change your language settings.
Currently, there are nine different languages ​​to choose from. In addition to English, the list includes French, Chinese, Japanese, Russian, Spanish, German, Portuguese and Korean. You can change the language settings only through the web portal or the Zoom client.
If you want to change the language settings on Zoom on an iOS or Android device, you can do this by changing the language of the operating system first. After changing the language settings on your mobile device, be sure to restart it. When you do, Zoom will automatically apply the new language settings.
Choosing the right profile picture is a big deal
How many profile pictures do you have on apps and platforms? Probably many. When setting up your Zoom profile picture, do you wonder what kind of message it sends?
Is it professional enough or is it too serious? Or maybe it's better not to think about it too much. When you find the right image, follow the steps above and add it to your Zoom profile. And then you can continue tweaking other personalization settings as well.
How to find the Zoom meeting password on mobile devices and PCs
FAQ
Zoom has been around for a long time, but is more widely used in 2020 than ever. If you're still new to the platform, we've got answers to some frequently asked questions right here:
My profile picture is not displayed in the meeting. What happens?
Zoom makes it easy to sign in and you don't even need an account to join someone's meeting. Assuming you clicked on the link to join someone's meeting, you are probably not logged in.
If your profile picture doesn't appear, you need to log in to the Zoom app or in a web browser, sign in, then join the meeting with the meeting ID (which should have been sent to you in the invitation).
Also note that Zoom meeting admins have a lot of control over what you can do within the meeting. This means they may have turned off the option to show profile pictures during the meeting.
If you're sure you're signed into the right account, this is probably why you don't see your profile picture. To confirm, create your meeting and see if your profile picture appears.
Do I also need a profile photo?
While it's not absolutely necessary to have one, it can be a great asset with many benefits. For one thing, depending on the type of meeting you're in, a profile picture can be a great substitute for turning off the camera.
When you speak, your profile picture will be displayed making it more appealing and allowing others to see who they are talking to.
Can I delete my profile picture?
If you update your profile picture during a meeting, be careful; there's no way to change it from within the meeting (so make sure you select an image that you feel comfortable with everyone watching for a while).
To delete your profile picture you will need to do it from a web browser. Click "Profile" in the left menu, then click "Edit Profile". Tap "Delete" and confirm to delete your image.
What kind of image do you think should go on the Zoom profile? Let us know in the comments section below.
Further Reading:
How to show profile picture instead of video in Zoom Meeting
4 solutions for when the Zoom profile picture is not showing in the meeting
How to use the Virtual Background feature of Zoom
How to activate subtitles in Zoom for free
How to change Netflix profile picture on iPhone