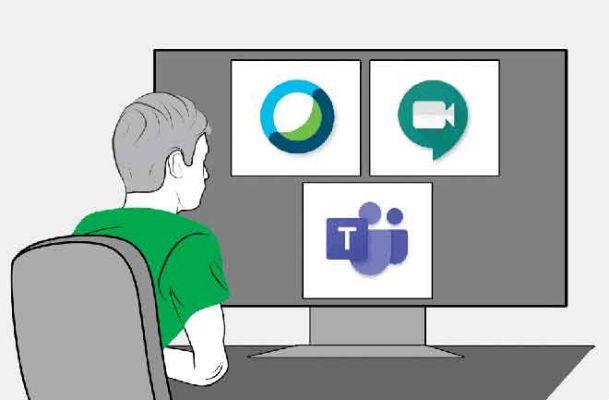 The screen sharing process in remote meeting apps seems simple enough. Press the screen sharing button followed by selecting the window you want to share. That's all. What if you are in a meeting and you share a video but the attendees can't hear anything? It can be excruciating. How do you share a video along with its audio on apps like Zoom, Google Meet and Microsoft Teams? Find the answer in this post.
Let's start with Microsoft Teams and Google Meet followed by a detailed guide for Zoom as well. Since Zoom supports sharing audio without sharing the screen, we talked about that too. As a bonus, we also answered various questions about audio sharing in these apps at the end of the post.
How to share video with audio in Microsoft Teams
For now, the functionality to share the screen containing the video along with the sound in Microsoft Teams is limited to the Windows app only. You can't use it on Mac and mobile apps (Android and iOS). Also, you won't be able to share computer audio if you're using Whiteboard in Teams or when sharing a PowerPoint file.
To share system audio in Microsoft Teams, click the Share icon in the bottom toolbar in a Microsoft Teams meeting. A number of options will appear. First, check the box next to Include system audio, then choose the sharing mode.
How to present video with audio in Google Meet
Until mid-April 2020, Google Meet was unable to share system audio. So, Google rolled out an update to introduce the add system sound functionality to Meet. Now, when you share a Chrome tab in Meet, you can include system audio. Then, others can hear the audio of that particular card.
Note: functionality is limited to Chrome tabs only. You cannot share the sound directly from your computer.
To use this feature, open Chrome and play a video for which you want to share audio in the meeting. If it looks and sounds good, open Google Meet and join the meeting.
Click the Present Now button at the bottom and select a Chrome tab.
Select the Chrome tab from the list of open tabs. Make sure you check the box next to Share audio at the bottom. Then click Share.
How to share video with audio on Zoom
Since the feature is available on desktop and mobile apps, we check the steps separately.
Share video with audio on Zoom desktop apps
When you enable this feature, any audio playing on your computer will be heard by others.
Final report: computer audio cannot be shared when multiple displays are shared on Zoom.
Here are the steps to share audio in Zoom:
Step 1: participate in a Zoom meeting.
Step 2: do Click the Share Screen button in the bottom toolbar.
Step 3: you will be shown the windows that you can share. Select the one containing your video. It can come from a browser or a video on your computer.
Then, check the box next to "Share computer sound" at the bottom and hit the Share button.
Final report: others will also hear the notification and other sounds on your PC when you share computer audio.
Share computer audio in zoom after screen sharing
If you've already started sharing your screen, you don't need to stop sharing to play computer audio. To share or stop computer audio after you start sharing your screen, hover your mouse over the top edge of the screen. A toolbar will appear. Click the three-dot icon and select Share computer sound. Repeat the steps to disable audio.
Share video with audio on Zoom Mobile Apps
While the screen sharing feature is available in Zoom's Android app, it is not possible to share audio along with it. However, things differ with the iOS version of the app where you can share your phone's audio.
For this, you simply need to tap the Share Content button at the bottom within a Zoom meeting. Then select Display.
A screen transmission screen will appear. Tap Zoom and press the Start Broadcast button. Now play the audio or video on your phone and others will hear the same audio.
To stop casting, tap on the top edge of the screen and choose Stop from the pop-up menu that appears. You will be taken to the Zoom transmission screen. Tap anywhere to return to the call.
How to share computer audio with Zoom without sharing your screen
It is not mandatory to share your screen when sharing computer audio. What if a user wants to play background music for live video?
Fortunately, there is a way you can just share computer audio without seeing anything on the Zoom screen. Yes, you can even mute your video. The other meeting participants will then only see your profile picture and hear the computer audio.
To play music on Zoom without sharing your screen, follow these steps:
Step 1: within a Zoom meeting, click the Share Screen option at the bottom.
Step 2: do Click on the Advanced tab at the top. Then, select Music or Computer audio only and hit the Share button.
Final report: this setting works independently of the Mute and Show Video options. That is, system audio will be shared even if you turn off.
Unable to hear other people's audio on cellphone in Zoom
If you are unable to hear other people's audio (from both microphone and computer) on your mobile phone, make sure you have enabled the Join Audio option on your phone. For that, simply tap on the Join Audio option present at the bottom of the meeting screen in the Zoom mobile app. Then, choose Call via Device Audio.
FAQ: sharing computer audio in video conferencing apps
Here are some frequently asked questions about sharing audio in apps like Zoom, Meet, and Microsoft Teams.
People can hear and see you sharing the sound
It entirely depends on the camera and microphone settings. It is up to you to decide whether to keep them enabled or not. These settings are independent of the computer's sound sharing function. So, you can even speak and play a video along with its sound at the same time.
How to change the audio volume when sharing computer audio
If you change the system volume, the volume will only be changed on your side. You need to change the in-app volume to increase it for others as well. For example, if you're playing a song via YouTube, turn up the volume on YouTube.
Wearing headphones affects the sound on the computer
No. You can continue to wear headphones while sharing computer audio.
Further Reading:
How to fix EpocCam not working on Zoom, Microsoft Teams or Google Meet
7 solutions for when Google Meet audio isn't working
How to mute everyone on Google Meet
How to use EpocCam with Zoom, Skype, Microsoft Teams and Google Meet on Windows
How to mute and unmute the Zoom app on your phone