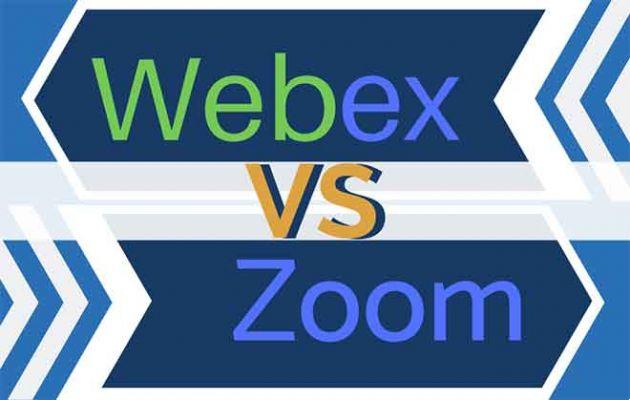 Working from home is the new normal and the ongoing pandemic will have a lasting effect on the way we work forever. One way to work and communicate effectively is video conferencing, which facilitates teamwork in a professional setup. Two leading apps in this segment are WebEx and Zoom. WebEx is owned and operated by Cisco, a leader in the space for several years. They offer a number of other IT services (both hardware and software).
Zoom is a newcomer who has seen insane growth in the past few weeks and has failed to keep up with the increase in demand. There have been multiple reports of hacks and security issues with the team rushing to release security updates, more on this below.
Download Zoom
Download WebEx
Let's see how these two apps compare and why you should be using WebEx even after Zoom has released a number of updates.
1. Participation in meetings
This is what I like about Zoom. You don't need an account or register, unless you want to host meetings. Just download the app, enter the code received via message or link and enter the room. The onboarding process couldn't be simpler. Things are different if you want to host a meeting. This requires an account and you need to add your contacts before you can send out invitations. It is comprensible.
Webex has two versions: Webex Teams for collaboration and Webex Meetings for conferencing. WebEx also allows you to join meetings without registering, but like Zoom, you must create an account when hosting a meeting. WebEx does best here by allowing users to join a meeting using any "Cisco or standards-based SIP video device". Skype is a good example. You don't have to become familiar with new technology just to join a meeting now. WebEx also has the Call Me feature, which means you'll get a direct call when it's time for the meeting.
Creating an account is easy with Google and other social media login options in both. Webex Teams acts more like Slack where you can manage channels and initiate calls, text and share files. For this comparison, I will omit it because it will be like comparing apples to oranges.
2. Creation and hosting of meetings
There are two types of rooms in both Zoom and WebEx. One is a regular room that you can create at any time and send invitations to contacts. Another is a permanent personal room, which allows anyone to connect with you at any time. I advise you not to share your room with everyone for privacy reasons.
Once the meeting is started, some options are available, such as recording meetings for future reference, screen and file sharing, and whiteboard. Because WebEx was designed with business users in mind, it also offers the People Insights feature, which allows for in-depth analysis of attendees.
Both apps offer video recordings and transcripts, but WebEx will send you the files right away.
3. When the meeting is in session
Zoom and WebEx allow you to raise your virtual hand if you want to say something while a meeting is in progress. There is no need to abruptly interrupt the speaker. WebEx goes a little further here with some additional tools like Surveys, Attendance, and Attention Indicator tool. The latter will try to assess whether you are paying attention during the meeting or not. Polls are also available on Zoom, as is the ability to stream the meeting on YouTube.
Not satisfied with your background? You can choose a virtual background during Zoom meetings, so no one knows how rich or poor it is or even where you are. Income inequality is real and can be embarrassing for some people. Very thoughtful.
4. Webinars and meeting rooms
Zoom comes with Breakout Rooms, where you can divide a large meeting room into several smaller rooms. Each room will have its own group of participants with separate topics, discussions, and so on. You can create up to 50 breakout rooms in the same conference. Examples could be marketing, sales and finance teams or budgets. WebEx misses this opportunity.
Both video conferencing apps support webinars, but Zoom also offers the ability to create webinars on demand. This means that you can record a webinar and users can access it whenever they want. You can share files with the viewer, stream them on YouTube, and viewers can ask questions in real time. WebEx also allows you to track leads, offer discounts on products / services, participate and view detailed analytics. These extra features make it very useful for marketers.
5. Privacy and security
WebEx was designed with businesses and corporate users in mind. That's why security and privacy were a paramount concern.
Zoom has been all over the news recently for security issues, hacks, and several companies and even countries banning it. He paints a really bad picture, but not all hope is lost.
Zoom has since released a statement with a number of security updates with others in the works. I wish they had done it sooner. I guess they didn't expect exponential growth since December. However, that's no excuse for what happened.
Some steps in the right direction include a password to prevent Zoom bombardment, the lobby, the ability to hunt and restrict users during the meeting, and hide the meeting ID, so screenshots are more secure, among others .
WebEx, unlike Zoom, offers end-to-end encryption using the TLS protocol. Zoom recently added the ability to remove attendees and password protection, but WebEx already exists. You can also force users to use OTPs before joining a meeting in WebEx.
Fun fact: a former Cisco WebEx employee founded Zoom. While the recent lack of security was shocking, I think the company takes security and its reputation seriously.
6. Prices, platforms and reviews
Zoom has a free plan with unlimited individual meetings and group meetings with a limit of 40 minutes. No more than 100 attendees are allowed on this plan, but you do get screen sharing and collaboration tools. Pricing starts at $ 14,99 / month per host and goes all the way up to $ 19,99 and offers features like up to 1000 attendees, personal branding, meeting transcription, and cloud storage.
WebEx also has a free plan with up to 100 attendees, and pricing starts at $ 13,5 / mo per host up to $ 26,95 / mo per host. Additional features include file sharing, transcripts, personal branding, and cloud storage.
Zoom is available on all popular desktop, mobile and browser operating systems with add-ons for Outlook and IBM Notes. The same goes for Webex, but as it integrates with more apps, there are more options.
Zoom integrates with many apps such as Slack, Skype, Outlook, Google and a few select others. The same goes for WebEx which works with Gmail, Outlook, Office365, Salesforce, Slack, GitHub, and Trello, among others. Between the two, WebEx offers even more integrations.
Zoom in, Zoom out
WebEx offers more whether you look at features or security or whatever for that matter. It's also more expensive, but then again, security and privacy are priceless, and any mistakes can turn out to be even more expensive.
It is worth noting that WebEx is better suited for businesses and corporate users. Zoom can be used by schools, small businesses, startups, and even families. Part of the reason it went viral was the free plan and the easy onboarding process.
But the time for Zoom hasn't come yet. Recent security updates are useful, but gaining trust after losing it can be difficult.
Further Reading:
Zoom vs Houseparty: Which Video Chat App You Should Use
How to use the Virtual Background feature of Zoom
How to successfully uninstall Microsoft Teams on Windows 10
How to use iPhone as a video conferencing webcam
Adobe Scan vs Genius Scan: Which document scanner app is best on iPhone